Snowflake Mountain is described as a "funny, warm-hearted" series in the Netflix notes. And in the series' later episodes, it might be, once the "grown infants" genuinely gain independence and confidence by climbing the mountain.
However, in the first episode, two guys who are being directed to be a hardass continually complain about how weak these folks are and whip 10 asses into shape who don't even know how to boil water.
On 22 June 2022, Snowflake Mountain was made available on Netflix worldwide. Streaming of all eight episodes is currently possible.
Snowflake Mountain's 8 Episodes
I had already questioned why someone would appear on reality TV on Netflix and accuse everyone of being lazy, entitled, and greedy within the first four minutes of Snowflake Mountain.
After 8 episodes, I still have no idea what the answer is, but I do know that people would do anything to gain influence.
Do we enjoy seeing that? Is it risqué enough? Truthfully, it's just too embarrassing to be shocking. I was horrified that they thought airing this for 8 episodes would be a wonderful idea, and I was humiliated to see these people act like the worst versions of themselves.
When it comes to the realism portion of the show, I believe we can all agree that this isn't reality. In Snowflake Mountain, the performers do a terrible job of conveying any genuine emotions, especially when something unexpected occurs.
However, there are a few amusing instances that keep you entertained.
Whether it's Byron Baes or Love is Blind, you can be sure that these people are suffering through terrible things for their online fans. They are aware that, whether they succeed in life or not, the worse they appear on TV, the more views their Instagram photos will receive.
Snowflake Mountain's Plot Summary
Ten contestants are placed in a remote retreat with nothing but their needs and their wits in Snowflake Mountain, a reality competition where all of the participants' parents want them to mature a lot.
These ten young adults overpack their designer clothes and fancy accessories because they believe they are traveling to a five-star resort for a reality show. But they're about to get one hell of a shock.
They realize that there is no villa, there is no phone connection, and the cars are moving away when they finally arrive at the top of a hill somewhere in Europe (based on the license plates on the automobiles).
Snowflake Mountain's Host Joel Graves and Matt Tate
Joel Graves and Matt Tate, the hosts, who are both former soldiers and authorities on survivalism, welcome the guests. They explain to the group of "kidults" that their parents sent them there in order for them to develop some independence and reach their full potential.
The hosts instruct the competitors to remove their necessities from their luggage and place them in damp bags; for some, this will entail their lip gloss, while for others, it will entail their Burberry jacket.
Of course, they all grumble, especially on the muddy walk to the next meeting place, which Matt and Joel consider to be quite simple but the competitors believe to be fraught with dangers. They then receive a surprise when Joel detonates a trailer containing all of their baggage.
The party is given the assignment of locating food after they locate their basic camp location. Some of it is in a tent floating on a lake, while some are in a bag fastened to some trees.
Again, Matt and Joel think this is simple, but neither group can do these elementary tasks. Others seek to keep their food finds hidden from the opposing side.
After completing their work, they learn from the hosts that the contest's winner would get $50,000. The pot, however, is diminished by $5,000 each time a competitor withdraws.
Snowflake Mountain's Cast Members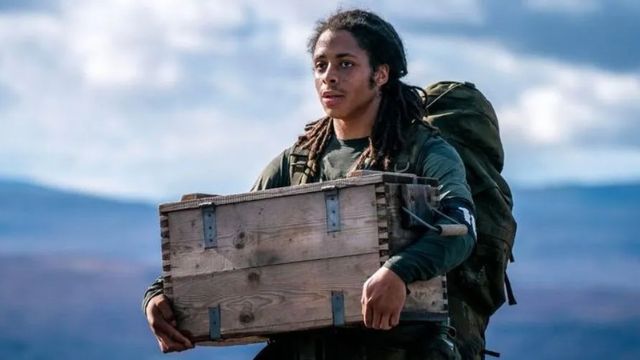 The multinational cast of the series, which was filmed in the Lake District in northwest England, consists of:
Deandra, 24, is a Brooklyn, New York native who presently resides there. Deandra, the Chaos Queen, claims that her life is a rollercoaster and that she lives at home with her parents, two younger sisters, and them.
Olivia, 25, is a Cincinnati, Ohio native who presently resides there. Olivia, a self-described "Disney Princess," enjoys everything pink, fluffy, safe, and comfortable.
Rae, 25, is a resident of Kent, England, where she was born and raised. The vivacious Rae acknowledges that she is "hopeless" when it comes to adult life.
Devon, 20, is a New Yorker who was born and raised in Boston, Massachusetts. Devon considers herself to be a natural rebel; the more others warn her against doing something, the more she will actually do it.
Darriea, 25, a native of Atlanta, Georgia, now resides in Syracuse, New York. Darriea is a free-spirited individual who is unwilling to make commitments to anything or anyone.
Solomon, age 26, a native of Fairfax, Virginia, now resides in Los Angeles, California. Solomon is "funemployed" and is supported totally by his affluent parents in his Los Angeles home.
Liam, age 21, is a native of Warwickshire, England, and currently resides there. Liam, a self-described diva, attempted to live with his mother, but she "nagged" him too much.
Carl, 22, a native of Miami, Florida, currently resides in Los Angeles, New York. Carl, a born athlete who excelled in basketball, received a college scholarship.
Randy, age 23, resides in Kissimmee, Florida, where he is originally from. Before abruptly quitting his pre-med program at a top college, Randy was enrolled there.
Sunny, 26 – a Pennsylvania native who currently resides in Pennsylvania – was born there. Sunny hails from a successful family.
Conclusion
It's a bad day for reality television, and I really don't want anyone to experience Snowflake Mountain. In addition, stealing food from other competitors does not make you a special person; rather, it makes you a sleazeball.
Although we could eventually come to the "heart-warming" episodes of Snowflake Mountain, the first episode is so difficult to watch and offers no characters to root for that you are likely to skip those episodes altogether before moving on to anything else.