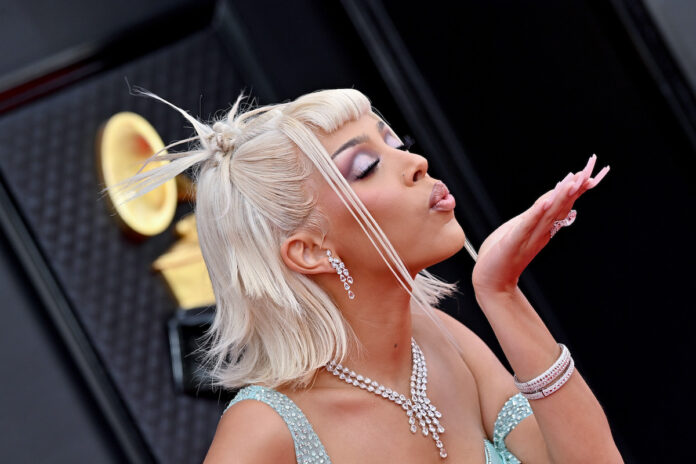 Doja Cat is a rapper, singer, and composer who originally came to prominence as a teenager via the creation and distribution of songs on SoundCloud. Doja Cat has an $8 million dollar net worth.
She began releasing albums after securing a record deal at the age of 17, including "Amala," "Hot Pink," and "Planet Her," the latter two of which peaked in the top ten of the Billboard 200. The social media expertise of Doja Cat is well known, and she has used TikTok and YouTube to market her work.
Early Years and Professional Beginnings
Amala Ratna Zandile Dlamini, also known as Doja Cat, was born in Los Angeles, California, in 1995. Her father is a South African actor, composer, and film producer, and her mother is a painter. Dlamini and her mother relocated to New York City not long after she was born.
They stayed there for five years until relocating to Oak Park, California, where Dlamini started taking tap, ballet, and jazz courses. The family later relocated back to Los Angeles, where they lived in a Hindu ashram in the foothills.
Read more: Charles Barkley Net Worth: How Did Dream Team Make History In The Olympics?
Dlamini's enthusiasm for dancing began to soar during this period. She first performed Indian classical dance before transitioning to breakdancing. Dlamini competed in professional pop-locking competitions while still in high school and finally dropped out to focus on her music career.
The MTV Video Music Awards and "Planet Her"
Doja Cat released the song "Kiss Me More" in April 2021 as a preview of her next album. The song peaked at number three and lasted 19 weeks in a row in the top ten of the Billboard Hot 100. Doja Cat released her album "Planet Her," which debuted at number two on the Billboard 200, and the singles "Need to Know" and "You Right" a few months later.
Additionally, it made the top three in the UK, Australia, and Canada. Doja Cat hosted the MTV Video Music Awards in 2021 after "Planet Her" was a success. She was also up for Artist of the Year, Video of the Year, and Best Visual Effects honors during the ceremony. Doja Cat received the prizes for Best Art Direction and Best Collaboration, which she shared with Saweetie for the music video of "Best Friend" and "Kiss Me More," respectively.
Other Partnerships
Numerous musical artists have collaborated with Doja Cat. She has appeared in songs by a variety of artists, including The Weeknd, Lil Wayne, City Girls, Ozuna, Bebe Rexha, and Ariana Grande. She appeared on the song "Scoop" from Lil Nas X's first studio album, "Montero," which was released in September 2021.
Conflicts and Personal Life
Doja Cat tends to keep details of her relationships private and maintains a low profile when it comes to her personal life. She has, however, frequently hinted at her lesbian sexuality and has been spotted with artists like Jawny and Bree Runway.
Doja Cat bought a Beverly Hills house for $2.2 million at the beginning of 2021. Doja Cat, a well-known social media user, has periodically caused a stir with her comments. When the term "faggot" was discovered in one of her earlier tweets in 2018, she came under fire.
Read more: Ellen Pompeo Net Worth: How Much Ellen Pompeo Earned From Grey's Anatomy?
She then apologized again and took down the message. Later, Doja Cat came under fire for her comments that COVID-19 was just the "flu" and for taking part in festivities throughout the epidemic.
Doja Cat's Wealth
Doja Cat's net worth as of 2022 is about $8 million US. She is one of the top female rappers and composers in the music business and has quickly become well-known. The music business, including record sales, live streaming, and performances, has contributed significantly to her financial success.
The monthly salary of Doja Cat is $100,000. The rapper also benefits greatly from her popularity, as she has over 9 million followers and daily views in the millions. Doja Cat makes more than $1 million a year in compensation. She has worked on several brand endorsement projects for well-known companies including "Pepsi-Cola Soda Shop" and others.
Fashion Slang
Currently, Doja Cat is among the most well-known musicians in the US. Doja, an African-American singer, has amassed a sizeable fortune via her successful career. She also has a sizable fan base, which she mostly obtained as a result of her well-known songs like "So High" and "Mooo!" As a result of her wealth, Doja maintains a somewhat opulent lifestyle. Over the past several years, she has succeeded in becoming a household name, and the artist is essentially associated with catchy tunes.
House
Doja Cat, one of the best rappers in the industry, enjoys investing in pricey real estate. Doja spent a significant amount of money—2.2 million dollars—to buy the Beverly Hills house where she is now staying. The luxurious property is surrounded by elm trees and has plenty of hiking trails, and it is situated in a quiet area that screams seclusion. Doja Cat has also made other real estate investments aside from that.
An Early Appreciation of the Performing Arts by Doja Cat
Once they returned to California, she resumed dancing and started taking tap, ballet, and jazz courses. Doja followed Hinduism while she and her mother resided in an ashram among the mountains after they left for Los Angeles.
She later joined a professional pop-locking group while still in high school and finally dropped out of school to focus on her music career.
Read more: Harry Styles Net Worth: How Did Harry's Best-Selling Albums Make Him Rich?
In a 2019 interview with the Quicksilver Show, singer Doja Cat discussed how her father was missing from her life and how she had no contact with him.
Musicians Break the Silence in Drama
Doja decided to contact Noah in an effort to find a method to message Joseph, who portrays Eddie on the program, and this is when the drama began. In a direct message to Noah, the singer had inquired about a means to let Joseph know she was attempting to get in touch with him.
Noah continued by telling the rapper from Planet Her that she may message him on Instagram and then sent his profile picture of Joseph over to the chat. When Doja believed their chat was over, Noah shocked her by uploading a screenshot of it online. As was to be anticipated, the screenshot quickly made news when it was covered by various media sources and people began to remark on it.