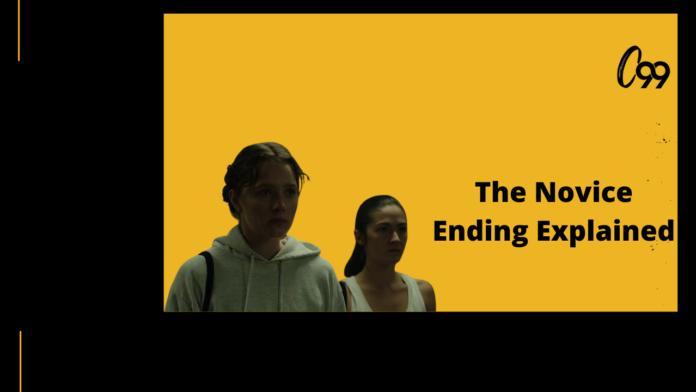 The protagonist of Lauren Hadaway's psychological suspense movie "The Novice" is Alex Dall, a fiercely ambitious college student who joins her school's rowing squad.
Dall undergoes a difficult psychological transformation as a result of her relentless determination to outperform the other rookies. The sports movie delivers an astonishing character study, examining the extent Dall goes to in order to fulfill her ambition.
It is intense and brutally real. The mysterious movie comes to a shocking conclusion, allowing the viewer to piece together the numerous unresolved issues. Here is everything you need to know about the movie's conclusion if you're wondering.
The Simple Plot Summary
Physics major Alex Dall is a competitive college freshman. She signs up to row for her university as a beginner and immediately begins working out hard to make the varsity team.
Along with fellow rookie Jamie Brill, she works assiduously under Coach Pete's direction and puts up good numbers to be chosen for the varsity team. She suffers an injury, though, and loses her first race with the team. She approaches Coach Edwards and begins training on the water rather than in an ERG machine to enhance her technique.
Dall begins dating Dani, the teaching assistant who manages her quizzes, in addition to her rigorous training. Dall joins the second varsity team 2V as a result of her rigorous training. The coaches were impressed when Dall and Brill's 2V squad defeated the main varsity team in the first spring training race.
Dall and Brill confront Coach Edwards and demand a seat race in order to advance to 1V. Dall and Brill are eventually chosen for the spring season seat races to assess both rowers' abilities despite Edwards' dismissal of them.
Also Read: Lincoln Lawyer Season 1 Ending Explained: All You Need to Know!
The End: Does Brill Steal from Dall?
Brill does indeed defraud Dall. Dall and Brill compete against one another in fours while the other three rowers remain the same in the seat race. The rower who provides the crew's fastest time after the two races win. Their efforts are evaluated.
The rowers who are chosen to race with Dall and Brill row harder for Brill and lighter for Dall, respectively, assisting Brill in winning.
While 1V is the pinnacle of what Dall can be as a dedicated rower, for Brill, it's just a chance to get a scholarship. Brill is on the verge of leaving college and enrolling at a public university due to financial difficulties.
She is also concerned about the prospect of moving home with her father. And the scholarship she will receive when she moves up to 1V is the only thing that can rescue her from such a situation.
She turns her back on Dall after finding out that he is a presidential scholar and does not require the scholarship to support her. Brill uses other rowers to assist her to win the seat race since she believes Dall will handle her college years on her own regardless of the team she finishes up on.
Other varsity rowers lend a hand to Brill so that they can avoid Dall on the main squad because they are already concerned by Dall's compulsive training and competitiveness. Despite Dall being treated unfairly, Brill prioritizes his own survival.
Brill focuses solely on the prospect of receiving a scholarship, in contrast to Dall, who is fixated on her training results and race results. Because she lacks economic privileges, she only sees other people as "silver spoon bitches," and this serves as her justification for what she does to Dall.
Read More: Ending of Gone Girl Explained: Did Nick Dunne Really Push Amy?
Is Dall Able to Reach 1 V? Why Removes Her Name from The List of Rowers Does Dall?
No, Dall does not reach 1V. Before the championship lineup is chosen, Dall competes in races against Brill, Highsmith, Janssen, and Mitchell. However, lightning interrupts the race and causes confusion among the competitors.
Dall, though, keeps racing against Brill and is the only one to complete the course. When she is done, she proudly returns to her rowing boat, checking her watch to see that she has beaten Highsmith's record time. Before anybody can say anything, a contented Dall enters the camp and crosses her name off the list of rowers to indicate that she is leaving the team.
Being a rower and making it to 1V, in Dall's opinion, are opportunities for her to test herself and excel at something she does not naturally excel at. She doesn't even care about her team or rowing, and the only thing that inspires her is the chance to put in the effort necessary to excel at something.
Despite the fact that she finds Physics to be the most difficult, she decides to major in it. She chooses rowing for this reason even though she doesn't want to continue doing it for financial or professional reasons.
Read More: Mother Ending Explained: Get More Information About the Movie!
Dall just cares about the chance to be the best at something, and as soon as she completes her final race—possibly in a new record time—the chance is gone since she is already the best. As a result, Dall crosses off her name as she completes her task.
When Dall is the only one to cross the finish line, 1V is no longer important. She is free to pursue and work hard for another objective, to master something else she is not excellent at, by leaving the team because she is aware that she has attained her aim.