What are Moonshiners About?
Moonshiners have existed in the United States since the Whiskey Rebellion of the 1790s. Surprisingly, a small number of Americans continue to produce moonshine, an illegally produced distilled beverage, primarily in the Appalachian region of the country.
This docuseries tells the stories of people who brew their shine in the woods near their homes, often in the dead of night, and the authorities who try to keep them honest.
READ MORE:-Murder In The Heartland Season 5 Episode 2: Don't Miss These Details About This Season!
The show exposes viewers to rarely seen on television practices such as firing up the still for the first time – a moonshiner's rite of passage. Viewers are also introduced to moonshining legends such as Marvin "Popcorn" Sutton.
The rise of the shine economy puts America's favorite outlaws to the test like never before in season 12 of MOOSHINERS, as inflation and supply chain disruptions hit Appalachia.
Moonshiners must delve deep into their common ancestors for secrets to surviving skyrocketing prices while inventing clever new ways to make America's favorite backwoods beverages while earning a tidy tax-free profit.
There is a silver lining for shiners in looking to tradition, as moonshiners thrived in the face of adversity during the Great Depression and other times of economic uncertainty.
Tennessee shiners, Mark and Digger face a determined law enforcement officer intent on halting their operation as they battle sky-high prices for raw materials, such as corn; innovators Mike and Jerry recruit Solomon Sutton, son of an infamous moonshiner, Marvin "Popcorn" Sutton, to help them devise new liquor recipes and stay ahead of the competition; to find a larger market for his popular spirits, Louisiana moonshiner Richard moves his operation to Tennessee; and in Viper's Den, a former moon.
Moonshiners Season 12 Episode 4 Cast
Josh Owens.
Mark Ramsey.
Eric "Digger" Manes.
Steve Tickle.
Mark Rogers.
Jim Tom Hedrick.
Moonshiners Season 12 Episode 4: The Upcoming Episode
Long Arm of Kenny Law is the title of episode four of Moonshiners Season 12. Josh will be in trouble with the Kenny law in the upcoming episode.
READ MORE:-Love Island Australia Season 4 Episode 14: Here All Details About The Season To Know!
He is sick of canned food and remains hidden in the woods. On the other hand, Popcorn's son will be just as unpredictable as his father. Surprisingly, Tim and Howard will resurrect a long-lost recipe that could change their lives.
A Kentucky teenager created the rediscovered recipe for log still whiskey in 1836. Doesn't that sound incredible? We can't wait to see what the recipe is and how it turns out!
Moonshiners Season 12 Episode 4: Release Date
You're probably looking for the release date right now. We'd like to let you know that Moonshiners Season 12 Episode 4 will air on Wednesday, November 30, 2022.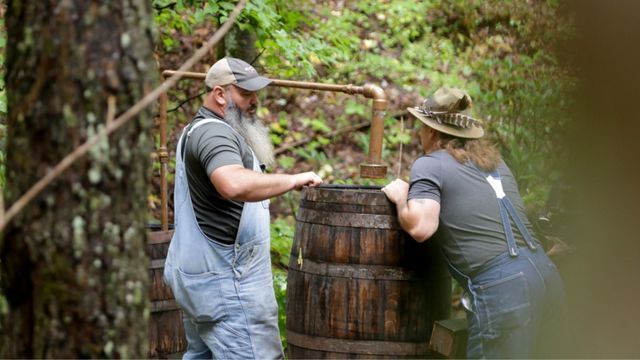 This episode is 60 minutes long, as were the previous ones. That means you'll have an hour of entertainment. However, if you are busy on that day and time, don't worry about it. Because you have several choices as well.
Moonshiners Season 12 Episode 4: How to Watch
All episodes of Moonshiners can be seen on Discovery Channel at 8 p.m. Eastern Time. Make a note of it on your calendar so you don't miss out on another entertaining episode.
READ MORE:-Ghost Hunters Season 15 Episode 8 Release Date: Everything About This Episode You Need to Know So Far
If you missed the previous episodes, you can catch up on them later on Discovery Plus. You won't have to miss an episode of this show, which follows people in Appalachia who are carrying on a centuries-old tradition.
Moonshiners Season 12 Episode 4 Trailer