Mythic Quest (originally titled Mythic Quest: Raven's Banquet) is an American comedy streaming television series created by Charlie Day, Megan Ganz, and Rob McElhenney for Apple TV+.
The series premiered on February 7, 2020, and follows a fictional video game studio that creates the popular MMORPG Mythic Quest.
Mythic Quest Season 3, Episode 3 Recap
David calls an emergency meeting to brag about the latest studio development. The top brass in Montreal wants to make a Mythic Quest film, with David as executive producer. Carol and Brad are unconcerned by the announcement and decide to return to work.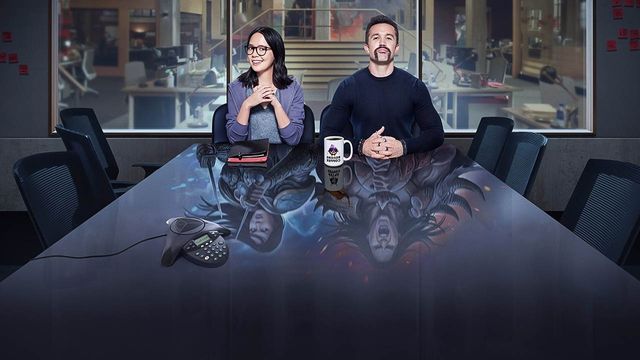 Jo is enraged and wants retaliation for her blatant betrayal, but David detects another harassment complaint in the works and gives her the day off instead. He asks her to tell Ian the good news on her way out, clearly wanting to rub it in his adversary's face.
READ MORE:-Release Information for Diggstown Season 5: Cast, Storyline, and More
Poppy is absolutely crushing it at GrimPop HQ, fully immersed in a coding frenzy. She speaks to herself and congratulates herself on her accomplishments, but no one is present to share in her joy. Ian is having fun with Dana.
Rachel then appears, searching for Dana, followed by Jo, who is looking for Ian. These three ladies decide to ditch their jobs and duties for the day to celebrate Poppy's accomplishments with brunch.
I'm not sure if you've heard, but brunch is becoming increasingly popular. The three pals walk into a crowded café and take a seat. They place a large order and begin to binge on breakfast treats and booze. Poppy and Rachel brag about their incredible lives.
Poppy emphasizes how clearly successful she is at work and how she does not require Ian's approval, whereas Rachel is a hit at school and makes plenty of friends in her spare time. Jo struggles to think of her own success and claims that someone who once bullied her has just lost their home, which sort of works. Poppy interrupts, stating that Jo is crushing it at the brunch, emphasizing the 'the' as Jo calls it.
Is There a Trailer for Mythic Quest Season 3?
There is! A trailer for Mythic Quest Season 3 is available below:
Where Can I Watch Mythic Quest?
Mythic Quest is now available on AppleTV+. This is an exclusive original series, which means that you will only be able to watch it here.
READ MORE:-Murder In The Heartland Season 5 Episode 2: Don't Miss These Details About This Season!
How Many Episodes Will Mythic Quest Season 3 Have?
Season 3 of Mythic Quest is set to have 10 episodes, so we'll have 7 more after this one. Expect the story to progress as Ian and Poppy deal with their gaming issues.
Mythic Quest Season 3 Episode 3 Release Date
Mythic Quest Season 3 Episode 3 will be available on Friday, November 18th at approximately 12 am (ET/PT) and 5 am (EST) (GMT). Of course, how quickly Apple uploads new episodes is a major factor. However, this is likely to be close to the release date.
Mythic Quest Season 3 Episode 3 will be available with subtitles upon its release, with the chapter running for 30 minutes.
READ MORE:-MuConvert Spotify Music Converter: Best Way to Covert Spotify Music
Mythic Quest Season 3 Episode 3 Cast
Todd Biermann.
Megan Ganz. Charlie Day. Rob McElhenney.
Rob McElhenney. Ashly Burch. Jessie Ennis.