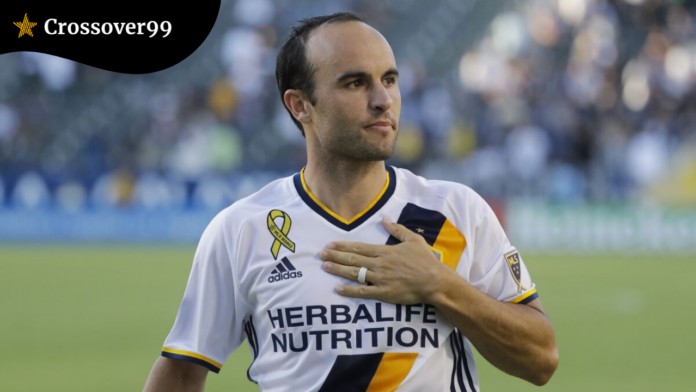 Landon Donovan is a former professional soccer player from the United States. Donovan is also the manager, co-founder, and vice president of soccer operations for USL Championship club San Diego Loyal SC, as well as a strategic advisor for the English club Lincoln City.
ESPN named him as the greatest American soccer player of all time, and Major League Soccer also ranked Donovan as the greatest American soccer player of all time.
Early Years and Education
Landon Timothy Donovan and his twin sister Tristan were born in Ontario, California, on March 4, 1982. Their parents are Donna Kenney-Cash, an American special education teacher, and Tim Donovan, a Canadian semi-professional ice hockey player. Donovan's parents are both of Irish heritage, and his father gave him Canadian citizenship.
Landon and his siblings were reared by his mother in Redlands, California, and he attended Redlands East Valley High School when he was not participating in soccer activities elsewhere.
Donovan originally played soccer with his elder brother, and when he was six, his mother let him join an organized league. In his first match, he scored seven goals. Donovan was a member of the Cal Heat, a baseball team headquartered in Rancho Cucamonga, California.
In 1997, he was admitted into the Olympic Development Program of U.S. Youth Soccer. Donovan attended the IMG Academy in Bradenton, Florida in 1999 as part of U.S. Soccer's young development program for the U-17 national team. Donovan participated in the initial U.S. Soccer youth residency program in Bradenton, Florida.
He was voted the Tournament's Most Valuable Player for his contribution to the United States under-17 team's fourth-place performance at the 1999 FIFA U-17 World Championship before signing with Bayer Leverkusen later that year.
Also Read: Are You Curious About Chelsea Star Mason Mount's Net Worth in 2022?
What is Landon Donovan's Net Worth?
As of December 2022, Landon Donovan Has an Estimated Net Worth of $14 Million (Source: Celebrity Net Worth). Between 2005 and 2009 Landon earned $900,000 per year. In 2010, his income increased to $2 million and remained at that level through 2013. During the 2014 season, Landon earned a basic salary of $4.5 million, his highest ever. In total, he made $18.3 million between 2005 and 2016.
Also Read: Lionel Messi Net Worth: Are You Curious About His Net Worth in 2022?
Real Estate
It was reported in 2012 that Landon had sold his Manhattan Beach home for $4.295 million. The 5,715-square-foot residence contains a fitness center, a home theatre, and a sizable wine cellar. Additionally, 11-foot ceilings, antique tiling, and handcrafted wrought ironwork are remarkable additions.
Donovan sold another California house in 2016 for $2.9 million in La Jolla. This home is situated on a sloping, quarter-acre lot with direct beach access and a volleyball court. In addition to magnificent ocean views, the residence features 6,840 square feet of living space and a detached guest house/pool house.
Although Landon initially advertised this residence for $3.65 million a year ago, he gradually lowered the price until he settled on $3 million. In 2014, he paid $3.35 million for the undeveloped parcel, hence he sustained a huge loss on this transaction.
Career
Shortly after impressing at the FIFA U-17 World Championship, Bayer Leverkusen signed Landon to a six-year deal. Although Donovan struggled to acclimatize to life in Germany, he did admirably on the field.
In 2001, as a result, the German club loaned Landon back to the United States to play for the San Jose Earthquakes. Throughout the following four years, he became an integral member of Major League Soccer and scored numerous goals.
Eventually, his loan period concluded and he returned to Bayer Leverkusen. Again, Donovan was unable to acclimate to life in Germany and demanded a transfer after just seven matches. As before, he was sent back to the United States and signed with the Los Angeles Galaxy as the league's highest-paid American player.
During his tenure in Los Angeles, Landon performed admirably with notables such as David Beckham.
Donovan was loaned to multiple clubs throughout his tenure with LA Galaxy. He played significantly for Bayern Munich in 2008. Then, he joined Everton in the English Premier League, where he became a fan favorite almost immediately.
Donovan said in 2012 that he was considering leaving professional soccer. Despite this, he returned to training in 2013 and maintained his exceptional performance. By the end of 2014, he had declared his retirement from the sport totally.
In 2016, Donovan came out of retirement and rejoined the LA Galaxy. He participated in the final six games of the season, scoring one goal. This signified the start of his second retirement. Two years later, Landon came out of retirement for the second time, signing for Club Leon of Liga MX. Club Leon chose to terminate Donovan's contract early in 2018.
Also Read: How Ndamukong Suh Became One of NFL's Highest Paid Defensive Players of All Time!
Style of Play
Throughout his career, Donovan was a dynamic attacker recognized for his speed, stamina, intellect, and technical talent, which allowed him to play in many forward and midfield positions.
Bruce Arena, his longstanding international and club manager, was once quoted as stating, "The problem with Landon is that he is your best player in so many positions that you never know where to put him."
Early in his career, Donovan primarily played as a withdrawn striker and was renowned for his speed and goal-scoring skills. As Donovan's professional career advanced, managers increasingly employed him as a wide attacking midfielder, where his playmaking skills, passing vision, and defensive work rate could aid the club.
Throughout the majority of his career, Donovan was the first-choice penalty taker for club and country. He was also competent in delivering set pieces and occasionally scored from direct kicks.
Post-Playing Career
After leaving professional soccer for good, Landon pursued a career as a manager. In 2019, he became the inaugural manager of San Diego Loyal SC, a team he co-founded. Although Donovan had never previously coached a team, he relied on a number of skilled staff members for assistance.
Additionally, Landon Donovan has worked as a sports commentator and analyst for networks such as ESPN and Fox Sports. Among other events, he contributed to the coverage of the 2014 World Cup.
Also Read: How Carnell "Cadillac" Williams Amassed a Fortune of $8 Million?
Personal Life
On December 31, 2006, Donovan wed actress Bianca Kajlich; the couple split in July 2009, and Donovan filed for divorce in December 2010. In the month of May 2015, he wed Hannah Bartell.
In January 2016, they had their first child, a son Talon. Donovan has publicly discussed his struggles with depression throughout his life and career, and he has criticized the professional sports community for its handling of mental health issues.
Donovan has called Manhattan Beach, California home since joining the Galaxy. While growing up in California, he acquired Spanish both at school and via participation in Hispanic groups and leagues.
Due to his time spent in Germany, he is also fluent in German. After two brief periods with Everton, during which he became a fan favorite, Donovan proclaimed himself to be an "Evertonian for life."
He was featured on the covers of the FIFA 11 and FIFA 12 video games in North America.
Donovan became a part-owner of the Welsh football club Swansea City in 2016, joining three other Americans in an investment group that has the team's controlling ownership.
Wells Fargo sponsored Donovan's support of Mexico's national team at the 2018 FIFA World Cup, during which he disclosed he was a fan of the United States' arch-foe. He received widespread criticism, especially from his former international teammate Carlos Bocanegra, to whom Donovan replied, "Remember where you came from," referring to Bocanegra's Mexican origin.
Donovan was a contestant on the 2020 episode of Game On!