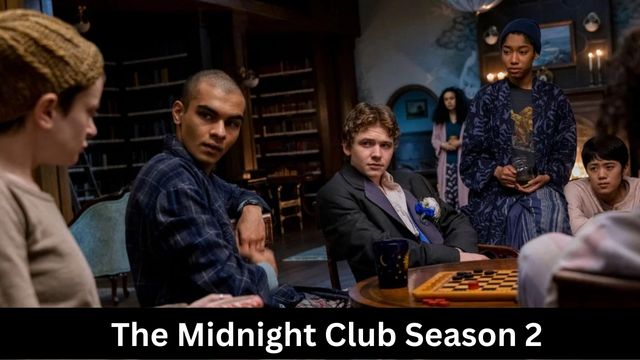 The Midnight Club is an American horror mystery-thriller streaming television series created by Mike Flanagan and Leah Fong, with Flanagan serving as showrunner, lead writer, and executive producer.
The series is set in a hospice and follows eight terminally ill young adults who form "the Midnight Club," meeting each night to tell each other scary stories; it features an overarching story while also frequently depicting those tales on-screen.
READ MORE:-Neil Gaiman Reveals Sandman Season 2 of the Netflix Series Will Introduce Delirium
Although based primarily on Christopher Pike's 1994 novel The Midnight Club, the series incorporates elements from many other Pike works, including those featured in the "Midnight Club" stories.
When Will the Midnight Club Season 2 Premiere?
Assuming that The Midnight Club will return for a second season, we can expect it to premiere between the fall of 2023 and the spring of 2024.
This educated guess is largely based on the time span between The Midnight Club's announcement in May 2020, filming in March 2021, and release in October 2022. Given that Netflix hasn't officially announced the renewal of the second season, we're not convinced.
The Midnight Club Season 2 Cast: Who Will Be Coming Back?
The show said goodbye to tough-as-nails Anya, so it's unlikely that Ruth Codd will reprise the role in a future season.
READ MORE:-Siesta Key Season 5 Episode 5: Here Are All Details About the Season to Know!
It's possible she'll return in a flashback or, dare we say, as a ghost, but it's highly unlikely. Her story arc ended with the repair of her ballerina statue (it was a thing, trust us), so it would be strange for her to return.
When it comes to a show about dying children, the unfortunate reality is that anyone can leave at any time, even off-screen. We do, however, anticipate the return of Benson and Igby Rigney as Ilonka's last-minute love interest Kevin.
The two had all season to get together but waited until the final episode to make things happen. It's simply a betrayal of the fans who have supported them since the beginning.
Heather Langenkamp must reprise her role as the enigmatic Dr. Georgina Stanton. Along with that hourglass tattoo, the good doctor has a lot of secrets hidden beneath that wig. Who is she, and what is her connection to the Paragon? So many questions to answer (more on that later)!
We also hope to see the following storytellers at another Midnight Club mixer:
• Annarah Cymone as Sandra
• William Chris Sumpter as Chris Spencer
• Adia as Cheri
• Aya Furukawa as Natsuki
• Sauriyan Sapkota as Amesh
• Samantha Sloyan as Shasta
• Zach Gilford as Mark
The Midnight Club Season 2 Plot: What Will Happen?
Dr. Stanton has been summoned. We need answers now! The series concludes with a close-up of Georgina's head, revealing that not only has she been wearing a wig the entire time, but she also bears the tattoo of the Paragon.
READ MORE:-Hard Knocks in Season – Season 2 Episode 3: Plot | Cast | Release Date And Much More!
To recap, the Paragon was a new-age health philosophy group turned cult founded by a woman named Aceso. They believed they could heal the sick through the ancient Greek goddesses known as the five sisters, which led to blood sacrifices.
They were extinguished after a blood sacrifice the gods would not ignore,' which resulted in the deaths of all but one of the Paragon's adults. Aceso.
The fact that Georgina has any connection to the group is a huge reveal given her initial denial of knowledge about the Paragon and then her cool dismissal of their practices and beliefs.
She then becomes increasingly frustrated with Ilonka's probing, telling her that its teachings are like cancer to those in need of hope – so how did she become involved? We have our theories, but one thing is certain: something big is definitely brewing, and we can't wait for the big reveal in a potential season two.
The Midnight Club Season 2 Trailer: When Can I Watch It?