Hell's Kitchen is an American reality cooking competition show that debuted on Fox on May 30, 2005. Celebrity chef Gordon Ramsay, who created and starred in the British series of the same name, hosts the show.
During each season, two teams of chefs compete for the position of head chef at a restaurant while working in the kitchen of a restaurant set up in the television studio.
Over the course of each season, a progressive elimination format reduces a field of 20 to 12 and a single winner. In a typical episode, one contestant is eliminated.
READ MORE:-Magnum P.i. Season 5: Will this Season Ever Be Available on Netflix?
The series is notable for Ramsay's explosive rage toward contestants, which is heavily dramatized for the benefit of the audience. Hell's Kitchen has been nominated for six Primetime Emmy Awards. In response to the show, a chain of Gordon Ramsay Hell's Kitchen restaurants has opened.
How to Watch "Hell's Kitchen"
"Hell's Kitchen" airs at 8 p.m. on Thursdays. EST on FOX You can also watch FOXNow on demand or stream online. Hulu is streaming 13 seasons, including much of the current season. And Tubi's Gordon Ramsay channel features many of Ramsay's seemingly endless shows, such as "MasterChef," "MasterChef Junior," and his most recent, "Next Level Chef."
Tubi has over 40,000 movies and television series from over 250 content partners, including every major studio, as well as the largest offering of free live local and national news channels in streaming. The platform allows fans of entertainment, news, and sports to easily discover new content that is completely free.
Tubi is available globally on Android and iOS mobile devices, Amazon Echo Show, Google Nest Hub Max, Comcast Xfinity X1, Cox Contour, and OTT devices such as Amazon Fire TV, Vizio TVs, Sony TVs, Samsung TVs, Roku, Apple TV, Chromecast, Android TV, PlayStation 5, Xbox Series X | S, and soon on Hisense TVs. Consumers can also watch Tubi content on the web at http://www.tubi.tv/.
READ MORE:-Firefly Lane Season 2 Release Date: Here Are All Details About the Season to Know
Where Can You Stream All Seasons of Hell's Kitchen?
The fiery competition series is in season 21 as of December 8, 2022. While Peacock has most of the seasons available for streaming, only the first 19 are available. If you want to watch the current season of Hell's Kitchen, your only option is Hulu.
All 21 seasons of the show are currently available on Hulu. The series airs new episodes on Fox every Thursday, and new episodes are added to the streaming service the day after they air on television.
If you don't already have Hulu, you can subscribe for $7.99 per month with ads or $14.99 per month with no ads. The streamer's website has a detailed breakdown of the subscription options.
"Hell's Kitchen": a Sinking Ship
As dinner arrives, Billy mentions "bouncing back" for the 300th time this season. He also says "bro" like "broo" at times.
Many "Hell's Kitchen" alums attend Trenton and Macy's wedding dinner, all of whom take a perverse delight in watching Ramsay scream at people who aren't them. And there's a lot of yelling. This is a terrible dinner service. Abe undercooks then overcook scallops.
Billy tries to assert himself in handling the preparation of his dish, but Abe refuses, claiming that Billy has never worked at the fish station before. Unfortunately, when Billy takes over, he repeats the same mistakes, undercooking and overcooking.
Cheyenne, the red team's dark horse, is summoned to the blue team's side to properly prepare them.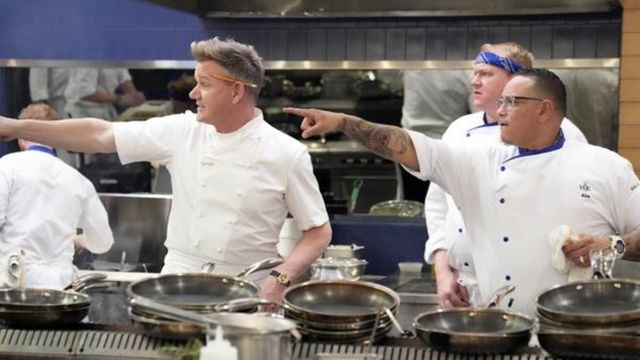 And that's just the beginning. Alejandro's steak is too rare. Several pieces of raw chicken are discovered in the center. "You should be embarrassed," Ramsay says after kicking them out of the kitchen. He instructs them to choose two cooks to face elimination.
READ MORE:-Outlander Season 7 Production Has Almost Completed! Does The Sequel Have Any Release Date?