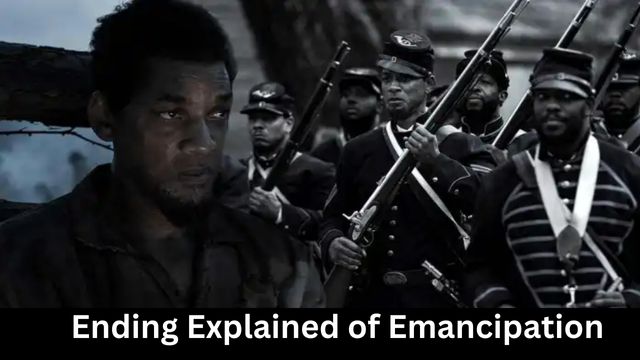 Emancipation is a 2022 American historical action film directed by Antoine Fuqua and starring Will Smith as an enslaved man who escapes his plantation in Louisiana in the 1860s.
The film, written by William N. Collage, is loosely based on the real-life story of Gordon (named "Peter" in the film), a former slave, and the photographs of his bare back, heavily scourged from an overseer's whippings, that were published worldwide in 1863, providing proof of the cruelty of American slavery to the abolitionist movement.
READ MORE:-How Much James Woods Earned In His Entire Movie Career?
Ben Foster and Charmaine Bingwa also appear in the film.
Emancipation Ending Explained (in Detail)
Will Smith's latest film, Emancipation, is now available on Apple TV+, and we break down the film's ending, true story origins, and plot points.
Emancipation brings Peter's story full circle, with an ending that offers a glimmer of hope after so much hardship for its main character. Emancipation, directed by Antoine Fuqua from a screenplay by William N. Collage, stars Will Smith in his first role since 2021's King Richard and the now-infamous Oscars slap. Critics were largely lukewarm on the Apple TV+ drama, though the cast's performances were praised.
Emancipation concludes with Peter, now free, joining the Union Army after finally escaping Fassel, who had been stalking him through the swamp for days. Peter fought against the Confederate Army and was constantly in the line of fire before the Union Army marched through the plantation where he was once enslaved to announce to his family and the remaining slaves of John Lyons that they were free.
READ MORE:-Best DosMovies Alternatives Websites to Watch Movies and TV Shows Online
With such a traumatic and emotional journey behind him, Peter was finally reunited with his wife and children, and the image of his scarred back lived on to highlight the horrifying brutality of slavery.
Is Emancipation Based on a True Story?
The story of emancipation is based on a true story. Gordon, Peter's real-life counterpart, was a slave who escaped his Louisiana plantation and made it to the Union Army in Baton Rouge after ten days of wading through the region's swamps.
Gordon's scarred back, as seen in the film, was the result of being whipped by the slave owner's overseer.
The image was published in 1863 and became synonymous with what slavery actually looked like around the world.
However, there are claims that the man in the photograph and the man who escaped from a plantation to join the Union Army is not the same person, but historians generally agree that Gordon is the subject of both.
What Emancipation Leaves Out About Peter's Life
Emancipation stays fairly true to the account of Gordon's life, though it wouldn't be a Hollywood production without some artistic license. While Peter's real-life counterpart did join and fight with the Union Army, Emancipation excludes his capture by Confederate soldiers.
READ MORE:-Competitors and Alternative Sites for Moviesjet.in, Appraisal and Analysis
Gordon was kidnapped and tortured, but he managed to escape. It's possible that the film didn't include this because Peter had already faced so much adversity and didn't want to add another, especially so close to the end.
Furthermore, Emancipation includes Peter's family, but there is no mention of them in the research, despite the fact that he most likely had one.