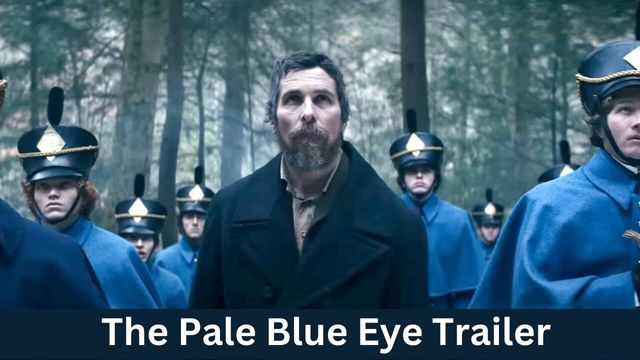 The Pale Blue Eye is a forthcoming American thriller film starring Christian Bale as a detective in West Point, New York in 1830 who investigates a series of murders with the help of a young Edgar Allan Poe.
Scott Cooper wrote and directed the film, which is based on Louis Bayard's 2003 novel of the same name. Along with Bale, the film stars Harry Melling, Gillian Anderson, Lucy Boynton, Charlotte Gainsbourg, Toby Jones, Harry Lawtey, Simon McBurney, Timothy Spall, and Robert Duvall.
READ MORE:-See Jonah Hill Clash With Eddie Murphy and Nia Long in the 'You People' Trailer!
The Pale Blue Eye Release Date
The Pale Blue Eye will be available on Netflix worldwide on Friday, January 6, 2023, but will be shown in select cinemas beginning December 23, 2022.
Is There a Trailer for the Pale Blue Eye?
Yes, Netflix has released a trailer for The Pale Blue Eye, and it looks terrifying, creepy, and intriguing. We simply cannot wait. Take a look at the video below…
New 'pale Blue Eye' Trailer Shows Christian Bale Searching for the Truth in Eerie Murder Mystery
How does a writer come up with their stories? Especially an author of the caliber of Edgar Allan Poe. The author of literary classics such as "The Raven," "The Tell-Tale Heart," and "The Fall of the House of Usher" is undeniably one of history's most famous scribes, but he was once a man, living a life beyond fame and infamy. His origins will be investigated – at least in part – for Netflix's latest horror mystery, The Pale Blue Eye, which has a new trailer.
Scott Cooper, who reunites with star/fellow producer Christian Bale ten years after their first collaboration, wrote, directed, and produced the film. The Pale Blue Eye follows Augustus Landor (Bale), a world-weary detective who has grown accustomed to the bleak and morose nature of human existence, as he emerges from the Furnace.
Landor is summoned to the West Point military academy, where a cadet was murdered under suspicious and disturbing circumstances and finds a kindred cold spirit in another cadet, the man we now know as Poe.
They'll try to find the person responsible for such heinous acts with the help of their unexpected company. But, as Landor points out at the start of this trailer, every murderer will eventually investigate themselves. Perhaps this is a foreshadowing of more sinister revelations to come.
READ MORE:-Infinity Pool Trailer: Everything You Need To Know So Far!
Christian Bale Unearths an Edgar Allan Poe Origin Story in the Pale Blue Eye Trailer
Scott Cooper, a filmmaker, considers atmosphere to be as important as character. Crazy Heart is a small town in the American southwest. The steel mills of Pennsylvania in Out of the Furnace. Whitey Bulgar's South Boston neighborhood in Black Mass. The rural Americana setting in Hostiles. "We are all influenced by our surroundings, our atmosphere, and the environments in which we live," Cooper tells EW. He took the same approach with The Pale Blue Eye.
The new trailer, which EW can exclusively reveal, shows more of the bone-dry, unforgiving winter that surrounds Christian Bale's grumpy detective Augustus Landor and Harry Melling's pre-poet Edgar Allan Poe.
"It was ball-freezingly cold," Bale says of the set. "We couldn't even talk properly at times because our jaws were frozen, but that's understandable. It looks good and feels good. These are the kinds of situations that these tough characters are used to."
"These characters are all shaped by the environment: the cold, the snow, the barren, very gothic, unforgiving landscape, the reminder of how people lived in 1830," Cooper continues. "It seemed to me that everything in this environment would influence not only the viewer, consciously or subconsciously but also Poe on his journey through his origin story."
READ MORE:-Good Omens Season 2 Release Date, Cast, Plot, Trailer, and More
Frequently Asked Questions
Where Was the Pale Blue Eye Shot?
Filming Began on November 29, 2021, at the Historic Compass Inn in Laughlintown, Pennsylvania. Filming began in December at Westminster College in New Wilmington, Pennsylvania.
Is the Pale Blue Eye Based on a True Story?
The Pale Blue Eye is a Gothic Murder Mystery Based on Louis Bayard's 2006 Novel of the Same Name. While Not Based on Historical Events, the Film Incorporates Real Horror Writer Edgar Allan Poe, Creating a Fictitious Origin Story That Cinematically Explores Some Poetic Elements of His Writings.
Is Blue Story Available on Netflix?
However, if You Try to Watch Blue Story on Netflix, You May Be Disappointed. Unfortunately, This Crime Series is Only Available on Netflix in the United Kingdom. If You Want to Access It From the United States or Anywhere Else, You're Out of Luck.