Hello, Neighbor 2 (formerly Hello Guest, and its prototype codename Late Night Shift) is the sequel to the Hello Neighbor game series.
What Happened in the Hello Neighbor 2 Ending?
In the Hello Neighbor 2 ending, Quentin discovers the missing child, Aaron, in the museum's attic. Quentin and Aaron flee after unlocking the main door, but the large crow statue falls from the ceiling and lands on Mr. Peterson.
READ MORE:-How to Watch Pink Lie Episodes: How Does This Game Show Work?
Instead of fleeing with Quentin, Aaron returns to assist Mr. Peterson as a mysterious figure knocks the protagonist out from behind.
This raises more questions than it answers. Why did Aaron return to assist Mr. Peterson instead of fleeing after being trapped in the attic? Who was the enigmatic figure who knocked Quentin out?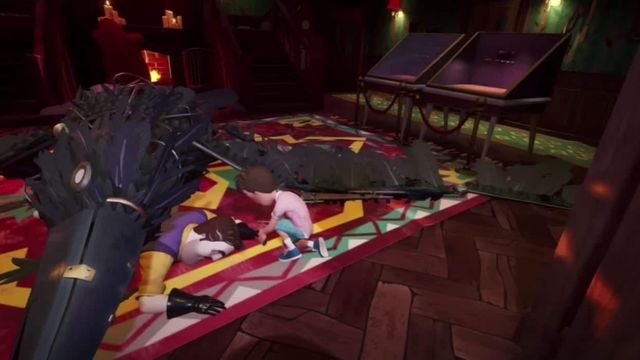 Unfortunately, it is impossible to determine who hit Quentin. Even if you manage to view it in the third person by tampering with the game's files, there is no actual rendition of anyone hitting Quentin. It's just a shadow that floats behind Quentin before he falls to the ground and the credits roll.
It is strongly implied that Aaron returned to help Mr. Peterson because he is Mr. Peterson's son. A prequel game, Hide and Seek, reveals that Aaron accidentally pushed his sister, Mya, to death. Despite being locked up in the attic, Aaron loves his father enough to help him when he is in danger.
There are a few theories as to why Mr. Peterson is keeping his own son in the attic. He may be attempting to protect him from something that wishes to harm him. Or he could simply be overprotective of his remaining family after losing his wife and daughter.
Aaron appears to want to flee Mr. Peterson, but he is hesitant due to his father's injury. Aaron appears to be unharmed when Quentin discovers him in the attic. So it's unlikely that he was abused.
While Hello Neighbor 2 has DLCs that offer additional stories to explore, none of them really provide answers to what happened in the main game.
Instead, those DLCs function as standalone installments, leaving us with no answers as to what happened to Quentin, the character we've been playing throughout the game.
As the credits roll, Hello Neighbor 2 promises some major updates. We're not sure if these will provide any answers to what happened, but we'll have to wait.
It's time to renew your investigation & return to the sleepy little town with a 𝑏𝑖𝑡 of a missing person problem and a 𝘄𝗵𝗼𝗹𝗲 lot of mystery.

Can you get to the bottom of what's going on in Raven Brooks? Your investigation starts now!
🔎 https://t.co/juVgqvQmmd

Ready? 👀 pic.twitter.com/Jc2HzTka8u

— Hello Neighbor Games (@NeighborGamesHQ) December 6, 2022
Hello Neighbor 2 Release Date
Hello, Neighbor 2 finally has a release date, and the good news is that you won't have to wait long to start digging through the closet again.
The sequel will be available on Steam, Epic Games Store, Xbox, and PlayStation stores on December 6, 2022.
Hello Neighbor 2 Review
Hello, Neighbor 2 is the follow-up to the inexplicable indie hit Hello Neighbor from 2017. Hello, Neighbor 2 is also the follow-up to a slew of underwhelming spin-off games and unfinished betas that have plagued the stealth horror series.
READ MORE:-Netflix, UBISOFT Announce Plans to Create Three Exclusive Mobile Games for Subscribers: Know More!
Despite what some fans predicted, the long-awaited numbered sequel fails to raise the series' bar, ending up as promising and underwhelming as any previous entry.
The premise of Hello Neighbor 2 is straightforward: the player, like in the original game, must sneak through the house of a character known as Mr. Peterson, collecting evidence of his kidnappings. Unlike in the original game, the protagonist is an investigative journalist with access to more tools, such as camera drones and a larger inventory.
And, unlike in the original game, the enemy isn't just Mr. Peterson and his house, but a whole 3 blocks' worth of buildings and neighbors, all organized in a semi-open-world fashion.
This strange open world is quickly revealed to be incomplete, as players will spend the first half hour after the tutorial looking for the first interactable house. Even though everything takes place on a single map, the game is still divided into acts.
READ MORE:-Arcane Season 2 Release Date: Why Riot Games Has Purchased Stake in Arcane's Animation Studio?
A new act begins when the player finds the final key item from a previous building, triggering a cutscene as a new building appears.