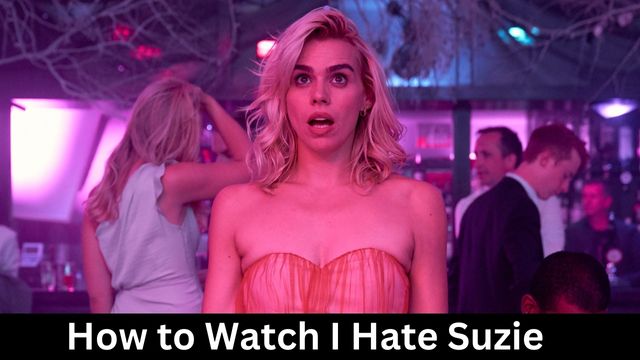 I Hate Suzie is a British dark comedy-drama television series created by Lucy Prebble and Billie Piper.
It was produced by Bad Wolf in collaboration with Sky Studios, with Prebble serving as showrunner. Prebble wrote all of the episodes, and the majority of them were directed by Georgi Banks-Davies.
READ MORE:-Stranger Things Season 5 Netflix Release Date: Everything You Need to Know About This Series!
What is the I Hate Suzie Too Plot?
Season 2 of I Hate Suzie, titled I Hate Suzie Too, sees the return of child star turned actress Suzie Pickles, played by Billie Piper. Suzie has a new agent, a new publicist, and a new job: dancing for likes on Dance Crazee, a reality TV competition that has the Saturday night audience hooked. Suzie returns to her first love, the public, after losing everything that matters to her.
Suzie must try to keep life as stable as possible for her young son Frank (Matthew Jordan-Caws) while battling ex-husband Cob (Daniel Ings) with the help of estranged best friend Naomi (Leila Farzad), all while staying on Dance Crazee long enough to finance her new role as single mum and ex-wife.
Suzie fights to regain the love of the British public in this three-part anti-Christmas Christmas special while her personal life spirals out of control. , a,…………. And at what cost?
When is the I Hate Suzie Too Release Date?
Season 2 of I Hate Suzie will premiere on Sky Atlantic and the streaming service NOW on Tuesday, December 20.
The season will consist of three episodes.
Season 1 is now available to watch online.
Who is in the I Hate Suzie Too Cast?
Billie Piper (Doctor Who, Secret Diary of a Call Girl) plays Suzie
Leila Farzad (Avenue 5, The Fear Index) plays Naomi
Daniel Ings (Sex Education) plays Cob
Phil Daniels (Eastenders) plays Suzie's dad, Phil
Lorraine Ashbourne (Bridgerton) plays Suzie's mum, Karen
Elle Piper plays Archie
Matthew Jordan-Caws plays Frank
READ MORE:-"Wednesday" Surpasses Ryan Murphy's "Dahmer" To Become Netflix's #2 Most Popular English-Language Series of All Time!
Douglas Hodge (Joker, The Great), Blake Harrison (The Inbetweeners, The Great), Layton Williams (Everybody's Talking About Jamie, Bad Education), Omari Douglas (It's a Sin), Anastasia Hille (Snow White and the Huntsman), Angela Sant'Albano (The Nevers), Reza Diako (Tehran), and Yaz Zadeh are among the new cast members for I Hate Suzie season 2. (I May Destroy You).
I Hate Suzie Too Shines an 'honest' Light on the Unspoken 'frustrations' of Life
Sky's I Hate Suzie Too, which premieres on December 20th, is described as an anti-Christmas Christmas special, with Billie Piper reprising her role as child star Suzie Pickles, who is determined to rebuild her public image.
When asked about the show's themes, creators Billie Piper and Lucy Prebble told Yahoo that the new season hopes to shed light on many of life's unspoken truths.
"We both have a quest, to be honest about the things in life that affect all of us," Piper says.
"That isn't discussed. It appears that we both share this frustration."
When creating their second installment, the duo also shared a dark sense of humor.
"I think you'll often make each other laugh on a personal level by saying things like, "You won't believe what I did next," Prebble said. "We can translate that sort of self-lacerating, dark 'Oh my gosh, I'm such a whatever'."
"We wanted it to be more ambitious, not just visually, but also in terms of ideas," Piper adds. "How do we improve on series one, how do we keep pushing that?"
The return also includes the introduction of two new characters: reality TV show contestant Danny Carno (Blake Harrison) and Suzie's estranged ex-husband Bailey Quinn (Douglas Hodge).
READ MORE:-Jeyran Episode Schedule: Check Out Where Can You Watch This Series?
Joining the show was a no-brainer for both Harrison and Hodge.
Is There an I Hate Suzie Too Trailer?
Yes, the deliciously dark I Hate Suzie Too trailer is available below: