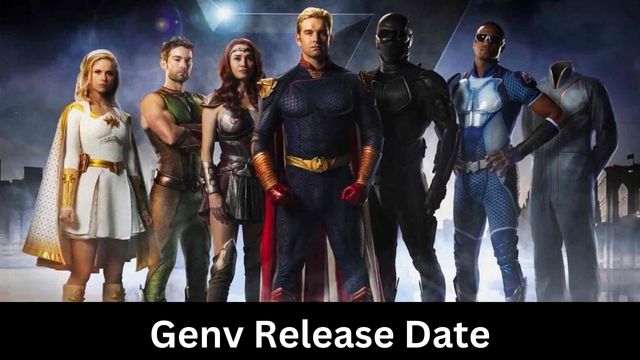 Gen V is an upcoming American superhero streaming television series created by Michele Fazekas and Tara Butters that serves as a spin-off of The Boys by Eric Kripke and is based on the story arc "We Gotta Go Now" by Garth Ennis and Darick Robertson from the comic book The Boys.
The series, which will air alongside the fourth season of The Boys, is set to debut on Amazon Prime Video in 2023.
READ MORE:-Chainsaw Man Season 1 Finale Ending Explained: Everything You Need to Know About This Series!
Gen V: the Plot
"Gen V is set at America's only college exclusively for superheroes, run by Vought International. irreverent, R-rated series that explores the lives of hormonal, competitive Supes as they put their physical, sexual, and moral boundaries to the test, competing for the best contracts in the best cities. It's part college show, part Hunger Games — with all the heart, satire, and raunch of The Boys."
The school will be called Godolkin University School of Crimefighting. It is likely to be named after John Godolkin, a character from The Boys comics who is a very dark version of Professor Xavier from the X-Men series.
The Boys' Showrunner Eric Kripke Says,
"Just like Mork & Mindy separated from Happy Days — which is an insane and true fact – our spinoff will exist in the Vought Cinematic Universe yet have its very own tone and style. It's our bid for a college show with an ensemble of fascinating, complicated, and at times deadly Young Supes. Michele and Tara are rocking geniuses, we're happy to have them steer this ship and grateful to Sony and Amazon for the opportunity. We love this show and can not wait to see it. Also, Baywatch Nights separated from Baywatch, and it had vampires. Vampires! "
READ MORE:-Where to Watch Jack Ryan Season 3: Can You Watch this Series for Free?
Kripke Goes on to Tease:
"There's definitely crossover, and we're doing our best to design a universe that sees some of the issues and storylines in Season 3 handoff to the first season in Varsity. Like there's a presidential campaign happening in the background of that season, and there are certain things that are happening at that school that are both in reaction to Season 3 of The Boys. There's Soldier Boy, etcetera, but also some new storylines that are happening in that season of the spinoff that we have to pick up and take into Season 4 of the show."
Gen V season 1 cast confirmed
The Gen V cast includes:
Jaz Sinclair as Marie Moreau
Chance Perdomo
Lizzie Broadway as Emma Shaw
Maddie Phillips
London Thor
Derek Luh
Asa Germann
Patrick Schwarzenegger as Golden Boy
Sean Patrick Thomas as Polarity
Marco Pigossi as Doctor Edison Cardosa
Alexander Calvert
Jason Ritter
Jessie T. Usher as Reggie Franklin / A-Train
Colby Minifie as Ashley Barrett
P. J. Byrne as Adam Bourke
Shane Paul McGhie, Aimee Carrero, and Reina Hardesty were previously announced for the series but have since left.
Jessie T. Usher, Colby Minifie, and P. J. Byrne reprise their roles from The Boys. Sean Patrick Thomas debuted as Polarity in the animated spin-off show The Boys Presents: Diabolical.
What is the Gen V Release Date?
Gen V will be available in 2023. Amazon has not confirmed a more specific release date at this time.
READ MORE:-1899 Ending Explained: What Happened at The End of This Series?
It is unknown whether Gen V will be released before or after the fourth season of The Boys.
Is There a Trailer for Gen V?
Unfortunately, there is no trailer or other footage for The Boys "GEN V" spinoff at the time of writing: