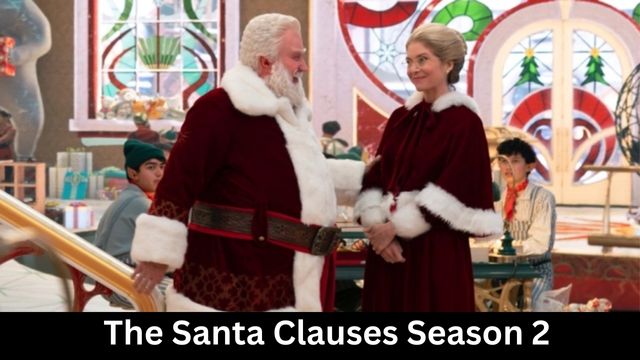 The Santa Clauses is an American Christmas comedy television series created by Jack Burditt for Disney+ and based on the film series The Santa Clause.
It is a sequel to The Santa Clause 3: The Escape Clause (2006), with Tim Allen, Elizabeth Mitchell, Eric Lloyd, and David Krumholtz reprising their roles from the previous film. Jack Burditt is the showrunner and executive producer.
READ MORE:-Where to Watch His Dark Materials Season 3: Is This Series Returning in 2022?
What is the Plot of the Santa Clauses?
This American Christmas comedy follows Scott Calvin as he approaches his 65th birthday and comes to terms with the fact that his days as Santa are coming to an end.
Scott has recently begun to miss his duties as Santa Claus and wishes to remain in Lakeside, Illinois, with his wife and two children.
But he also has obligations to his elves at the Pole, and Scott is now on a mission to find a replacement for Santa while preparing to relocate his family to the south pole.
Who is in the Cast and Crew of the Santa Clauses?
Tim Allen reprises his role as the titular Santa Claus, as well as Scott Calvin and Toy Santa. Mrs. Claus / Carol Calvin is played by Elizabeth Mitchell.
Austin Kane and Elizabeth Allen-Dick will play Buddy "Cal" Calvin-Claus and Sandra Calvin-Claus, respectively.
Jack Burditt created the series and also serves as executive producer. JP Wakayama takes on the role of cinematographer, and the show is distributed by Disney+.
The Santa Clauses Season 2 Release Date
If you're looking for a Christmas movie or TV show to watch with your family in the comfort of your living room during the holiday season, The Santa Clauses might be a perfect choice.
READ MORE:-Treason Ending Explained: Everything You Need to Know About This Series!
This program brings back holiday memories in a very different way than David Harbour's portrayal of Santa Claus in the film Violent Night.
Is anyone else already counting down the days to Christmas 2023? 🎁 #TheSantaClauses pic.twitter.com/ql0DIR9U8r

— The Santa Clauses (@santaclauses) December 26, 2022
 The six-episode fantasy comedy has divided critics and viewers as they debated several factors that may or may not have contributed to the show's success.
Some found it boring, while others found it to be a hilarious family film. But there is some good news for fans of The Santa Clauses. So let's get this party started right away.
The first season of The Santa Clauses has two episodes left to air this month, and little is known about the plot of the potential second season. However, based on how the show is currently going, viewers can expect more adventures.
Assume the series ends on a cliffhanger, allowing for a second season. In that case, Calvin's family and elves will most likely relocate to the South Pole, and he will eventually retire as Santa Claus. We'll have to wait until the final two episodes to find out.
'The Santa Clauses' Renewed for Season 2 at Disney+
The second season of "The Santa Clauses" has been renewed by Disney+. The announcement comes as the streamer debuts the Season 1 finale, which debuted in November.
Tim Allen and Elizabeth Mitchell reprise their roles as Santa, aka Scott Calvin, and Mrs. Claus, aka Carol, from the "The Santa Clause" films. Scott has been Santa Claus for nearly thirty years in Season 1, but as Christmas becomes less popular, so does his Santa magic.
Scott struggles to meet the demands of his job while also being present for his family. Scott considers stepping down as Santa Claus and finding a worthy successor after learning that there is a way to retire so that he can become a better father and husband.
Jack Burditt is the showrunner and executive producer, alongside Allen, Kevin Hench, Richard Baker, Rick Messina, and Jason Winer of Small Dog Picture Company. The studio is 20th Television.
READ MORE:-Fiery Priest Season 2C: Everything You Need to Know About This Series!
"This franchise has had a lasting impact on so many families, truly becoming part of their annual holiday traditions," said Ayo Davis, president of Disney Branded Television.
Is There a Trailer for the Santa Clauses Season 2?
There is no official trailer for season two yet, but you can watch the season one trailer below.
Frequently Asked Questions
Why Did They Stop Showing the Santa Clause 2?
I Don't Recall Seeing "Santa Clause 2" on Any Channel This Holiday Season. A • This is a Question That Has Arisen From Time to Time Regarding Freeform and Its Previous Incarnation, Abc Family. The Short Answer is That the Channel Does Not Have the Rights to the Second Film, Which Has Instead Aired on Other Channels.
Is Charlie the Same Kid From Santa Clause 2?
The Santa Clause Franchise Returns Eric Lloyd as Scott's Son Charlie (Aka Sport) in Episode 2 of the Disney+ Sequel Series — a Return That is Ultimately Cut Short.
Why is Charlie Missing From the Santa Clauses?
Despite Being Directly Offered the Job as Santa by His Father, Charlie (Played by the Santa Clause Cast Regular Eric Lloyd) Declines, Citing the Need to Raise His Own Family as an Adult and Believing That the North Pole Would Not Be the Best Place to Do So.