Reborn Rich is a 2022 South Korean television series based on the original web novel of the same name, starring Song Joong-ki, Lee Sung-min, and Shin Hyun-been.
It aired on JTBC from November 18 to December 25, 2022, every Friday to Sunday at 22:30. (KST).
READ MORE:-Treason Ending Explained: Everything You Need to Know About This Series!
It is also available for streaming on TVING, Netflix, and Disney+ in South Korea, as well as Viu and Viki in select territories.
"Reborn Rich" Ending Explained
So now it's time to explain what the screenwriter was attempting with the ending.
In the voiceover, Hyun Woo explains that it wasn't reincarnation or time travel, but something called repentance.'
He expresses regret for Do Jun, who died tragically in 2004, as well as for himself. He claims it was an opportunity for him to make things right fundamentally. In other words, right the wrongs that have been done.
Hyun Woo did not intend to murder Do Jun, as many had assumed.
Hyun Woo worked at a Soonyang factory, and his contract was about to expire. Kim Joo-Ryun, one of Soonyang's higher-up managers in the future, dispatched him to a field.
With his truck parked near a field and Do Jun's car waiting for him, he summons his manager, Mr. Kim, who overhears Hyun Woo panicking after realizing a man was injured and died instantly as a result of the crash.
READ MORE:-Bubble Netflix Release Date: Where Can You Watch This Series?
When he goes there to confront him, it turns out that he had somehow recorded not only their phone conversation but also the conversations Mr. Kim had with Jin Young-Ki at the office after Hyun Woo left and had kept that for 18 years.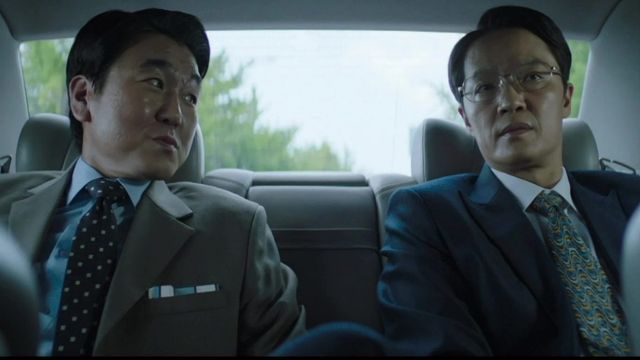 Kim Joo-Ryun carried out Jin Young-orders Ki to kill Do Jun; he killed him in an accident days before claiming ownership and leading Soonyang; he then blamed it on his son through rumors.
Hyun Woo initially refuses to accept Mr. Kim's offer in exchange for his silence but eventually agrees. He is then given a permanent position at Soonyang and works his way up the ranks to lead their finance department.
So, in short, it was all for Hyun Woo and Do Jun's repentance. Don't ask why or how, because this is the only explanation she offers for the script she wrote.
"Reborn Rich" Finale Thoughts
In retrospect, I believe I gave the screenwriter more credit than he deserved; I was overly optimistic. In the episode 15 recap, I thought the idea she was trying to spin was nice and unique, but it turns out she can't commit to anything.
I expected the script to be bad based on her previous work, but oh my god, it would have been so much better if she hadn't tried to make Hyun Woo a good guy. He's bad, accept it, it's ok, he doesn't have to be great. It's ok.
He does whatever this family tells him to do without question, including many bad actions as the screenwriter implies, only to turn around and claim he was coerced to do so.
READ MORE:-Fiery Priest Season 2C: Everything You Need to Know About This Series!
In order to avoid vilifying Hyun Woo, she butchers whatever chance that script has. First and foremost, she makes him involuntarily involved in Do Jun's death, which doesn't explain why he ended up in his body until the time of his death, but that's okay.