Violent Night is a 2022 American Christmas action comedy film directed by Tommy Wirkola and written by Pat Casey and Josh Miller.
It follows Santa Claus (David Harbour) as he fights mercenaries who have taken a wealthy family hostage in their home.
The cast also includes John Leguizamo, Alex Hassell, Alexis Louder, Edi Patterson, Cam Gigandet, Leah Brady, and Beverly D'Angelo.
READ MORE:-'Nanny' Ending Explained: Here Are All Details About the Movie To Know!
Violent Night (2022) Movie Ending, Explained
Scrooge is irritated by the sudden disappearance of his gang members. Gertrude has already informed Commander Thorp's private kill squad team.
Thorp, on the other hand, has joined forces with Scrooge. He requests that the commander dispatch all of his men to find the person causing havoc in his meticulously planned Christmas robbery.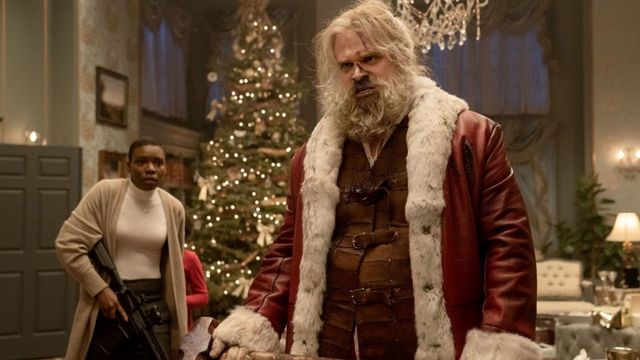 On the one hand, Santa has been shedding blood with a sledgehammer, slaughtering all the men who follow him. Scrooge and Thorp, on the other hand, discover there is no money in the vault.
To find out who hid the money, Scrooge threatens Linda with death. When Jason sees his ex-wife in danger, he reveals that he is the one who stole the money in order to leave the family legacy behind and begin a new life with his family. He takes Scrooge outside after further probing to show him where he hid the money.
While fighting the armed men, Santa is shot and captured by Scrooge's men. Despite Santa revealing his identity, no one believes what he has to say.
We also learn that Scrooge's troubled childhood caused him to resent the Christmas season because he could never have a happy holiday with his family, and he has always blamed Santa for his misfortunes.
READ MORE:-The Invitation Netflix Release Date: Get All You Want to Know About the Movie!
Trudy overhears the conversation and assists Santa in fleeing. She uses artificial snow made of polyacrylate polymer to create the illusion that it is snowing inside the house as if Santa's presence has caused it to snow. At this point, Santa vanishes from the chimney vent, completely perplexing Gingerbread and Candy (two loyal henchmen of Scrooge).
Scrooge instructs them to look for him in the mansion. They discover Trudy hiding in the attic while doing so. However, the little girl's trap severely injures them, killing Gingerbread instantly. When Candy comes close to killing Trudy, Santa stops her and scolds her for attempting to murder an innocent child. He smacks her in the head with his hammer, killing her.
Scrooge orders Krampus to kill the hostage, and along with Thorp, he kidnaps Gertrude and flees to the woods with the money to pursue Santa. However, Alva, Linda, and Bert manage to kill Krampus instead.
'Violent Night' Spoiler Review
If you remember the 1988 film Scrooged, there is a blink-and-you-won't-miss-it scene in which the title character, Frank Cross, a TV executive, shows a trailer for a bogus film called The Night The Reindeer Died.
Terrorists attempt to take over the North Pole in this film, but Santa, with the assistance of Lee Majors, uses violence and guns to stop them.
The scene is a great piece of humor in an already funny film, but at the time, people dismissed it as a parody and not something we would necessarily see in a Christmas film. In Tommy Wirkola's Violent Night, we finally reach the point where parody becomes a reality in 2022.
Violent Night begins with a cold opening in a pub in London, England, on Christmas Eve. A disheveled man, played by David Harbour of Black Widow and Stranger Things fame, is drinking away while dressed in a relatively modern-looking Santa suit.
Secure your spot on Santa's #NiceList and grab your tickets for #ViolentNight – only in theaters December 2. https://t.co/OIgE2oZqzu pic.twitter.com/pFJtWyMLMv

— Violent Night (@ViolentNight) November 16, 2022
 Another man dressed as Santa appears, and they begin talking, mistaking Harbour's Santa for a mall Santa. In today's children, Harbour's Santa has become despondent because they are obsessed with money and video games and no longer believe in the magic of Christmas or in Santa himself.
READ MORE:-Where Can I Watch Christmas Movies 2022?
The episode concludes with Harbour sprinting to the roof to get back on his sleigh and puking all over a bartender who had followed him to make sure he wasn't some crazy man. This heavy-drinking Santa and graphic puke scene set the tone for the rest of the film.
Violent Night' Trailer