Country Comfort is an American comedy streaming television series created by Caryn Lucas that premiered on Netflix on March 19, 2021. 
After one season, the show was canceled in July 2021. 
READ MORE:-Outer Banks Ending Ending Explained: Was this Series Based on a True Story?
Country Comfort Ending Explained in Detail:
The Competition
Bailey has reached the top five of the competition; if she wins, she will sign records, go on tours, and become famous. When this realization dawns on the kids, they are planning to celebrate the most exciting day of her life, the day of the competition.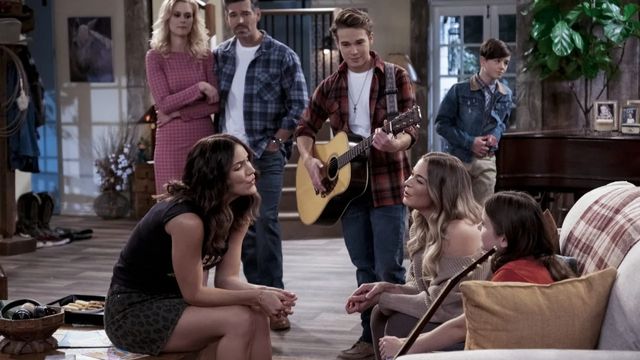 Bailey is the only person they've grown close to since losing their mother, and they consider her a member of their family. The little hearts can't bear losing her, and they're all crying.
They band together as a family, however, to support her on her most important day and help her achieve her dream of becoming a famous country musician.
Cassidy, on the other hand, has reacted negatively. She does not attend the gala despite her father's persistent persuasion.
Boone's Second Betrayal
Bailey had been in a relationship with Boone (Eric Balfour) for the previous 9 years before he broke up with her to replace her with a younger singer in the group. Bailey, with her big heart, gave him one more chance and made him a part of her success.
Boone proposes to her, which she graciously declines but asks him to be her singing partner.
A few hours before Bailey's final performance, Boone receives a call to be the opening act for Keith Urban's Australia Tour, which he accepts without consulting with Bailey.
Bailey is devastated when Boone tells her the news. Bailey recognizes the man's selfishness and kicks him out of her green room.
She's heartbroken for allowing Boone to do it to her again.
READ MORE:-Where To Watch The Lincoln Lawyer: Is this Series on Netflix or Hulu?
The Performance
Bailey is unable to perform because she is distraught. Beau tries hard to persuade her but fails because she is not in a good mood.
She requests that Beau inform Dylan that she will be unable to perform. He conveys the same sentiment. Meanwhile, Bailey is packing her belongings to leave. All of the kids are concerned about her.
When everyone is about to leave the gala, Rocky Jackson, the winner, announces Bailey's performance. She is perplexed because she previously denied performing.
She is taken aback to see all of the children positioned on the stage perform alongside her. They let go of their insecurity and, like family, become her strength when she needs it the most. They encourage her to stand up and perform.
As a result, the show concludes on a high musical note.
Country Comfort Season Review
COUNTRY COMFORT is a complete waste of time. As the bumbling character, Bailey, Katharine McPhee is miscast. Her country twang makes her untrustworthy as a nanny.
Yes, Katharine can sing, as evidenced by her performances in each episode, but singing and playing the guitar cannot compensate for poor acting. This is also true of the COUNTRY COMFORT ensemble.
Singing cannot compensate for the glaring lack of genuine acting abilities. The fact that there are five child actors in the show does not give the director carte blanche to overdo the cuteness factor in every scene.
READ MORE:-Cowboy Bebop Ending Explained: What happens to Faye at the end of this Series?
The script for COUNTRY COMFORT is also dubious. Who would hire Bailey with all of her bad life choices and then keep her around to help guide the struggling family after their mother died? Did I mention Katharine McPhee can sing?
COUNTRY COMFORT is available on Netflix for singing.
Country Comfort Trailer