Tom Cruise and director Christopher McQuarrie are filming flight scenes for "Mission: Impossible – Dead Reckoning Part Two" on a U.S. aircraft carrier in the Adriatic Sea. Cruise reached the aircraft carrier by helicopter from the Italian port city of Bari, where he landed on Saturday.
Antonio Parente, the head of the Apulia Film Commission, told Media on Thursday that Cruise landed in Bari, the capital of the Apulia region, on February 25. He was confirming Italian press reports.
After spending the night at the 5-star Hotel Delle Nazioni in Bari, Cruise boarded a private helicopter from the Bari airport on Sunday to film scenes for the eighth installment of "Mission Impossible" on a U.S. aircraft carrier, "which is probably the U.S.S. George H.W. Bush, but we are not certain," Parente said.
When Tom Cruise boarded the U.S. naval vessel, it was near the Italian coast, but it is now "somewhere between Italy and Croatia." The head of the film commission also noted that Cruise is expected to complete filming and depart Italy from Bari by the end of the week.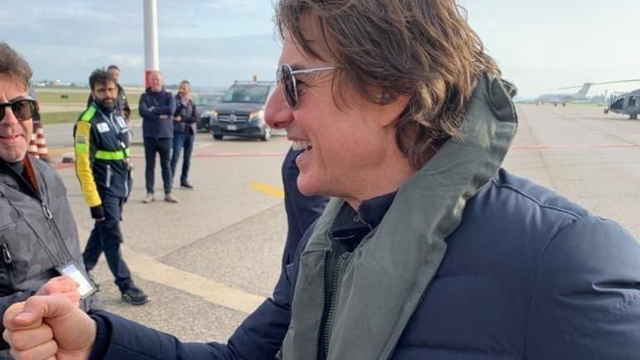 Parente stated, "We are proud that Apulia has been chosen as the operational base for this rather complex shoot." He hastened to add that the Apulia Film Commission coordinated with Paramount Italia but only assisted with airport logistics during the filming of "Mission: Impossible."
Cruise previously filmed portions of "Mission: Impossible 7" in Venice and Rome, both in Italy. The majority of "Mission: Impossible – 8" locations have been kept secret. According to reports, Paramount was denied permission to film on the Arctic island of Svalbard, located off the coast of Norway.
Cruise took a break from filming "Mission Impossible – Dead Reckoning Part 2," which will be released in 2024, to attend the 95th Annual Oscar Nominee Luncheon earlier this month.
Cruise has starred in and produced all "Mission: Impossible" films, which are based on Bruce Geller's 1966 television series.
Every Move You Can Anticipate From Mission: Impossible 7 & 8
With each Mission: Impossible installment, Cruise has found a way to surpass his previous stunts, and the two-part series finale is expected to be no different. This summer's Mission: Impossible – Dead Reckoning Part One will feature Tom Cruise's most perilous stunt to date.
According to the trailer and subsequent featurette, Cruise rode a motorcycle off a cliff, let go of the motorcycle, and free-fell for several seconds before pulling his parachute. While Mission: Impossible – Dead Reckoning Part One will feature Cruise's most dangerous stunt to date, he is likely to outdo himself in Mission: Impossible – Dead Reckoning Part Two.
It could be his final film in the Mission: Impossible franchise when it is released next summer. Christopher McQuarrie, director of the franchise, has hinted that it will feature some of Tom Cruise's most daring stunts ever, comparable to his recent work in the smash hit Top Gun: Maverick.
To read more NEWS related articles, Please visit our website Crossover99.com
Must Read: Jenna Ortega and Aubrey Plaza's Chemistry at the 2023 SAG Awards is Off the Charts!