Jujutsu Kaisen Chapter 221 Spoilers: The spoilers for Jujutsu Kaisen Chapter 221 have finally been leaked, and the raw scans show that the series has hit the end of its story arc. Gojo is finally back in the story, and Sukuna's plan to use Megumi Fushiguro as a vessel has been carried out.
This sets up the grand end of the Culling Game, which may be the last time Yuji and Sukuna fight. Leaked spoilers show that all of the next chapters will be intense and full of action, just like the Shibuya Incident arc of the manga.
Jujutsu Kaisen Chapter 221 Quick Info!
| | |
| --- | --- |
| Name | Jujutsu Kaisen |
| Chapter | Chapter 221 |
| Author | Gege Akutami |
| Release Date | April 24 |
| Where to Read | Viz |
Jujutsu Kaisen Chapter 221 Release Date!
On Monday, April 24, at 12 a.m. JST, Weekly Shonen Jump Issue 22 will come out with Jujutsu Kaisen episode 221. Recent spoilers say that the chapter is about Satoru Gojo finally being let out of his seal as the most anticipated battle of the whole series starts.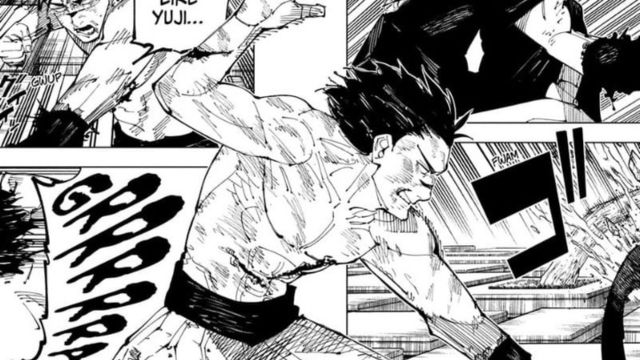 In the last part, Kenjaku added two new rules to make sure that the Culling game would end in a certain way. Yuji and Hana were being treated by Shoko, who was getting ready to open Gojo's seal and fight Sukuna. You can also try reading One Piece Chapter 1081
Jujutsu Kaisen Chapter 221 Spoilers: Gojo's Second Round With Sukuna!
Spoilers say that when Jujutsu Kaisen chapter 221 starts, Yuji and the others are getting ready to open Gojo's seal. They choose a wide-open area to do this, even though Kenjaku has hidden the real Prison Realm somewhere deep in case Gojo's seal breaks.
Kurusu tells them that time moves differently inside the Prison Realm, so no one knows how much time has passed for Gojo, even though it has only been 19 days outside.
Hana turns on Jacob's Ladder on the back of the Prison Realm when Inumaki tells her to. When the dust settles, Yuji notices that there is nothing left behind. This makes them think that Gojo is somewhere else.
In fact, Jujutsu Kaisen chapter 221 reveals that Gojo has shown up near Kenjaku and told him that he is going to die soon. However, Sukuna intervenes.
Gojo's response to seeing Sukuna with Megumi is at best lukewarm, which suggests that he is willing to do what needs to be done without thinking about the consequences.
Sukuna reminds Gojo that he said he would kill him when he got a real body, and he complains that he has to do it from inside Megumi. Gojo makes fun of him because he left Yuji behind.
Uraume is angry with Sukuna, but with just one punch, Gojo easily blocks their charge and sends them flying. As Sukuna gets ready for the fight, Kenjaku reminds him that he needs to keep his word before he can fight. Gojo makes fun of Sukuna for having to follow orders from Kenjaku of all people.
Gojo suggests that they put the fight off for now and plan it for December 24. Kenjaku makes fun of the fact that it's Christmas Eve and says that Gojo is a loving person. Gojo remembers telling Yuji that he will win even if Sukuna is at his strongest.
Jujutsu Kaisen Chapter 220 Recap!
In Chapter 220 of Jujutsu Kaisen, Kenjaku talks about how he tried to add a rule to the Culling Game but was at first turned down by Kogane. Kenjaku said that Tengen is the most like a Game Master and promised to end the game if Kogane didn't add the rule.
This meant that Kogane had to decide whether to mess up the game or end it. Kenjaku and Tengen later found Sukuna's body, which Kenjaku took as a souvenir. The chapter then moved on to Yuji and his friends, who were getting better after getting hurt.
Hana Kurusu was found to be living, which gave people hope that Gojo would be set free. Yuji told everyone that he wanted to save Megumi and that he was made from Sukuna's evil energy. At the end of the chapter, Choso gave Yuji a book, and there were signs that Gojo would come back.
Where to Read Jujutsu Kaisen Chapter 221?
On the official Viz and Manga Plus websites, you can find Jujutsu Kaisen Chapter 221. On both sites, readers can read the last three parts of the series for free.
But if you want to read earlier parts, you have to buy a subscription. Also, Chapter 220 will be available on the Shonen Jump+ mobile app. To read the whole story, readers must pay for a subscription to Shonen Jump+.
Must Read: Jujutsu Kaisen Season 2 Set to Haunt Screens in July 2023! The Curse Continues!