The 1996 film Irma Vep, directed by Olivier Assayas and starring Maggie Cheung who plays a version of herself, is about the failures that occur when a shaky French director (Jean-Pierre Léaud) tries to replicate Louis Feuillade's legendary silent film serial Les Vampires.
It is also a reflection on the state of the French film business because it is mostly seen through the eyes of a foreigner Cheung.
At the 1996 Cannes Film Festival, the movie was shown in the Un Certain Regard section.
Irma Vep Plot Summary
The story reflects the confusion that filmmaker René Vidal had during the difficult production of a film-within-a-film.
Irma Vep, a thief and a spy who spends most of the movie clad in a tight, black, latex rubber catsuit, defends René's unusual decisions to hostile crew members and journalists, is played by Maggie Cheung in the movie.
It is stated that Irma Vep is an anagram for vampires but that she is not a real vampire. Instead, she served as the model for the gang known as The Vampires in Feuillade's original serial.
René Aggressively Slams As Horrible and Soulless
After seeing the film's daily cuts with the actors and crew, René aggressively slams them as horrible and soulless. He storms out, and everyone rushes out of the building, leaving Maggie behind. Zoé, the costume designer, extends an invitation to a crew dinner, which she accepts.
There, Maggie is made to feel uncomfortable when Zoé confides in another lady that she has feelings for her romantically.
Following a violent incident involving his wife, Maggie meets René in a hotel after supper with the other crew members. René acknowledges that his primary motivation for making the movie was to include her in it.
Maggie Dons The Catsuit and Steals Jewels
Later that night, when a nudist lady fights with her lover on the phone, Maggie dons the catsuit and steals jewels from a hotel suite. Maggie appears to be controlled by her persona at this point. She discards the jewelry after that.
The following morning, Zoé comes to pick up a worn-out Maggie from her hotel room. The cast tries to shoot without René because he doesn't show up for the shoot.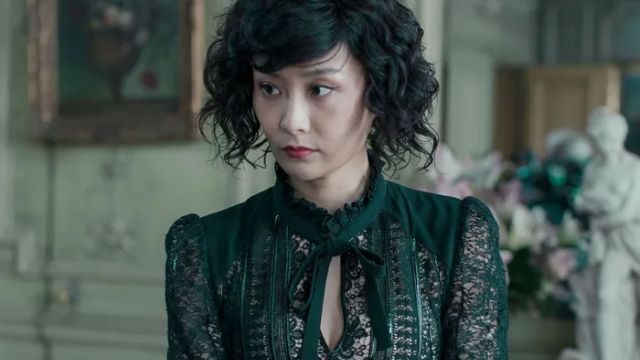 After work, tyrannical director José Mirano meets Maggie's co-star Laure in a pub and informs her that René has experienced a mental breakdown and that he has been hired to finish the movie.
He is adamant that Irma Vep, who he considers to be an icon of French culture, should not be played by a Chinese actress. She is informed by José that Laure will take Maggie's place.
Maggie reluctantly declines to attend the rave at the last minute and gets out of the taxi with Zoé. A disappointed-looking Zoé makes her way through the crowd at the rave.
The Movie Concludes With The Rushes
At the screening space, José and the cast and crew assemble to watch the rushes that René has personally edited. But Maggie isn't there, and rumor has it that she's headed to America to work with Ridley Scott on a movie.
The movie concludes with the rushes, which have been altered to include multiple scratches and other alterations to the actual movie itself. The production's future is kept a secret.
Irma Vep Ending Explained
Yes, Vidal completes "Les Vampires" successfully. It is immediately clear that he admires Louis Feuillade, who wrote and directed the 1915 serial film.
In the scenes that depict incidents from Musidora's memoirs, Macaigne plays Feuillade, and Vikander plays Musidora. Vidal claims he took enough artistic license with the movie and wants the effort to be as true to Feuillade's original intent as possible.
Related Articles Operation Romeo Ending Explained: What Did Mangesh Do to Neha in The Car?
He often runs afoul of the directors, actors, and other crew members because of this. This is particularly stated in episode 5, titled "Hypnotic Eyes," after recording a delicate scene in which Juan-José Moréno's rape of Irma Vep is strongly hinted at.
Related Articles John and The Hole Ending Explained: Who Is Lilly?
The case alleges that Vidal is using Feuillade as a justification. They are actually siding with the police chief who sought to halt the filming, not Musidora, who defended her director, as Vidal points out to them.
The only person who can see Mira as she prowls around in her catsuit is Vidal. He may be doing this since he is already interacting with Jade, who isn't actually there either, in a vision-like state.
Related Articles After Life Ending Explained: Does Tony Die in After Life?
When "Les Vampires" is finished, Vidal gets in touch with his wife and urges her to come back to Paris. Every time he is directing a movie, his wife takes their children and stays with her relatives in the country since she is aware of how he is when filming.
Irma Vep French Film History
Louis Feuillade, Musidora, Arletty, François Truffaut, the Groupe SLON, Alain Delon, and Catherine Deneuve are just a few of the famous names mentioned in the movie. The movie poses a thematic question about the current state of French cinema.
According to Chris Darke, it is more like the Mexican Day of the Dead: remembering as an act of celebration rather than as a "mourning for movies with the romantic nostalgia."
It is also less a film about re-presenting the past than it is a film about confronting the present, particularly France's position in the global economy, according to Dale Hudson's writing.
Conclusion
The comedy-drama series "Irma Vep," created by Olivier Assayas, satirizes the whole film industry. With "Irma Vep," renowned French filmmaker Assayas revisits his 1996 film of the same name and constructs a sophisticated and meta-story.
Director René Vidal remade the 1915 silent era serial picture "Les Vampires" for the 1996 movie and the 2022 television series. The television series also features a reworking of "Les Vampires" by Vidal.
However, Vincent Macaigne, who plays Vidal in the musical in 2022, is ten years younger than Jean-Pierre Léaud, who portrays Vidal in Assayas' movie.
Similar to how Vidal was married to Jade Lee (Vivian Wu), the star of his film, Assayas was married to Maggie Cheung, the Hong Kong actress who portrays the main character in his film.