Jean-Luc Picard, played by Sir Patrick Stewart, came back for the first season of Star Trek: Picard. Stewart played the part in Star Trek: The Next Generation, which ran for seven seasons from 1987 to 1994 and was a popular part of the Star Trek universe.
In the first two seasons of Picard, most of the cast of The Next Generation came back to help Picard fight both new and old bad guys. Season 3 has been confirmed to be the last season of the show, so many people expect it to end in a big way. Here are all the details we know so far about the show's next season.
When Will Star Trek: Picard Season 3 Come Out?
For months, people only knew that Star Trek: Picard would come out in early 2023. But recently, it was confirmed that the show will start on February 16, 2023. During the first two seasons, a new episode came out every week. Season 3 will do the same thing. Starting on February 16, new episodes will air every Thursday. There will be 10 episodes in Season 3.
The Storyline for Star Trek: Picard's Third Season
The plot of Picard's last season hasn't been talked about much. A big hint, though, is that the show will have a brand-new bad guy, who is said to be played by a very well-known actor.
READ MORE:–Tulsa King Season 2: Know the Scheduled Release Date on Paramount+
Terry Matalas, who is in charge of Star Trek: Picard, hinted at this information when he answered a fan's question on Twitter about the main bad guy in the next season. Matalas said, "It's a new character," in response to the question.
Someone you've seen a million times before in other roles. I've always wanted to work with this person. And… wow. You aren't prepared." But the show has hinted that old friends will be back. Picard's old friend Riker has already been seen in Season 3 ads.
Who is Coming Back for the Third Season of Star Trek: Picard?
When it comes to returning cast members, Star Trek: Picard's final season will go all out. With so many famous people to choose from, season 3 of Picard will bring back fan favorites.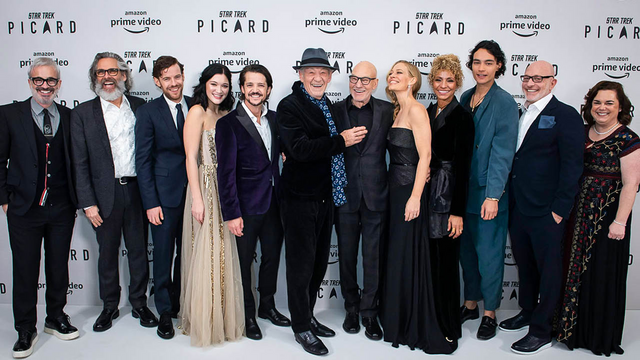 A brand-new poster for the next season of TNG that shows the regular cast back together. Fans were very happy about it. Here are all of the main characters and actors who have been confirmed for Star Trek: Picard season 3:
Patrick Stewart as Jean-Luc Picard

LeVar Burton as Geordi La Forge

Michael Dorn as Worf

Gates McFadden as Beverly Crusher

Brent Spiner as Lore

Jonathan Frakes as Will Riker

Marina Sirtis as Deanna Troi

Daniel Davis as Moriarty

Ashlei Sharpe Chestnut as Ensign Sidney La Forge

Mica Burton as Ensign Alandra La Forge
Trailer for Star Trek: Picard Season 3
The newest footage gives fans their best look yet at what the next season will be like. In the new teaser, you can see the U.S.S. Titan for the first time.
The third season of Star Trek: Picard is going to come out on Paramount+. On the streaming service, you can watch the first two seasons of the show right now. Make sure to come back to this post for all the latest news, rumors, and updates about the show's last season.
Will This Be Picard's Final Season?
Fans of "Picard," this is bad news. The show's third season will be its final, but it will go out with a "TNG"-style bang. In April 2022, showrunner Terry Matalas stated: "It's only fair that Jean-Luc Picard's narrative concludes with his dearest and most faithful companions from the USS Enterprise. To suggest that giving these characters a meaningful send-off is an honor is an understatement."
READ ALSO:–Magnum P.i. Season 5: Will this Season Ever Be Available on Netflix?
Where Can I Watch All Seasons of Picard?
Don't worry if you want to catch up on past seasons of "Picard" before the final season begins, or if you're new to the series and don't know where to begin. We've got your back. Season 1 and Season 2 of "Picard" are available on Paramount+.
If you don't have a subscription to that streaming provider and want to save some money, each season is $9.99 on Vudu, $12.99 on Amazon Video, and $16.99 on Google Play. Season 1 is also available on Apple iTunes for $12.99, while Season 2 is available for $24.99.
Conclusion
What's up, guys? We hope you find this information interesting. If you liked the section about Star Trek Picard Season 3. Please spread the word about this post to your friends and on all of your social media platforms. Visit our website crossover99 for more articles like this.
Sharing this post will encourage us to create more interesting material for you. And, if you have any questions or comments on the essay, please leave them in the comments section. Then please share your thoughts in the comments area below. We appreciate your feedback and will provide you with a thorough response. Thanks