Amandla Stenberg is a well-known American actress who came to prominence for her supporting part in the film adaptation of Suzanne Collins's novel "The Hunger Games."
Gary Ross was the director of the film, which went on to achieve phenomenal success all over the world and was honoured with several accolades.
It was also a factor in Amanda's rise to prominence in the mainstream. Her parents encouraged her to pursue a career in the entertainment industry at a young age, even though neither of them had any prior experience in performing.
She began her career as a child model and then transitioned into the acting industry later on in her life.
She had previously appeared in a few commercials, television series, and films in supporting roles, but her big break came when she was cast in the movie "The Hunger Games."
Following the critical and commercial success of the picture, she went on to star in a variety of other movies and television shows.
More recently, she had the lead role in the romantic drama film titled "Everything, Everything," which was a commercial hit and grossed nearly three times as much as its original budget.
She also made a cameo appearance in the music video for Beyoncé's single "Lemonade." In the upcoming science fiction thriller titled "The Darkest Mind," she is scheduled to play the main character in the year 2018. In addition, she will have a leading role in the upcoming drama film "The Hate U Give."
Is Amandla Stenberg Gay?
Amandla Stenberg, a former "The Hunger Games" young heroine who came out as bisexual in 2016 at the age of 17, claims she has since come to terms with the fact that she is gay.
She joked about her "Ellen DeGeneres on the 'Time' cover" moment" in an interview with "Wonderland" magazine.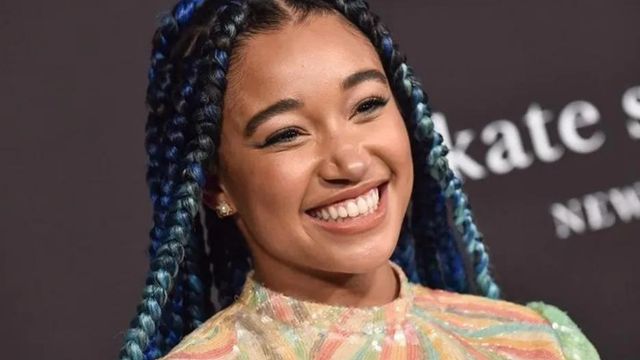 She confirmed her sexual orientation to singer King Princess during an interview for a global publication that profiles up-and-coming and seasoned pop culture talent in the fields of fashion, cinema, music, and art.
When I came to terms with the fact that I am gay—not bi or pan—with a romantic interest in women, Stenberg added, "I was so overcome with this great sense of relief."
When Stenberg, now 19, came to terms with her sexuality, she admitted to having a few significant "Gay Sob moments." However, she insisted that they were not "mournful" sobbing and said that "socialization" had prevented her for a while from "knowing and living my truth."
Being gay has allowed her to "experience and understand love and sex, and therefore life, expansively and infinitely.
My sexuality is not a byproduct of my past experiences with men, who I have loved, but rather a part of myself I was born with and love deeply." She is thankful for this opportunity.
When Stenberg was just 13 years old, she made her acting debut as the tragic Rue, Jennifer Lawrence's sidekick in "The Hunger Games."
She came out as bisexual in 2016 in a Snapchat video for "Teen Vogue" to encourage black women to accept their individuality. In an interview with Solange Knowles that appeared on the magazine's cover in February of that year, she discussed her nascent social-justice advocacy and her struggles with adjusting to her identity.
She continued, "It's extremely damaging to struggle against your identity and to mould yourself into shapes that you simply shouldn't be in."
I've been through it, and it hurts, and it's weird, and it's unpleasant. I identify as a black bisexual woman.
Amandla Stenberg Personal Life
Amandla Stenberg's parents, Tom Stenberg and Karen Brailsford brought her into the world on October 23, 1998, in Los Angeles, California.
From her father's side of the family, she has two older half-sisters. Her mother is of African American descent, while her Danish father was born in Denmark.
Amandla Stenberg is bisexual. She does not have a boyfriend at this time. Previously, she had a relationship with Jaden Smith that lasted for close to a year.
She is a vocal supporter of women's rights and in 2015, the Ms Foundation for Women bestowed upon her the title of "Feminist of the Year."
What Are Amandla Stenberg's Pronouns?
In January 2016, Stenberg came out in the open and admitted that she was bisexual; however, she has subsequently suggested that the term pansexual more truly represents who she is.
Stenberg publicly acknowledged that she does not identify with either the female or male binary in March of that year, and in her day-to-day life, she uses the pronouns she/her as well as they/them.
During an interview with Wonderland magazine in June 2018, she broke her silence on her sexual orientation to the readers of the publication.
Where Is Amandla Stenberg Originally From?
Amandla was born in Los Angeles, California, to Karen Brailsford, a writer, and Tom Stenberg, a businessman.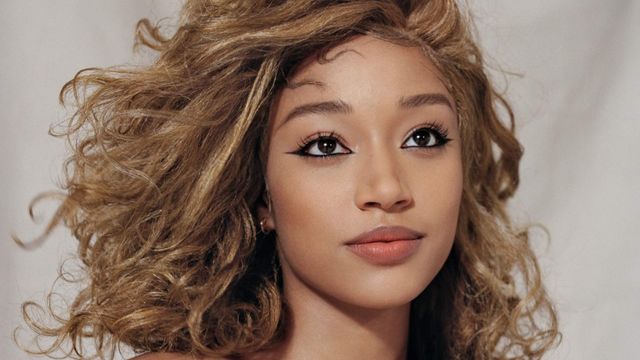 Her name is derived from the Zulu and Xhosa term for "power," which she shares with her mother. Her mother is of African-American descent, while her father is of Danish origin (and of part Inuit-Greenlandic ancestry).
Read More:-
Conclusion
Amandla Stenberg's performance in 'The Hunger Games,' a film adaptation of Suzanne Collins's young adult novel of the same name that was published in 2012, is without a doubt among the most significant works of her career.
The plot of the story takes place in the not-too-distant future in a nation known as Panem, in which a teenage boy and a teenage girl from each district are required to take part in "The Hunger Games," which is an annual event in which the teenagers are forced to fight until there is only one survivor left.
The movie did well at the box office and received positive reviews from reviewers at the same time.
She has the starring part in the romantic drama movie "Everything, Everything," in which she played the main character. Stella Meghie served as the film's director, and its cast also included Taylor Hickson, Nick Robinson, Anika Noni Rose, and Ana de la Reguera.
The main characters in this tale are a young lady named Olly, who lives next door, and the girl's neighbour, a young lady named Olly, who is unable to leave her house because of an illness. The movie was a financial success, grossing $61 million worldwide on a budget of under $10 million.