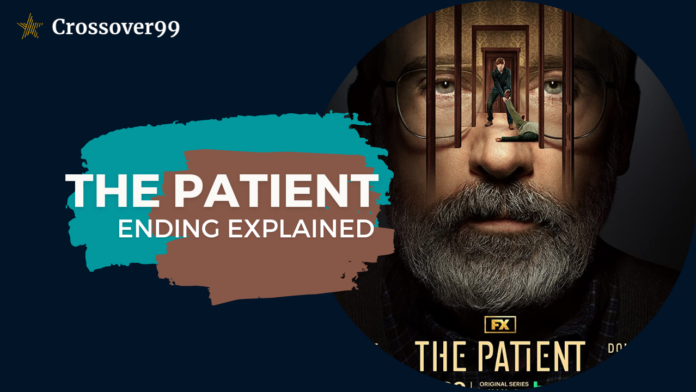 This week's relatively lengthy episode of FX's Psychological Thriller Drama Series "The Patient" brings the series to a close while remaining true to the show's core, which is not the best outcome for the characters.
For a long time, it has been obvious that the focus of "The Patient" is not on the individuals' physical or fatal repercussions, but on their mental and emotional sides. It was, thus, always about how feelings and thoughts that are kept bottled up inside may find an outlet, and the series finale emphasizes this to bring about a tragic but unforgettable and wholesome conclusion.
WARNING: Spoilers Ahead!
Story So Far
At the beginning of "The Patient," Dr. Alan Strauss was still grieving the loss of his wife Beth, even though some time had passed. Alan spent his days as a psychotherapist listening to people and giving them advice on how to deal with mental stress and other issues.
This is how Alan first met Sam Fortner; the young guy sought Alan out for advice after experiencing traumatic events as a youth. Over the course of the few months Alan listened to and counseled Sam, the patient often claimed to be profoundly affected by his father's frequent beatings of him as a youngster, but he never went into detail.
When Alan realized that Sam wasn't going to be able to open up to him in therapy, he gave up and requested Sam to stop coming. But what happened next was unusual and horrifying for Alan; one night he was abducted from his home and taken to Sam's cabin in the woods, where the therapist had been held captive ever since, with a strong chain attached to his foot and the floor.
Now that Sam had Alan as a captive, he admitted that he was a serial killer with a major need for help with his killing habit. Despite his physical limitations, Alan works tirelessly to assist Sam on a daily basis, listening to him to better comprehend his issues and offering advice on how to lessen his violent tendencies. Sam's addiction, however, continues to worsen, and he recently murdered a young guy in Alan's presence.
Also Read: Tell Me Lies Ending Explained: Will There Be a Season 2?
As opposed to that, Alan is constantly worrying for himself and his loved ones. His daughter Shoshana and he have always gotten along well, but he and his wife have grown apart from their son Ezra. Even after converting to Orthodox Judaism, Ezra wanted to live his life as he saw fit, but Alan and Beth strongly objected.
With the luxury of time at his disposal, Alan comes to see that he, too, has been oblivious to his son's emotions and wishes. He feels profound remorse over the fact that he has shown more compassion and empathy to a psychotic serial killer than he has for his own kid.
Alan has grown quite attached to the idea of reuniting with his kids, but this looks like a pipe dream as long as Sam has no plans to release him. Meanwhile, Sam, in an effort to put an end to his killing spree, resolves to take out the person who was responsible for all of his problems growing up: his father.
Explaining The Tragic Death of Dr. Alan Strauss
While Fields and Weisberg wrote over 30 potential endings to the show, they always intended for Carell's character to be killed off as one of Sam's victims.
The group "had a lot of different ideas of how it would happen," Weisberg explained. We wrote all of them, and then we played with him not dying for a while, and then we wrote 30 more endings where he does die, and we didn't stop until it felt emotionally right. It's a little bit scary, and there were lots of nights when we thought it would be never, but then we got it.
Unfortunately for Alan Strauss, we have numerous endings in which Alan Strauss survives," Fields continued. We didn't find any of them credible.
Also Read: The School for Good and Evil Ending Explained: Do Agatha and Sophie Defeat Rafal?
Has Sam Actually Changed?
Taking the actor at his word, the answer is obviously not yes. Gleeson previously told that Strauss's strong urging prior to his murder that Sam give himself in would be necessary for meaningful regret and change.
Yet the EPs of "The Patient" would rather not have such a simple resolution. Sam's answer to the wider moral question is to give his mother the key to the lock, but who's to say he won't later convince her to let him out?
According to Weisberg, the dilemma might be explained as follows: "By the time you witness this whole play, it's pretty evident that he was honest, right? He wasn't trying to outdo his typical deviousness by pulling a swindle or scam. He desired a change, but whether or not he actually made one is a question we hope people will keep asking themselves for a long time.
To put it more clearly, Fields says, "That's more something to us that we'd hope that people will talk amongst themselves afterward, and we don't have any special contribution into that discussion since that's beyond the finish of our story."
Also Read: The Watcher Ending Explained: Get All You Want to Know About the Movie!
However, What About Sam's Mother? Candace Has Dirty Hands
Fields and Weisberg found that, depending on where they live, Candace could be held legally responsible to varying degrees for aiding and abetting her son's murderous tendencies. Weisberg added that portraying a mother in an "awful, impossible situation" was more important than avoiding creating a "Stock Figure" in Candace.
In a prior interview with the media, he revealed that he and Fields frequently debated about the moral ramifications of her decisions, with him pointing out that the more "interesting" half of the equation was the emotional side of the conversation.
He remarked, "As a writer, it's easy to get caught up in morality and forget about the other thing, which is what makes you feel." "It is simple to have an opinion about Candance, and why shouldn't it be? Some of you really ought to. But I think we hope that by the end, people will feel what she's feeling and have some empathy that can sort of sit side by side with the judgment.
Ezra, Strauss's son, goes to therapy, and that moment brings everything full circle.
Also Read: Halloween H20 Ending Explained: Know More About the Movie!
The cat-and-mouse game Strauss must play with his kidnapper is the larger, more visceral aspect of the thriller show, but a significant portion of his essence is unraveled via flashbacks and imagined conversations with his own therapist, in which he excavates the dissonance between himself and his son, which was exacerbated by Strauss' wife's death.
After berating himself for being able to empathize more with a serial killer than with Ezra, Strauss has an insight that allows him to have a meal with his son in spirit, something he was denied in life. Through counseling, Ezra meets him halfway, helping to mend fences between father and son and mending wounds after yet another family tragedy.
And the fact that Alan desperately wanted to find a way to communicate what he had discovered, to apologize to his son and to reach out to his daughter and make a final connection with his children before he died, and that somehow the story in this bizarre relationship with Sam allowed that to happen — all of that was important to us in constructing those last scenes, Fields said. "The fact that Ezra winds up in therapy was an important choice for us," Fields said.
On Hulu, all episodes of "The Patient" are available to stream.