Yellowstone is still the most popular show on cable television, even though it airs on the relatively new Paramount Network and has perplexing regulations regarding streaming.
Given how eagerly anticipated the episode was, we should soon find out how the ratings for the premiere of Season 5 were, and it wouldn't be at all surprising if it broke its record for viewers given how much anticipation there was for the episode.
Yellowstone Season 5 Release Date
Yellowstone premiered its fifth season on the Paramount Network on November 13, with back-to-back airings of the first two episodes, titled "One Hundred Years is Nothing" and "The Sting of Wisdom." The subsequent episodes will be broadcast once a week.
The fifth season will have a total of 14 episodes, broken up into two parts that are each comprised of seven episodes. This is the most important season to date, but it is not yet known how long the break in the middle of the season will be.
Yellowstone Season 5 Review
After four seasons of scheming, manipulating, and a power struggle over the relatively untouched beauty of Montana, the new governor, John Dutton, is now calling the shots, and Beth (Kelly Reilly), who is running the show behind him.
In the season 5 premiere, which is split into two parts, his goals become crystal clear. Despite John's new job, the ranch hands have not altered their behaviour, which results in some of the most entertaining moments in the first episodes of this season.
Yellowstone Season 5 Plot
The extended trailer for Yellowstone's upcoming fifth season reveals that John Dutton will be heading to Helena with his family after he prevails in his bid for the governorship.
On the other hand, this is not going to be an easy task, as John does not "have any friends in the building," and it appears that he is going to go to war with Jacki Weaver's character, Caroline Warner.
It would appear that Jamie has rejoined the family and is now working as his father's political advisor; however, it does not appear that things are going swimmingly between the two of them.
In the meantime, Beth has taken the reins as chief of staff, and if that means getting down and dirty with the numerous adversaries the family faces, then so be it.
If the reception given to the latest trailer is any indication, Season 5 is going to be a huge success. According to Deadline, the trailer was viewed by more than 14 million people in the first 24 hours after it was made available online. This figure represents a threefold increase compared to the number of views that the trailer for Season 4 received during the same period.
Yellowstone Season 5 Cast
In Season 5, the ranch will welcome both returning cast members and brand new cast members. For the first time since the third season, Josh Lucas will reprise his role as young John Dutton in the upcoming episode.
It appears that we will be doing a lot of flashbacks, as Kylie Rogers will also reprise her role as young Beth, and Kyle Red Silverstein will reprise his role as young Rip.
Mo Brings Plenty and Wendy Moniz have been promoted to series regulars in their roles as Thomas Rainwater (Gil Birmingham)'s right-hand man Mo and former governor Lynelle Perry, respectively. Jacki Weaver also reprises her role as the Duttons' most recent business adversary, Market Equities CEO Caroline Warner.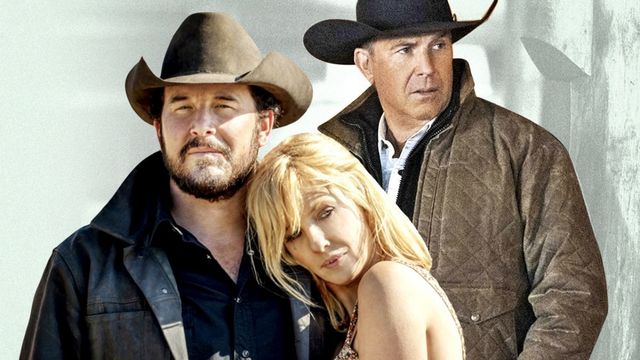 Yellowstone will also be getting four brand-new characters shortly. Rowdy, a young cowboy, is the role that will be played by Kai Caster. Abby, the character that Lainey Wilson plays in the play, is a musician.
Clara Brewer is a new assistant working for one of the Duttons, and Lilli Kai will play her role. In addition, in 1883's Dawn Olivieri will be joining the cast in the role of Sarah Atwood, a newcomer to Montana who is described as a "corporate shark" in the official character description.
There will be yet another new character introduced in Season 5, and this time it will be a young girl who will play an important role in Carter's developing narrative.
According to EW, Orli Gottesman will be joining the cast in a guest role as Halie, a young and confident girl drawn to Carter. Halie will be played by Orli Gottesman.
According to her character description, "In Season 5, Halie becomes that person who gives Carter the chance to come out of his shell and to teach him not only about himself, but he finds himself always wanting Halie to be around," and she does so by becoming "that person who gives Carter the chance to come out of his shell and to teach him not only about himself but also about himself."
"Now that Halie is in the picture, there is someone who can fill that role and be there for him."
The entirety of the bunkhouse will also be returning, including Forrie J. Smith, Denim Richards, Ian Bohen, Ryan Bingham, and Jen Landon as Teeter, who has been elevated to a series regular for her role in the show.
Along with Jefferson White, who plays the role of Jimmy, the character of Emily, played by Kathryn Kelly, has also been elevated to the status of a series regular and will be returning.
In light of this, it can be deduced that the reformed trouble magnet will remain in some capacity, even though they chose the Four Sixes over Yellowstone.
How To Watch Yellowstone: Season 5
Yellowstone will return for its fifth season on the cable channel Paramount Network (not to be confused with the streaming service Paramount+). Season 5 will premiere on that channel only.
If you do not have a standard cable provider, you can still watch the episodes by subscribing to a live TV streaming service such as Hulu with Live TV, Sling TV, or another similar service.
In any other case, you should be able to purchase individual episodes of the show after they have aired on Amazon or Apple TV.
How Many Episodes Are In Yellowstone Season 5?
The fifth season will consist of eight episodes and run for eight weeks (excluding the week of Christmas), making it shorter than previous seasons.
Read more:-
Conclusion
Sheridan suggests that the conclusion of the show could also be drawing closer than some people would like.
In the year 2020, he expressed to Deadline that he would prefer to wrap up Yellowstone earlier rather than risk the show's quality and edge being eroded.
"I am aware of the conclusion of the series, and to get there, you must proceed linearly. You can't just stand around doing nothing but walking in circles if you want the show to keep moving forward.
I don't consider this (Yellowstone) to be a procedural show at all. As a result, this is not something that we could continue doing forever.
Sheridan continued by saying, "I don't think anyone would want to do that because it would make the product cheaper."