The 8 Best Netflix Series in 2022: Must-See Premieres
Fantasy, comedy, science fiction, endings, comebacks, adaptations… Everyone finds something he likes – from students to writers at paper writing services. These are the best ones released this year.
In preparation for the best 2022 lists, we look back at the most notable premieres seen so far to give you time to catch up on the must-see must-sees that have been left hanging. After assessing the best HBO Max series, it's Netflix's turn, a platform that has had three big ratings hits with Stranger Things, Dahmer and Vigilante, with which it has broken its viewing records.
The two productions created by Ryan Murphy, which remain this week at the top of its global top, still need to enter this list, but because of their popularity, they will deserve to be taken into account for the December count. Three series finales, a comeback after almost ten years, the adaptation of a cult work, a drama based on a real case, and two endearing teen series do enter.
And Netflix may still have some surprises in store for us in the last months of the year because among the confirmed premieres between now and December is Guillermo del Toro's series 1899, Wednesday, the finale of Dead to Me, and the new season of The Crown.
The Sandman
After passing through several hands and unsuccessful attempts to transfer Neil Gaiman's vision to the screen, we have finally had the opportunity to enjoy the audiovisual version of a work long considered unadaptable.
Accepting beforehand that it was impossible to tell a story spanning more than ten volumes in one season, the creators of the series opted to focus on Morpheus and the volume Preludes and Nocturnes – with some touches of other books. The result is a tale as special, fascinating and magnetic on screen as it was drawn in its day. We continue to await its renewal.
Heartstopper: Season 1
If the premiere of Heartstopper reminded us of anything, it's that representation matters. The exemplary and sentimental adaptation of Alice Oseman's graphic novels has made it to Congress to verbalize the reflection that the teenage romantic drama has left among a large part of its audience: if only all LGBT teens could have watched a series like this to realize that they were not alone in the world and that, indeed, things can and will get better.
Beyond that, Heartstopper is an exciting and carefully crafted heart-stealing love story that even Olivia Colman herself wanted to be a part of. It must be for a reason.
Vikings: Valhalla
After becoming one of the best productions in recent years, the historical series created by Michael Hirst returned with this spin-off, set a century after the original story of Ragnar Lothbrok.
This new fiction continues to conquer the audience through three new characters who make their way into the internal confrontation that has divided the Viking tribes. However, the Vikings must put aside their cultural and religious differences to face an even greater threat: the Crown of England.
Stranger Things – Season 4
The fourth season began a bit scattered by its various plots, locations, and groups of characters, whose screen time and the interest it generated in viewers could have been more balanced. However, it had them all gathered in Hawkins by its final two episodes, and the wait was worth it.
Epic, emotion, and spectacle are the words with which we can describe this stretch of the series, which left us with emotional and shocking moments and the promise of an unforgettable outcome. But we will have to wait to see it. The Duffer brothers' series says goodbye until the fifth season, which will not return until 2024.
The Umbrella Academy: Season 3
Sometimes, repeating the same structure can be frustrating for viewers. However, in this series, it is different and Steve Blackman, who has earned the trust of the audience as showrunner, surprises us with new plots, characters, scenarios that complicate everything, and endearing moments, some of them taken directly from the comics, and many others included for pure fun.
As is already a trademark of the house, the episodes are slow-cooked. Still, they continue to make it clear that the series is in better shape than ever and that even if the world ends -again and again-, we will always have the funny attempts to save it and the affection that the protagonists awaken in us, a dysfunctional family but a family after all.
Derry Girls: Season 3
Created by Lisa Mc Gee, this comedy follows a group of five teenagers living in Derry during the Northern Ireland conflict in the mid-1990s. This historical context functions only as a backdrop because the Derry Girls have never known another world. That militarized landscape has been part of their daily lives since birth.
Funny episodes of only half an hour, with 90's nostalgia, teenage silliness, and hilarious situations starring the core group, Erin's family, classmates, and Sister Michael, a nun who will become one of your all-time favorite characters. With much less white humor than the American one but with a touch of innocence typical of the time, this is one of the best comedies of the last century. And its ending is perfect.
Ozark: Season 4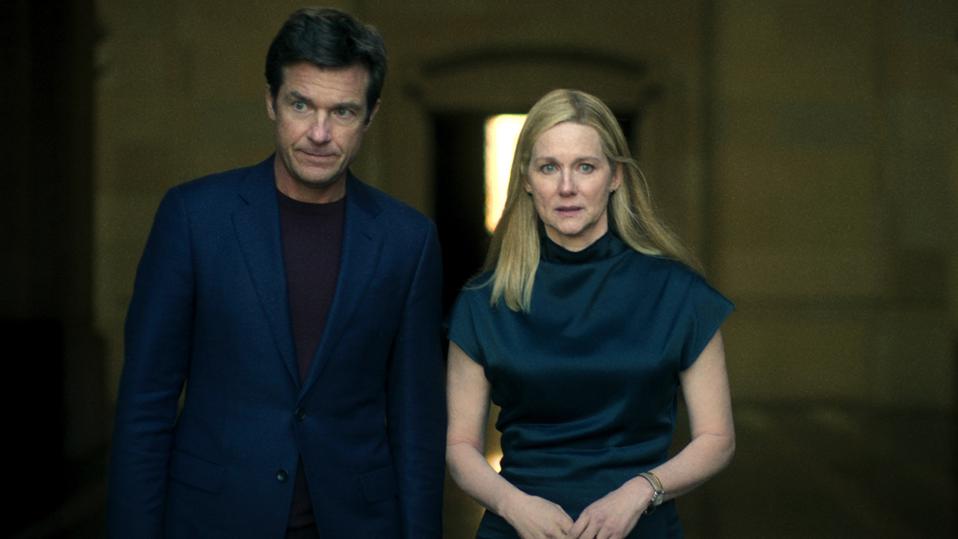 Ozark has said goodbye with a finale that has once again paired it with series with which it was compared from the beginning, Breaking Bad. If the third season confirmed Wendy Byrde as the Walter White of this story, the last episodes of the Netflix series have further explored the tragic parallels between Jesse and Ruth Langmore.
Ozark's uneven and magnetic final stretch has taken the decisions of characters devoured by their ambitions and primal drives to their ultimate consequences. Despite the predictable polarized reactions among fans, the climax of Byrde's misadventures is as effective as it is coherent.
Peaky Blinders: Season 6
It has played against it knowing beforehand that this would not be a definitive ending (the story will continue in a movie), because what should have been a memorable closure is tarnished by the inevitable feeling that after seeing the last shot that should have been epic a "X years later" sign might appear.
However, despite not being the most intense or surprising season of the series, it never loses the visual flair and atmosphere that makes it so addictive and magnetic. Watching Peaky Blinders is always a good experience.