New Super Mario Bros. Movie Trailer Gives Us Our First Look at Peach and Donkey Kong
The Super Mario Bros. Movie got a new trailer on Tuesday, giving Nintendo fans a better look at the animated adaptation of Mario and Luigi's Mushroom Kingdom adventures. After teasing Mario, Bowser, Toad, Luigi, and an army of penguins in a previous trailer, Nintendo and Illumination's new trailer reveals a lot more about the brothers' adventure — as well as our first look at Princess Peach and Donkey Kong.
The second trailer for The Super Mario Bros. Movie includes a heaping helping of fan service, including Chris Pratt, who voices Mario, giving us a "let's-go!" and a "wahoo!" Mario is dressed in a tanooki suit, and Peach is equipped with a fire flower. Mario, Peach, Luigi, Toad, and the gang even race down Rainbow Road in a not-so-subtle nod to Mario Kart. Illumination and Nintendo are going all out.
READ MORE:-The Top Best Forms of Entertainment Just for You
The Super Mario Bros. Movie stars Pratt, Charlie Day as Luigi, Keegan-Michael Key as Toad, Anya Taylor-Joy as Princess Peach, Jack Black as Bowser, Seth Rogen as Donkey Kong, Fred Armisen as Cranky Kong, Kevin Michael Richardson as Kamek, and Sebastian Maniscalco as Spike. The film was written by Matthew Fogel (Minions: The Rise of Gru) and co-directed by Michael Jelenic (Teen Titans Go!) and Aaron Horvath (Teen Titans Go! To the Movies).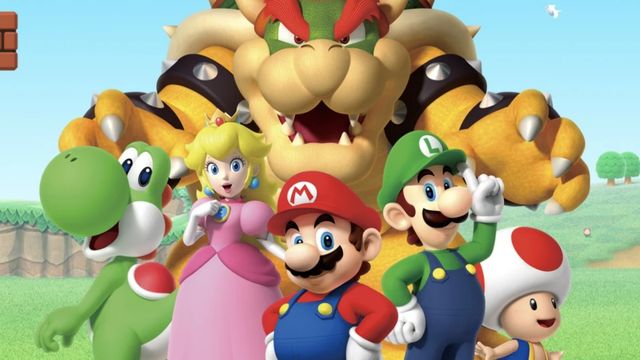 While most of the cast for Nintendo and Illumination's animated Mario movie in 2021 had fans excited, Pratt's casting was relentlessly mocked. Nintendo fans got their first taste of Pratt's take on Mario in October, and it's… fine. It's all right. He's no Jack Black, but it's all right.
The Super Mario Bros. Movie will be released in theatres on April 7, 2023.
Super Bros. Movie Trailer Beats the Absolute Shit Out of Mario
Gather ye gamers, for Nintendo and Illumination Studios have revealed a second Super Mario Bros. Movie trailer for us to gawk at, make memes out of, and use as fuel for our speculations and heated online debates about what next April's theatrical release may have in store.
During today's Nintendo Direct Livestream for the Super Mario Bros. movie, we finally got to see the silver-screen model of Her Majesty Princess Peach in action, joining characters we've seen before who have the privilege of breathing the same air as her.
Anya Taylor-Joy's Peach was nice to see, but in what has quickly become a tradition, Jack Black's Bowser continues to provide the most enjoyment in these trailers, with Chris Pratt's moments as Mario acting as their valleys.
READ MORE:-How Live Stream Impacts the Entertainment Sector?
Fortunately, we got to hear more of Charlie Day's Luigi to balance out Mario's mediocrity, as well as Seth Rogen's Donkey Kong beating the pants off Mario's generous ass. To Pris Cratt's credit, he did give us a pretty good "let's-go" and "wahoo" before the trailer ended.
BREAKING: The second trailer for The Super Mario Bros. Movie unveiled characters like Luigi, Princess Peach, Donkey Kong, and more – AND went full Mario Kart with a Rainbow Road sequence.

Watch it here: https://t.co/JDXTreLpiy

— IGN (@IGN) November 29, 2022
Today's trailer was jam-packed with easter eggs and game references. We got to see, to name a few:
Peach taps into the power of a fire flower.
Multicolored wild Yoshis (how much do you think Mario will make a Jurassic Park reference?)
And, most importantly, could there be a Funky Kong sighting?
While Tokyo Drifts behind Mario, one can only hope that Kong's daisy dukes aren't riding up into his nether regions. Aside from the amusement of Donkey Kong transporting Mario to the Smackdown Hotel, the crowd chanting for Mario in the Colosseum could be a subtle reference to this famous Super Mario Bros. 3 commercial.
Mario flying around in his tanuki suit
On Rainbow Road, Mario burns kart rubber.
The New Super Mario Bros. Trailer is a Peach
Today, Nintendo gave fans a second look at The Super Mario Bros. Movie with a new trailer, giving us another chance to hear Chris Pratt as the preeminent pixelated plumber. We also got our first official look at Donkey Kong and Princess Peach, as well as Anya Taylor-rendition Joy's of the Mushroom Monarch.
It's interesting that we're getting a new trailer just over a month after the first one captivated the internet. The rushed release date could be due to the fact that promotional materials for the film leaked after the first trailer. Ironically, posters for the film were apparently leaked shortly before today's presentation, giving us more looks at Toad, Luigi, and, perhaps most distressingly, Princess Peach.
I'm not sure what it is about her face, but she appears to be stuck in some kind of Mushroom Kingdom uncanny valley. I know I'm looking at Princess Peach, but that's not her. Anya Taylor-Joy provides the voice. I hope this princess keeps her somewhat contradictory personality of a dainty damsel who can also beat your ass with a radish if necessary and doesn't become some kind of gaslight, gatekeeper, or girl boss stereotype.
READ MORE:-Kevin Costner Net Worth: What About Entertainment Travel App HearHere?
One of the leaked posters shows Mario atop what appears to be a map of New York City, with the Brooklyn Heights neighborhood prominently featured, shouting out Mario's canonical hometown — which explains Pratt's slight "eh I'm walkin' here" twang. Another poster, shared by the official movie account, revealed a lovely interior shot of Princess Peach's castle, which appears to have been given a good ol' Unreal Engine 5 / ray-traced spit shine.
So far, the movie's vibes have been fantastic. The environments and characters, with the exception of Peach, look fantastic. And I have to say, this second trailer is doing far more for the film than the first. I'm actually a little excited. The Super Mario Bros. Movie will be released in the United States on April 7, 2023.
New Super Mario Bros Trailer