You may occasionally wish to sell an item online, and you may also occasionally wish to purchase items online.
In light of this, numerous Amazon rivals have emerged throughout the years. Many are designed for the sale and purchase of particular commodities, such as apparel or electronics.
Here are some of the best sites like Amazon.
There are some excellent Amazon alternatives for when you need to purchase items. Check out these websites if you require clothing, electronics, or the ideal present.
1. Walmart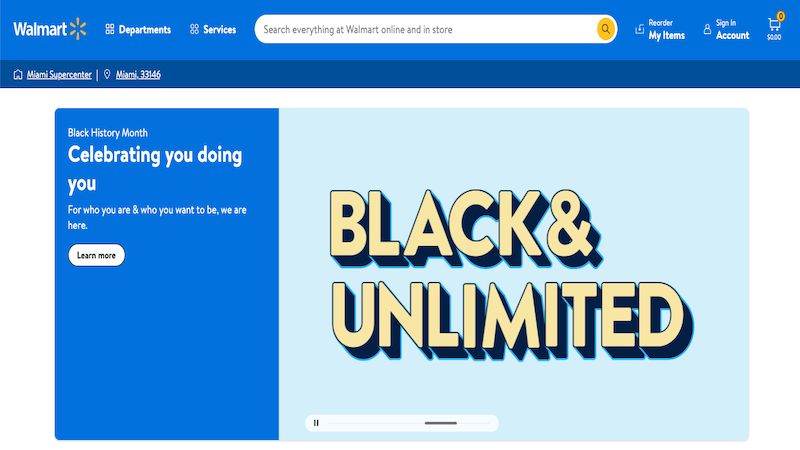 When you shop on the Walmart website, you have access to more than just items available in Walmart stores. Similar to Amazon, the Walmart website features products from third-party sellers.
This means that practically everything may be purchased on the Walmart website. When you click on an item on the Walmart website, it will indicate if you are purchasing through a third party.
Although return policies on third-party sale items are not always the same as those on things sold directly by Walmart, the third-party seller alternatives provide a diverse selection of products.
Also Read: What is the Best Site to Stream UFC? [Top 10 Sites to Watch UFC]
2. Target
Target is a wonderful alternative to Amazon in terms of pricing and availability, as it is a well-known online retailer. Target, like Walmart, provides products from third-party vendors.
On the Target website, you may discover almost anything, including clothing, electronics, collectibles, and more.
As with Walmart's online store, be wary of the return terms of third-party vendors. However, this is also the case with Amazon.
3. Newegg
Newegg is a retailer specialising on technology that has been in business since 2001. When you visit the Newegg website, you will see that it resembles Amazon's.
Additionally, there are additional items. Newegg features cheap prices and an excellent return policy.
4. Overstock
Overstock is a terrific place to shop because it sells stuff that other retailers overstocked. This indicates that they purchased the things at a low cost and are willing to sell them to you at a low cost.
Overstock is well-known for its extensive selection of home decor items. However, they also sell clothing, jewellery, and kitchenware. Check out their Sales & Deals section for additional savings.
5. eBay
You may not consider eBay to be an alternative to Amazon for purchasing. However, eBay is filled with merchants that specialise in retail arbitrage: purchasing items at a discount and reselling them for a profit.
Remember that eBay sellers do not have the same overhead costs as large retailers like Walmart and Target. This allows them to frequently provide comparable or lower prices than retail websites.
Also Read: Top 10 Mylife.CVS Health.Com Competitors
6. Craigslist
Depending on your experience with Craigslist, you are either likely to use it or refrain from doing so.
I've never had a terrible experience purchasing or selling on Craigslist. However, I have encountered numerous unreliable folks.
It also lacks a dedicated chat window for easy and direct communication with buyers, unlike Poshmark and other online marketplaces. To communicate, you must use email or a phone number.
7. Facebook Marketplace
You can sell virtually anything on Facebook's Marketplace. It is a website similar to Craigslist in that you can simply connect with ready-to-buy locals.
However, Facebook Marketplace is somewhat less anonymous, as you can view the buyer's profile and photo.
In contrast to Craigslist, payments can be made and received within Facebook's messaging. To add your debit card to the Messenger app, tap the Profile button and then scroll down to Payments.
8. OfferUp
OfferUp is comparable to Craigslist, except it offers additional shopping-enhancing features. You may post your item on OfferUp and add an image in as little as 30 seconds.
OfferUp shares products based on location, but distant purchasers will still be able to view your listings.
One of the many benefits of OfferUp is its enhanced security features. Everyone who purchases or sells on the website must create a profile. Additionally, you can communicate with buyers and sellers using the OfferUp app.
Additionally, badges and ratings are added to user profiles by those who have collaborated with them on transactions. Thus, you can determine how they have handled previous transactions. This feature provides enhanced security for both buyers and sellers.
9. BookScouter
BookScouter enables you to purchase and sell used textbooks – you know, the ones taking up valuable bookshelf space or collecting dust in your garage. The website is convenient because it accepts books from elementary school through college.
Also Read: Top 10 Mylife.CVS Health.Com Competitors
10. BooksRun
BooksRun is an additional option for selling your secondhand books. Similar to Amazon, you enter the ISBN and ship the book for free using their label.
After your book(s) are received, you get paid by BooksRun within four days.