Tom Clancy's Jack Ryan (also known simply as Jack Ryan) is an American political action thriller television series based on characters from Tom Clancy's fictional "Ryanverse" that premiered on Amazon Prime Video on August 31, 2018.
Carlton Cuse and Graham Roland created the series. Cuse is an executive producer on the film, along with John Krasinski, Michael Bay, and Mace Neufeld.
READ MORE:-Where to Watch His Dark Materials Season 3: Is This Series Returning in 2022?
Krasinski also plays the title character in the series, becoming the fifth actor to do so after Alec Baldwin, Harrison Ford, Ben Affleck, and Chris Pine from the film series.
Jack Ryan Season-three Ending Explained
The episode begins with Jack running through the woods and dodging soldiers at the Russian/Estonian border before being picked up by a US helicopter (how the Russians don't notice the chopper flying around is a mystery).
Jack wishes to be dropped onto the USS Roosevelt, which is patrolling the Baltic Sea, in order to inform the captain of the coup and persuade him not to fire on any Russian warships that may be passing by.
The Roosevelt's captain, however, refuses to allow the unauthorized helicopter to land, so one of the chopper's crew simply tosses Jack into the sea, knowing that the Roosevelt is obligated to pick him up.
Meanwhile, Goncharov makes his way to Fearless, the Russian ship armed with weapons that is part of Petrov's plot, in the Russian port of Kronstadt.
Once aboard, Goncharov is thrown in the brig by Captain Antonov (Derek de Lint), who is a supporter of Petrov and is more than willing to fire weapons at just about anyone if it means returning Russia to the mighty, terrifying force he believes it once was.
READ MORE:-Blacklist Season 9 Ending Explain: Everything You Need to Know About This Series!
Plans are being made all over Moscow. President Surikov (Mikhail Safronov) is furious to learn that Petrov has gone rogue and ordered Fearless to set sail in the Baltic, Petrov is in a room convincing fellow ministers to vote to remove his boss from office, and Greer, Mike, and Czech President Kovac are on a secret mission beneath the Kremlin.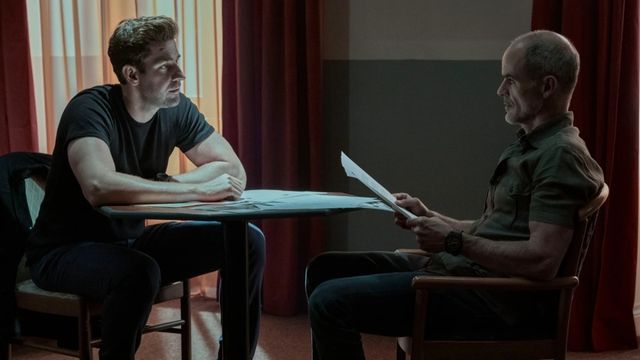 Mike and Kovac are hoping to get close to Surikov by sneaking into the building unofficially to let him know a coup is underway, while Greer's plan is to buy them and Jack some time by getting caught in the tunnels and then ask to speak to Petrov.
Kovac, who just a few days ago watched her father die and escaped bad guys by plunging into a freezing lake, is looking pretty good considering. (Or at least, we believe he intended to be discovered; otherwise, he is not as evasive as he claims to be.)
The Episode Review
The conclusion of Jack Ryan felt almost like a classic Bond film's climax. Almost the entire thing took place on The Fearless and Roosevelt, two massive ships with fearsome captains. Ryan and Luka both kept their promises and ensured that the inevitable could be postponed.
No looking back. Watch all the episodes of Tom Clancy's #JackRyan Season 3 on @PrimeVideo. pic.twitter.com/QbidyIclJl

— Jack Ryan (@JackRyanPV) December 21, 2022
 A well-rounded battle was fought on all fronts. The disaster in the cinematic universe could not have been avoided if no players actively participated.
Overall, it was a satisfactory conclusion to the commotion seen in previous episodes across Europe.
The moment when Kaginsky stood in front of Luka and the old horse spoke through him, redeeming his mistakes, albeit with no effect on the past, was my favorite moment in the finale.
READ MORE:-Jeyran Episode Schedule: Check Out Where Can You Watch This Series?
We have no idea what that ending meant as of yet. We have no idea who kidnapped Luka, where he went, or what will happen to him.
Jack Ryan Season 3 Trailer