The third season of Love Is Blind: After the Altar, a popular reality TV show on Netflix will start in less than two weeks. The famous show will show what happened to the cast members after they said "I do" or "I don't." They will talk about where they are and how their relationships are going.
The third season of Love Is Blind: After the Altar will start on February 10 at 3 a.m. ET/2 a.m. CT, but only on Netflix. Viewers will get the inside scoop on which couples are still together and if any of the old flames who broke up before the wedding are looking to try again.
When Will the Third Season of Love is Blind: After the Altar Be Available on Netflix?
The next episode of After the Altar will air on February 10, 2023. Love is Blind episodes come out on Netflix in groups, but the After the Altar special comes out all at once.
What Happens in Season 3 of Love is Blind: After the Altar?
First, let's talk about the couples who made it to the reception. Colleen and Matt are starting their married life in separate apartments, while Alexa and Brennon are "lobsters" who are in love and want to have babies. SK and Raven are giving their relationship a second chance after he turned her down at the altar.
READ MORE:–Represent Season 2 Release Date | Is a Netflix Sequel Already in the Works?
Love may be in the cards for them. Nancy and Bartise, who used to be together but broke up, are now friends, even though her family doesn't like it. Lastly, Zanab and Cole have stopped talking to each other because they are both getting used to being single again after the intense reunion and, yes, cutie-gate.
And just when everyone thought they were over that hellish pool party, they were all thrown back into the same room for a birthday party. Fill up your golden goblets, because you're in for a wild ride.
Love Is Blind After the Altar: Recap & Review
This show is to blame for my staying up all night binge-watching it. Yes, they were all beautiful, but they were all different, and I enjoyed watching them as they paired up and quickly ran into problems. It always amazes me how quick people are to criticize shows like this.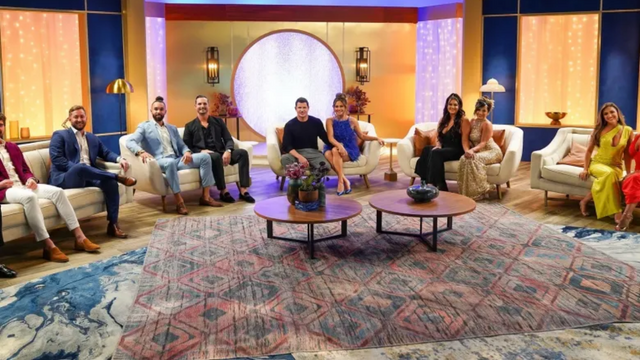 Still, I believe it takes great bravery to put oneself out there on television for millions of viewers to watch and go through raw emotional experiences. It's voyeurism at its finest, and you find yourself rooting for some contestants more than others.
I'm looking forward to the segments next week. Fans of 90-Day Fiance will enjoy this show. Everyone is lovely. Every single person in this performance was stunning. They had a model-like appearance. If you're making a show to see if love is blind, you should cast people who aren't particularly attractive.
Can you still love someone you've never met if you saw them in person and they were significantly overweight, acne-ridden, balding, or a significantly different height? That is a perfect example of blind love.
READ ALSO:–Sweet Home Season 2 Release Date: Is the Netflix Series Coming This Year?
Are you able to love them regardless of their appearance? You will be overcome by attraction regardless. This presentation was fantastic, and I thoroughly enjoyed it. However, I would like to see some variety. After the introductions for the upcoming season, there was still a personality test, which included genuine attraction issues.
How Many Episodes Will There Be in the Third Season of Love is Blind: After the Altar?
Like the two seasons before, the After the Altar segment only has three episodes. Are you excited for the third season of Love is Blind: After the Altar? Do you want anything to happen? Do you want to get back together with any couples? Tell us what you think in the comments section.
Where Can I Watch Love is Blind After the Altar Season 3?
Now, you can watch all three seasons of Love is Blind on Netflix. The third season of After the Altar comes out on Friday, Feb. 10.
Love is Blind After the Altar Season 3: Official Trailer
Conclusion
What's up, guys? We hope you find this information interesting. If you liked the section about Love is Blind After the Altar Season 3. Please spread the word about this post to your friends and on all of your social media platforms. Visit our website Crossover99 for more articles like this.
Sharing this post will encourage us to create more interesting material for you. And, if you have any questions or comments on the essay, please leave them in the comments section. Then please share your thoughts in the comments area below. We appreciate your feedback and will provide you with a thorough response. Thanks