Yellowstone Season 5 Release Date: The Yellowstone world continues to grow, as the franchise's flagship series has been renewed for a fifth season by Paramount in February 2022.
The drama series starring Kevin Costner, Kelly Reilly, and Wes Bentley launched on the Paramount Network in June 2018. The modern western has now become a blockbuster, spawning multiple sequels and receiving numerous award nominations.
With over 11 million viewers coming in for the season four finale in 2021, Yellowstone was one of the most-watched cable shows of the year. Although Costner has been well-known since the 1980s, Yellowstone has helped him reach a new audience.
The show revolves around the Dutton family, who run Montana's largest ranch. Costner plays John Dutton, the family patriarch, while Reilly plays his daughter Bethany and Bentley plays his son Jamie. Luke Grimes, Gil Birmingham, Danny Huston, Cole Hauser, and Kelsey Asbille round out the ensemble group.
Read More Outer Range Season 1 Ending Explained: Check Here For More Updates!
Yellowstone Season 5 Storyline
The fifth season of Yellowstone will begin with John campaigning for governor of Montana. Lynelle (Wendy Moniz) urged the Dutton patriarch to resign as Livestock Commissioner, as fans may recall. Lynelle approached John after Kayce was appointed governor about following in her footsteps and becoming her successor.
She had her sights set on the United States Senate, leaving the door open for him. Despite his reservations, he eventually decided to accept her endorsement and announced his candidacy, beating Jamie to the punch. It was the only way, John reasoned, to keep Yellowstone safe from developers and investors.
Away from work, John is said to be starting a whirlwind affair with Summer Higgins (Piper Perabo). The environmental activist was initially seen leading a protest outside the Livestock Association offices.
When she meets John, he bails her out of jail when she is arrested, and he invites her to the ranch. Summer confronts Beth in the kitchen the next morning, brandishing a knife in her direction. Summer is arrested again, but this time the judge is adamant about her serving time in prison.
Despite this, actress Piper Perabo recently stated that her relationship with John will not be affected. It may, in fact, bring the two even closer together. Summer's future with John was hinted at in an interview with Entertainment Weekly in February 2022.
"On Yellowstone, the love story is picking up steam," she told the outlet. "I know a lot of people watch it because of the cowboys and the ranch, but I watch it because of the love story… We're increasing the heat. Let's turn up the heat for a minute because it's been a rough couple of years."
Yellowstone Season 5 Cast
Given how Yellowstone's most recent episode ended, the majority of the cast is almost certain to return for season 5, including:
John Dutton is played by Kevin Costner.
Beth Dutton is played by Kelly Reilly.
Kayce Dutton is played by Luke Grimes.
Jamie Dutton is played by Wes Bentley.
Rip Wheeler is played by Cole Hauser.
Monica Long Dutton is played by Kelsey Asbille.
Tate Dutton is played by Brecken Merrill.
Chief Gil Birmingham Lloyd Pierce is played by Thomas Rainwater and Forrie J. Smith.
Colby Mayfield is played by Denim Richards.
Ryan is played by Ian Bohen.
Walker is played by Ryan Bingham.
Teeter Finn Little is played by Jen Landon.
Summer Higgins is played by Piper Perabo.
Though the drama series appears to be a straightforward look at the lives of a ranch manager, it is much more. John Dutton (Costner) must avoid several attempts to evict him and his family from their land or contest the boundaries of America's largest remaining ranch.
Things often grow more complicated than John planned for between outside politics and the lives of his children, Beth (Kelly Reilly), Kayce (Luke Grimes), and Jamie (Wes Bentley).
Read More Umbrella Academy Season 3 Release Date: Will Sparrow Academy Be Able To Save The Planet?
Yellowstone Season 5 Release Date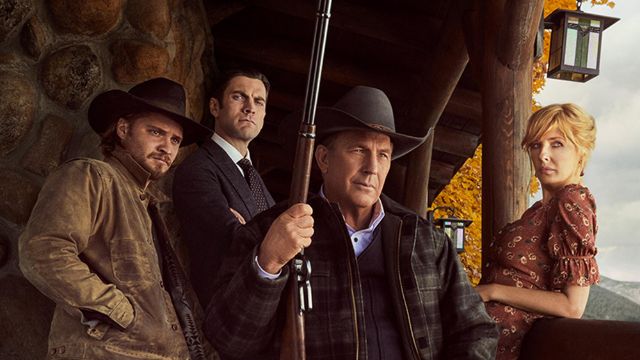 Season 5 of Yellowstone has been officially renewed! While no official launch date has been set, showrunner Taylor Sheridan has indicated that it will premiere in late summer 2022. Season 5 is set to begin filming in May, according to the creator.
Executive producer David Glasser was excited about the series returning in the fall of 2022 before Paramount Network gave it the green light in February. However, fans were concerned about a possible delay when actor Gil Birmingham, who plays Broken Rock commander Thomas Rainwater, told E! News in April that the cast had not yet "received the scripts."
However, Taylor revealed behind-the-scenes details to Variety that will excite any Yellowstone fan. He revealed that filming for the show will begin in May and that there will be 14 new episodes instead of the customary 10. He also announced that Yellowstone Season 5 will premiere in August or September.
Where To Watch Yellowstone Season 5
Despite the fact that Yellowstone airs on the Paramount Network TV channel, it is not available on Paramount+. (However, the prequel 1883 and spin-off 6666 are available on Netflix.) Yellowstone is also not available on Netflix or Hulu.
Yellowstone marathons are constantly on the Paramount Network channel, so you can watch them live or record them on your DVR.
Yellowstone is also available on Peacock Premium. Seasons 1, 2, 3, and 4 are currently available on NBC's streaming service. If you don't already have a Peacock account, you can sign up for a free seven-day trial and then upgrade to Peacock Premium for $4.99 a month.
Yellowstone episodes are also available on iTunes, Amazon Prime Video, YouTube, Google Play, and Vudu.
Read More Love Marriage and Divorce Season 3 Ending Explained: Its Cast & More Updates!
Conclusion
The Duttons are back, and they're better than ever! Season 5 of Yellowstone is on the way, and fans are excited to see what's in store. The sitcom debuted in June 2018 on the Paramount Network, starring Kevin Costner, Luke Grimes, Kelly Reilly, and Wes Bentley, among others. It was announced in February 2022 that the show had been renewed for a fifth season.
Although no launch date has been set, Paramount has stated that Season 5 will be split into two halves, each with seven episodes. The show's usual 10-episode seasons will be extended by four episodes.