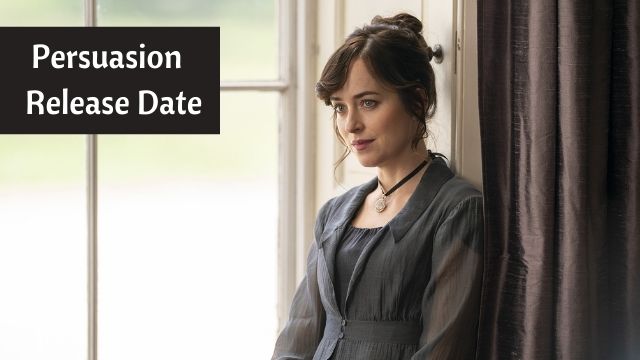 Persuasion Release Date: Another Jane Austen classic returns to the big screen. Persuasion is being adapted for Netflix. With Bridgerton's great popularity, it's only natural that the streaming service would seek the queen of Regency-era romance for inspiration.
Dakota Johnson and Henry Golding, two of the most well-known stars in the romance book adaptation field, have also been cast by Netflix.
Persuasion isn't as well-known as Pride and Prejudice, Emma, or Sense and Sensibility, but that's part of what makes this effort so intriguing. It has the potential to introduce casual Jane Austen lovers to a completely new story. Let's take a look at what we already know about Netflix's version of Persuasion.
What Will Be Persuasion Storyline?
Last spring, Dakota Johnson was sighted on set in Bath, England. It's only right that Persuasion takes place in Bath, where Jane Austen lived from 1801 to 1806.
Johnson is dressed in a grey long-sleeved period outfit with a matching cap in the first photo. She is pictured with co-star Nikki Amuka-Bird, who is dressed in a stunning pink gown.
Johnson was seen kissing, presumably, her Captain Wentworth, played by Cosmo Jarvis, in the second, cheekier image. Johnson is dressed in a long blue gown, while her suitor is dressed in a top hat.
Persuasion is based on Jane Austen's final work of the same name, which was published six months after her death in 1817. Cosmo Jarvis, Henry Golding, Nikki Amuka-Bird, Mia McKenna-Bruce, and Richard E. Grant star in Carrie Cracknell's adaption.
The official synopsis reads, "Living with her snooty family on the verge of bankruptcy, Anne Elliot is an unconformity woman with modern sensibilities." "When Frederick Wentworth (Jarvis), the dashing one she let go, reappears in her life, Anne must choose between putting the past behind her and following her heart when it comes to second chances."
Who Will Be Persuasion's Cast?
Persuasion, like Bridgerton, cast actors from a wide range of racial and ethnic origins. The male leads are played by Henry Golding and Cosmo Jarvis.
Captain Frederick Wentworth, Anne's main love interest, is played by Jarvis. Mr. Eliott, Anne's cousin, is played by Golding. He's described as a "callous and traditional Austen foil" by Deadline. According to Deadline, Golding was drawn to the role since it required him to play a villain.
In recent years, Golding has become known for playing romantic protagonists. In Crazy Rich Asians, Last Christmas, and A Simple Favor, he played the male love protagonist.
Many fans may have expected him to play Captain Wentworth based on his previous work. But this isn't Golding's first shady character; in The Gentlemen, he portrayed one of the baddies.
Jarvis is a bit less well-known actor, but he has worked on shows like Peaky Blinders, Raised by Wolves, and Lady Macbeth.
Richard E. Grant, a 2019 Academy Award nominee, is also among the cast of Persuasion. Edward Bluemel, Lydia Rose Bewley, Suki Waterhouse, Ben Bailey Smith, Nikki Amuka-Bird, Mia McKenna-Bruce, Izuka Hoyle, Yolanda Kettle, and Nia Towle are among the other cast members.
Anne Elliot will be Played By Dakota Johnson
Johnson, who is most known for his role in the Fifty Shades of Grey trilogy, will play Austen's older, more reserved protagonist. Anne Elliot's maturity and dissatisfaction with her surroundings define her. Anne's reconciliation with Captain Frederick Wentworth, her former fiancé whom she abandoned due to societal constraints, is the central theme of the work. In her more mature phase, Anne must reconsider both herself and her relationship with her previous suitor.
Johnson recently starred in the film Our Friend and will appear in Maggie Gyllenhaal's The Lost Daughter and Stephanie Allynne and Tig Notaro's Am I OK? in the near future.
Henry Golding has been Added To The Cast
Persuasion will also feature the Crazy Rich Asians star. Henry Golding will play Mr. Elliot, "the cruel and traditional Austen counterpoint," according to Deadline. William Elliot is a distant relative of Anne and the presumed heir of Anne's father in the novel. He's cold and calculated, plotting his way to acquire the Elliot title and estate.
How Does Netflix Give Modern Approach to Persuasion?
A few movie stills of Dakota Johnson, Cosmo Jarvis, and Henry Golding on set have been shared on Netflix. Although the rest of the gang is dressed in period attire, Johnson's suit appears to have a modern twist.
This is Twitter content that has been imported. You might be able to find the same information in a different format, or more information, on their website.
This Persuasion will be recreated with a "modern, funny style," according to the press release. However, viewers should not expect a completely updated tale because the actors were photographed in historical attire.
Although it doesn't appear to be a remake of Clueless (based on Emma) or Bridget Jones's Diary (based on Pride and Prejudice), the dialogue may be altered to give it a more "contemporary" vibe.
"Anne Elliot is a nonconforming woman with modern sensibilities who lives with her snooty family who is on the verge of bankruptcy in this adaptation of Persuasion.
Anne must choose between putting the past behind her and responding to her emotions when it comes to second chances when Frederick Wentworth—the dashing one she once cast away—returns into her life."
With Persuasion, Carrie Cracknell, who directed Jake Gyllenhaal and Tom Sturridge in Sea Wall/A Life on Broadway last year, will make her film directing debut.
Persuasion Release Date
This long-awaited adaptation has now received an official release date. Following a production that began in May, Persuasion will air on Netflix on July 15, 2022.
Related Topics 
Locke And Key Season 3 Release Date: Will Season 3 Be the Final Season?
See Season 3 Release Date: Will See Season 3 Be the Final Season?
A Perfect Pairing Release Date: How Justice Plays Lola's Character?
Conclusion
Dakota Johnson trades her strappy bikinis from Lost Daughter for bonnets and frills in Persuasion, which premieres on Netflix on July 15.
She portrays Anne Elliot, Jane Austen's oldest heroine, who, at the age of 27, is living with her obnoxious relatives and grieving for a long-lost love. And, based on these photos, the July heat won't be the only thing that gets you sweating.