Rebel Wilson is without a doubt one of the best comedy actors of her generation. Wilson's breakthrough performance was Brynn, the major character's roommate, in Bridesmaids, a 2011 film in which she played Brynn, the protagonist character's roommate.
Rebel's career took off from there, reaching new heights with her iconic role as Fat Amy in the Pitch Perfect trilogy, a role that wowed audiences around the world and earned her several awards, including an MTV Movie Award for Best Breakthrough Performance.
She even wrote, produced, and starred in Super Fun Night, an ABC series that began in 2013 and ran for two seasons, and was engaged in the production of some of her starring films, such as The Hustle.
Furthermore, according to People, it enabled her to capture a heinous case of sexual harassment she had while shooting one of her first major motion pictures.
Wilson has steadily improved her abilities throughout the years, constantly giving exceptional performances. By 2022, she had starred in Senior Year, one of Netflix's most recent shows, in which she wowed the audience once more with her charisma.
8) Senior Year
Alex Hardcastle made his directorial debut with this 2022 comedy, which also included Rebel Wilson as a producer. In Senior Year, the viewer follows Steph, a teen who, fed up with being an outcast, gets a makeover and becomes the most popular student in school.
Steph, however, falls and enters a coma in the middle of a cheerleading routine. Stephanie is shocked to discover that 20 years have gone and she is now a 37-year-old adult woman with the mindset of a teenager from 2002 when she wakes up.
Read More: 10 Best Stephen Amell Movies: How He Become the Best Actor?
She sets out to graduate from high school as a personal goal, believing that being popular in the past would help her fit in.
However, it will not be as simple as she thinks: school rules and what is considered popular may have changed over the years, and she will have to deal with a few significant people from her past.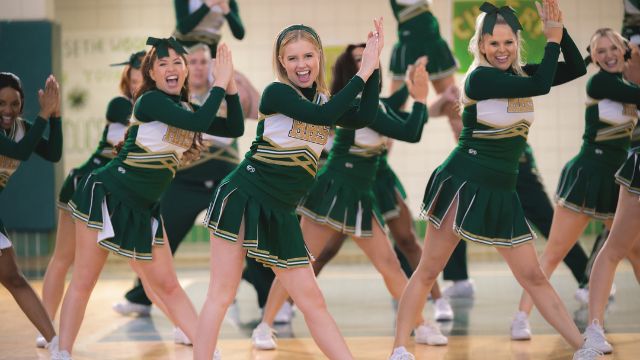 7) How to Be Single
After a long relationship, it's difficult to adjust to being single. In the film How to Be Single, this is what happens to Alice (Dakota Johnson).
Fortunately, Alice's friend Robin (Rebel Wilson) is a specialist on the issue and decides to assist her in adjusting to her new status and making the best of the situation. Drew Barrymore produced this 2016 film, which was directed by Christian Ditter.
It is based on Liz Tuccillo's novel of the same name, and in addition to Johnson and Wilson, the cast includes Leslie Mann, Alison Brie, Damon Wayans Jr., and Anders Holm.
6) Night at the Museum: Secret of the Tomb
Before Wilson joined the ensemble, the Night at the Museum franchise, which is led by Ben Stiller, Robin Williams, and Owen Wilson, had already proven to be highly successful.
Bringing her on board for the third installment of the series, however, simply served to enrich an already well-established plot.
The audience is exposed to a brand-new adventure of Larry Daley, the guard at the Museum of Natural History in New York City, in Night at the Museum: Secret of the Tomb.
The man must travel to London at this time because the Tablet of Ahkmenrah, which brings the museum's displays to life, requires maintenance, and the remedy may be discovered at the British Museum.
Read More: Top 10 Wealthiest Golfers: Who is The Wealthiest Golfer on The Planet (2022)?
Wilson plays Tilly, the night security guard at the British Museum, in this film. Tilly is a woman with a mundane profession who has a life-changing event when Larry arrives at the company and falls in love with the most unexpected person.
5) Bachelorette
Leslye Headland directed the 2012 film Bachelorette, which was based on her play of the same name. It introduces viewers to Regan (Kirsten Dunst), Gena (Lizzy Caplan), Katie (Isla Fisher), and Becky (Kirsten Dunst) (Rebel Wilson).
However, at the bachelorette party, the bridesmaids, who differ from the bride in their partying and chaotic personalities, become inebriated and high, causing Becky's wedding gown to be ruined.
As a result, these three women have only a few hours to fix the problem while avoiding their friend's discovery and, most importantly, striving to save their friendship.
4) Isn't It Romantic
This 2019 picture reunites Rebel Wilson and Adam DeVine, who were highly popular on-screen in Pitch Perfect. Wilson plays Natalie in Isn't It Romantic, a middle-aged architect with an ordinary life and a strong dislike for romantic comedies.
However, following an attempted robbery, the main character is knocked out and awakens to discover her worst nightmare: her life has turned into a romantic comedy. Natalie will have to deal with some major aspects of her life.
Read More: Danny Glover 5 New Movies 2022: Do You Like Him and His Movies?
The entire cast performs a rendition of the song "Express Yourself" at the end of this Warner Bros. Pictures production, which pokes fun at all the extremely predictable but charming rom-com movie clichés.
3) Jojo Rabbit
Taika Waititi's comedy-drama Jojo Rabbit is based on Christine Leunens' novel Caging Skies. Jojo (Roman Griffin Davis), a ten-year-old Hitler Youth member, discovers that his mother (Scarlett Johansson) is hiding a Jewish girl.
Rebel Wilson is Fräulein Rahm, one of the instructors at the Hitler Youth camp, in this film. The picture received rave reviews, winning a total of fourteen prizes and a Rotten Tomatoes score of 80%.
2) Bridesmaids
Bridesmaids are the film that made Rebel Wilson famous all over the world. The actress plays Brynn, a lady who shares an apartment with Annie (Kristen Wiig), the primary character, in this 2011 comedy directed by Paul Feig.
Despite being a small character, Brynn managed to entertain the audience with her curious and carefree demeanor, which got her into a lot of trouble and resulted in her getting an infected tattoo of doubtful origin.
Brynn also shared a home with her brother Gil (Matt Lucas), and their interactions were hilarious. The performers' connection went beyond the screen, transforming them into two of the film's funniest characters.
Read More: 10 Tony Award Winning Musicals (75th Annual): How Jennifer Hudson Made History?
A fun detail about the performers, according to US Magazine, is that after filming Bridesmaids, they opted to share a residence in Los Angeles for three years.
1) Pitch Perfect
While Bridesmaids made Rebel Wilson famous, the Pitch Perfect trilogy solidified her reputation as a funny actress, gaining her fans from all over the world. Pitch Perfect is about an all-female acapella group called The Barden Bellas.
These newcomers, who are very different from the original Bellas in style, wind up empowering the group with their various skills.
Wilson portrays Fat Amy, a fun, confident young woman with a sarcastic sense of humor that shines through in all of her scenes in the film and its sequels. The relationship between Fat Amy and Bumper.
Wilson's performance in Pitch Perfect won her a plethora of accolades for Breakthrough and Supporting Actress, as well as a bigger role in the sequels to the franchise.