Erika Girardi often known as Erika Jayne, is an American singer, former actress, and television personality.
Erika Jayne's Early Life
Erika Chahoy was born and reared in Atlanta, Georgia. She relocated to New York City when she was 18 to pursue a career in singing and acting. She had a few cameo appearances on TV shows in the middle of the 1990s. In the end, she arrived in Los Angeles.
Erika Jayne's Personal Life
She first met Thomas Zizzo when residing in New York when he was employed as a DJ at a Manhattan nightclub. The union took place in St. Patrick's Cathedral in December 1991.
She soon gave birth to Thomas Zizzo Jr., a boy. She moved to Los Angeles to pursue her dream of being a singer when the marriage split in 1996. After meeting him in 1998, she wed Thomas Girardi, a founding partner of Girardi & Keese, in Downtown Los Angeles in January 2000.
She confirmed her breakup with Girardi and filed for divorce in November 2020.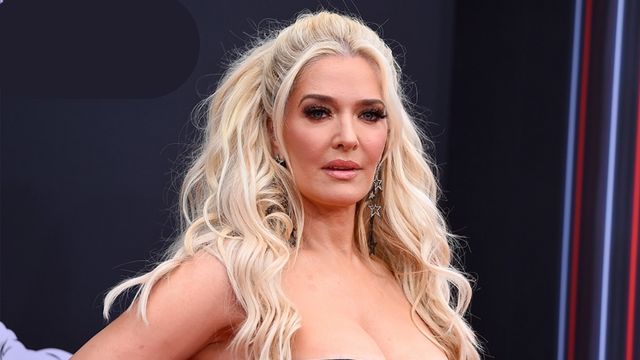 The pair was mentioned in a lawsuit for allegedly embezzling money intended for the families of the victims of the deadly 2018 Lion Air jet crash one month after the divorce was announced.
According to media reports, the divorce might be a "sham" to conceal riches.
In an effort to recover $2 million in unpaid debts to individuals, a Chicago-based legal firm requested a federal judge to force Jayne to stop selling designer apparel online in December 2020.
The legal titan and the "Real Housewife": The rise and fall of Tom Girardi and Erika Jayne was the headline of a thorough piece about the couple's legal problems that appeared in the Los Angeles Times on December 17, 2020.
A post on Instagram by Jayne two days later revealed text exchanges and images of Tom Girardi's purported lover. The Housewife and the Hustler, a documentary on the couple's well-reported legal issues, debuted on Hulu on June 14, 2021.
Erika Jayne Worked In a Restaurant
Erika, who was still going by her birth name Erika Chahoy at the time, started working at Chasen's, a bar and restaurant in Beverly Hills, at some point in the late 1990s. One of the restaurant's co-owners was an attorney by the name of Tom Girardi.
As a founding partner of Girardi & Keese, a litigation business in downtown Los Angeles that focuses on consumer malpractice cases, Tom Girardi amassed a sizeable fortune.
Girardi rose to fame in 1970 as the first legal representative in the state of California to secure a settlement of over $1 million in a medical negligence lawsuit.
Tom took on claims against organizations including Lockheed Corp., the Los Angeles County Metropolitan Transportation Authority, and Pacific Gas & Electric Co. throughout the coming decades, winning billions of dollars in verdicts.
Girardi also engaged in battle with Hollywood's top seven studios. His well-known lawsuit against Pacific Gas & Electric, which resulted in a $333 million settlement for 650 Hinkley, California residents, served as the basis for the Erin Brockovich movie.
Erika Jayne's Career
In NBC's courtroom drama series Law & Order, Erika Jayne acts as Suzanne Morton played Pruiting's girlfriend in the non-speaking parts of Suzanne Morton in the episodes "Prescription for Death" and "The Violence of Summer." She has appeared in the independent films Lowball (1996) and Alchemy (1995).
"Roller Coaster," Jayne's debut single, was made public on January 1st, 2007. On the Billboard Hot Dance Club Play chart, the song peaked at number one. On August 11, 2009, Jayne's debut album, Pretty Mess, was made available in America.
She joined the cast of The Real Housewives of Beverly Hills in 2015 for the sixth season of the program.
Jayne revealed on September 25, 2019, that she would be portraying Roxie Hart in the Broadway production of the musical Chicago.
Erika Jayne's Music Career
Around 2007, Erika made the decision to launch a music career. She released the song "Roller Coaster" in 2007. The song reached the top spot on the Billboard Hot Dance Club Play chart in the United States.
In August 2009, she released her debut full-length album, "Pretty Mess." Erika's music career received all the best resources thanks to Tom.
Tom and Erika employed RuPaul's costume designer, Michael Jackson's choreographer, and songwriter/producer Andreas Carlsson, who wrote songs for a variety of artists, including Stevie Nicks, the Backstreet Boys, Celine Dion, Katy Perry, Britney Spears, and Madonna.
Erika would go on to release nine singles, nine of which would peak at number one on the US Billboard Dance Chart.
She has had songs utilized in movies like "The Watch." The television programs "The Neighbor" and "Toddlers and Tiaras." Erika started a tour of Asia and gained a teeny-tiny cult following.
Erika Jayne's Net Worth
American actor, singer, and reality television personality Erika Jayne has a $5 million dollar fortune. Erika Jayne has had considerable success as a singer of dance and club music. But her role as a cast member of "The Real Housewives of Beverly Hills" on Bravo's reality television program undoubtedly makes her the most well-known.
Erika Jayne's Real Estate Assets
Tom and Erika spent most of their marriage living in a 10,000-square-foot, 1.7-acre estate in Pasadena, California. They put the house up for sale for $13 million in May 2021.
The couple's obligations will be paid off entirely if a sale is made, according to several publications. According to reports, Erika left the mansion the year before and moved into a rental in LA's Hancock Park district.
Related Articles
Craig Conover Net Worth: How Many Millions He Earned From Southern Charm?
Quentin Tarantino Net Worth: How Quentin Made $200 Million In Revenue?
Blac Youngsta Net Worth: Why Blac Stole $200,000 From Bank Account?
Conclusion
The Real Housewives of Beverly Hills welcomed Erika, whose real name is Erika Girardi, in season 6.
Bravo viewers have witnessed Erika Jayne's music career during the course of her five or more seasons on the reality TV program, including the release of singles like "How Many Fucks" and "Expensive," the publication of her 2018 biography Pretty Mess, and her Broadway debut as Roxie Hart in Chicago.
Additionally, viewers have observed Erika's marriage to powerful lawyer Tom Girardi, who is 32 years older than she is.