Which Couples From Love Island 2022 Are Still Together?
Love Island 2022 will be remembered as one of the most exciting seasons ever shown on TV. The winner of the popular ITV2 dating show, which was won by Ekin-Su Culculoglu and Davide Sanclimenti, was a couple named Ekin-Su Culculoglu and Davide Sanclimenti.
But series eight was also a big hit, and many of this year's finalists made strong friendships that have lasted outside of the famous villa. Where are the couples now, though?
There have been a lot of new things about the Love Island 2022 finalists, like when they moved in, got matching tattoos, or made big proposals.
Here's what Ekin-Su and Davide, Luca Bish and Gemma Owen, Indiyah Polack and Dami Hope, Tasha Ghouri and Andrew Le Page, and others have been up to since Love Island ended.
Ekin-Su Culculoglu and Davide Sanclimenti – Together
Who won Love Island in 2022? The eighth season of the popular ITV2 dating show was won by Ekin-Su and Davide, who are still together. Even though they had a rough time in the villa, they won the hearts of the whole country. They have since made fans happy by announcing a spin-off show that will follow their lives after the villa.
Ekin-Su & Davide: Homecomings is a two-part show where they will pack their bags again for two new adventures. With Ekin-Su by his side, Davide will go back to his hometown of Frosinone for the first time since leaving the Love Island villa. Ekin-Su will also introduce Davide to the actors she met while living and working as an actress in Turkey. 
Ekin-Su and Davide have also spent time together in New York, and they often post photos of themselves looking happy on Instagram. In his most recent post, Davide showed a picture of them together and wrote, "I can win the world with one hand if you're holding the other."
Gemma Owen and Luca Bish Have Broken Up
Love Island 2022 runners-up Gemma and Luca also seemed to be getting better and better. They started dating early on in the show, and they made it all the way to the final.
After the villa, Luca asked Gemma to be his girlfriend in a very fancy way. The couple posted a video of their romantic moment to Instagram.
But 11 weeks after they said they were together for good, they broke up. Gemma told her 2.1 million followers about the news in a statement on November 16. The statement read: "I wanted to let you know that my relationship with Luca has ended. It wasn't easy to decide, but in the end, this is the best choice for both of us right now.
"Many of you have been with us since the beginning, and I want to thank you for sticking with us as we start new chapters." Here, you can read more about this.
Luca didn't seem ready for the news to come out, and he later said what he thought about it. He typed: "After an emotional afternoon, I turned off my phone for a while to clear my head. When I turned it back on, I saw thousands of messages and news stories about my breakup.
SEE ALSO: Where is Josh Duggar Now: What Will Happen to Josh Duggar After His Sentence?
"I would have liked to have some time alone to think about this, but as you all already know, Gemma and I decided earlier today that we need to go our separate ways. We've been on such a long journey together and made so many wonderful memories that I'll always remember. I can't say enough good things about how much everyone helped us as a couple during and after Love Island."
Together, Dami Hope and Indiyah Polack
Indiyah and Dami, who came in third place on Love Island 2022, are still together as well. In the villa, Dami got to know Amber Beckford, and Indiyah was paired up with Ikenna Ekwonna. At first, they were friends, but then things got rough.
Then, during the crazy Casa Amor challenge, Indiyah came back with Deji Adeniyi, and Dami got back together with Summer Botwe. But they eventually found each other again and seem to be closer than ever.
Indiyah and Dami always cheer each other on social media, and they just got back from a trip to Ibiza together.
Together, Tasha Ghouri and Andrew Le Page
Tasha and Andrew came in fourth place in the final of Love Island 2022, but they look more in love than ever. The two of them got together early on in the show, but when they both got back together during Casa Amor, things got complicated.
But they got back together and haven't been apart since they left the show in August 2022. They even have tattoos that match, and they just moved in together.
MUST READ: How Much Bob Chapek Has Earned During His Walt Disney Company's CEO Tenureship?
The dancer, who is 24 years old, and the former real estate agent, who is 27 years old, both posted stories on Instagram about their "moving day" as they got ready to start their lives together in the same house. Here, you can read more about this.
Adam Collard and Paige Thorne Broke Up
Paige and Adam came in fifth place on Love Island 2022, missing out on a spot in the final by a small margin. Even though they lived far apart, the paramedic from Swansea and the personal trainer from Newcastle seemed to be getting stronger.
Adam went to Paige's hometown and ate ice cream in the Mumbles while Paige wrote about her trip to Newcastle. The couple kept their fans up to date. Paige's birthday was just a few weeks ago, and the two went to Italy together.
But they broke up soon after Geordie was seen in McDonald's with his arm around a girl. In October, Paige finally broke her silence about the breakup. Before that, she had erased everything about Adam from her social media accounts.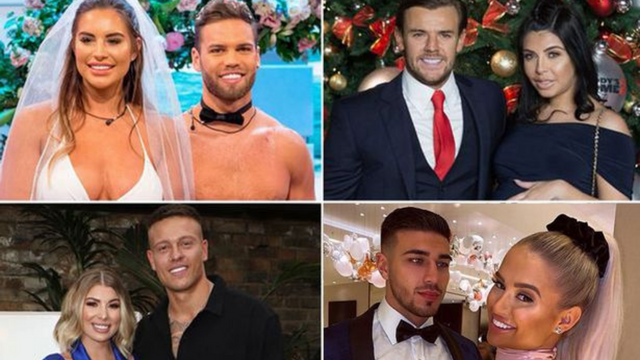 During an interview for the podcast Saving Grace, the star from Swansea said: "I'm single and having the time of my life. No, I'm just kidding. It's been a long time."
Paige said the following about the McDonald's video that is now going viral: "Not only that video. People don't know about other videos of different people on the same night in different places. At first, I said, "No, what do you know?" All it is is an arm. I know that everyone flirts a little bit. It doesn't matter. If a guy puts his arm around me in a club, is that cheating? No. Then these other videos came out, and I was like, "Oh." Oh, I can't make sense of this." Here, you can find out more about what Paige said.
In an interview with The Sun, which you can read here, Adam talked about the night in question. He said that he was just working and that people will believe what they want to believe.
READ MORE: How Arizona Cardinals QB 'Colt McCoy' Amassed a Fortune of $5 Million?
He said: "Everything got blown out of proportion, and then all the other photos and videos I took that night were changed to look like something else. There's a video of me dancing in a club earlier that night. I don't even know who took it, but I have seen one of them, and I think Paige was talking about that one. I was just working."