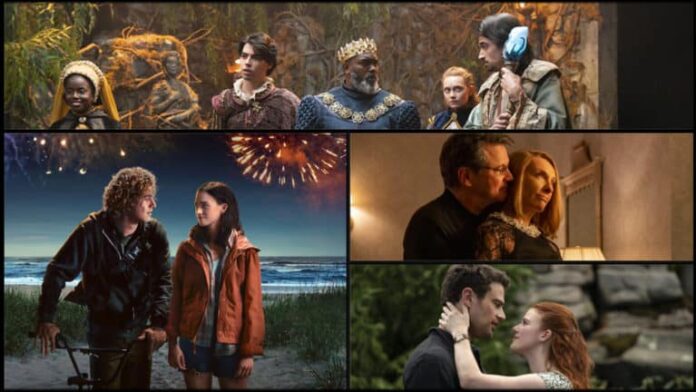 This year has seen an unexpected global boom in both streaming and streaming access and the unanticipated recovery of the movie industry. It's not a secret that the biggest streaming platforms are accomplishing great success and gaining more and more subscribers. Check ExpressVPN's piece on how 2022 was an exciting year for the streaming industry. Whether you're looking for the ideal series to binge-watch over a snuggly Sunday or curious about the top movies powering the Box Office this year, here are the most streaming hits in the US.
House of the Dragon
This much-anticipated prequel to the runaway hit Game of Thrones puts the Targaryen family back in the spotlight, ruling a (somewhat) united Westeros that looks very different from the place where they battled for the Iron Throne. This series follows the events of GRR Martin's Fire and Blood and shows the end of an era- and viewers have loved it. It even led to an uptick in streaming views for the original series.
Black Panther: Wakanda Forever
This film has been eagerly anticipated since Chadwick Boseman took over the iconic Black Panther role. Following his untimely death, Disney and Marvel had a very tricky situation. Instead of trying to recast the part, they made a poignant tribute and forward-looking sequel that's already breaking Box Office records left and right- and it has barely been released!
Lord of the Rings: Rings of Power
It's been a bumper year for fantasy fare on the little screen. Launching as a powerful competitor with House of the Dragon, The Rings of Power was not free of some controversy around its casting decisions- but that hasn't hurt its performance on our streaming screens, either. Again, it's a prequel to the Lord of the Rings saga we love and one that's pulled a lot of chart prominence since it was first released. 
Top Gun: Maverick
No one expected a decades-old franchise with a (let's be brutal) aging action star to be the film we didn't know we needed. But all doubters were proved wrong when this action-pack hit pulled audiences back into the theaters. It toppled global records, got missing demographics into cinemas, and excited everyone. It's in the running to be the biggest movie of 2022, and it probably deserves it.
Dahmer: Monster
Netflix peeked behind the curtains of serial killer Jeffery Dharmer's notoriety, and audiences loved it. While you wouldn't expect a serial killer doc around a very controversial figure to be the secret recipe to success, it quickly became a global phenomenon that got everyone talking. While heavily criticized for straying from reality despite its docu-pic label, it has been a cultural phenomenon.
Turning Red
Pixar brought the magic in this unanticipated success story based on the rocky transition into puberty. Despite some odd subject matter for a record-beating film, people loved the gentle, sensible, and honest handling of this challenging idea. The film outperformed several Pixar movies and is expected to do better.
Stranger Things
Stranger Things may not be a brand-new series, but this was the year it shone. With hefty doses of 80s nostalgia, it soared in popularity this year, with people loving the overlay of the mundane with the strange and supernatural. It even re-launched Kate Bush's chart prominence in 2022, something no one would have predicted. Jump scares all the way!
Everything Everywhere All At Once
It is rare indeed for indie films to get a lot of social prominences, but this one beat the stereotype. Released on many mainstream circuits, which may have helped, it shows a Chinese immigrant launched into a world of the fantastical and weird, trying their best to stay sane and cope with it all. The little superstar could be on our list and well worth the watch.
Peaky Blinders
Peaky Blinders has been popular across its 9-season run, so there's little surprise that its final season would attract a lot of eyes. Set in 1919, it brings us English Gangsters in their heyday, and the unique blend of violence, drugs, action, gunslinging, and a pithy plot went out with a bang audience loved.
Elvis
Another relatively low-budget movie that performed incredibly well, Elvis, the biopic of (you guessed it) the King himself, was a bit over-the-top but always entertaining. And audiences loved it. For pure music historians, it's a little flawed, but as a rocking, good rolling time, it's an excellent watch.
The Witcher
While we sadly bid farewell to its iconic lead actor this season, Season 3 of the Witcher continued to build strongly on the dark mayhem and magic that enraptured audiences globally in a solid and strong season that kept people tuned in week after week.
The Woman King
Was 2022 the year of unexpected hits alongside its monster blockbusters? If you look at the unprecedented success of The Woman King, the answer has to be yes.This mid-tier film performed exceptionally well globally as a historical action film with some fantastical overtones. It broke a lot of ground for the depiction of women and BIPOC people in the cinema, too, so be sure to add this one to the list.
The Crown
Following the convoluted story of the modern British monarchy, the 5th season of the Crown didn't do as well popularly as some of its predecessors- but the performance of Elizabeth Debicki is so powerful and frighteningly accurate to the late Diana, Princess of Wales, that it has turned heads regardless. It is worth watching just for her remarkable take on the role.
The Banshees of Inisherin
Flawless acting and sizzling comedy combine in an intriguing art film-style entry that caught global attention in the last few months. Labeled an 'anti-buddy' movie, it's a return to old school humor and dark wit, with poignant undertones it is hard to miss. It may not be an action-packed superhero movie, but it is sure worth the watch.