Margaret Brennan is a journalist who serves as the senior international affairs correspondent for CBS News and the host of Face the Nation. She formerly served as a White House correspondent for CBS. On March 26, 1980, her birth occurred.
Brennan previously hosted the weekday show InBusiness with Margaret Brennan on Bloomberg Television. As a CNBC correspondent, she contributed to various NBC News programmes. Margaret Brennan is a journalist who supports herself through her job. As of 2022, she has an enormous net worth of $5 million.
Margaret Brennan Husband
The television journalist Margaret Brennan is married to the American attorney and Marine veteran Ali Iyad Yakub. The two met at the University of Virginia in 1998. However, their friendship did not develop into romance until 2013. The couple wed in 2015 after a brief courtship.
They already have a kid named Eamon who is two years old; he was born on September 11, 2018. On May 2, Margaret published the first photograph of her newborn child. "We are delighted to announce that our son Malek Murphy Yakub joined us last week, bringing our family to four members," she captioned the photo. Our pit bull, Callie, and I are suddenly overwhelmed by these handsome boys.
"
Is Margaret Brennan Pregnant Again?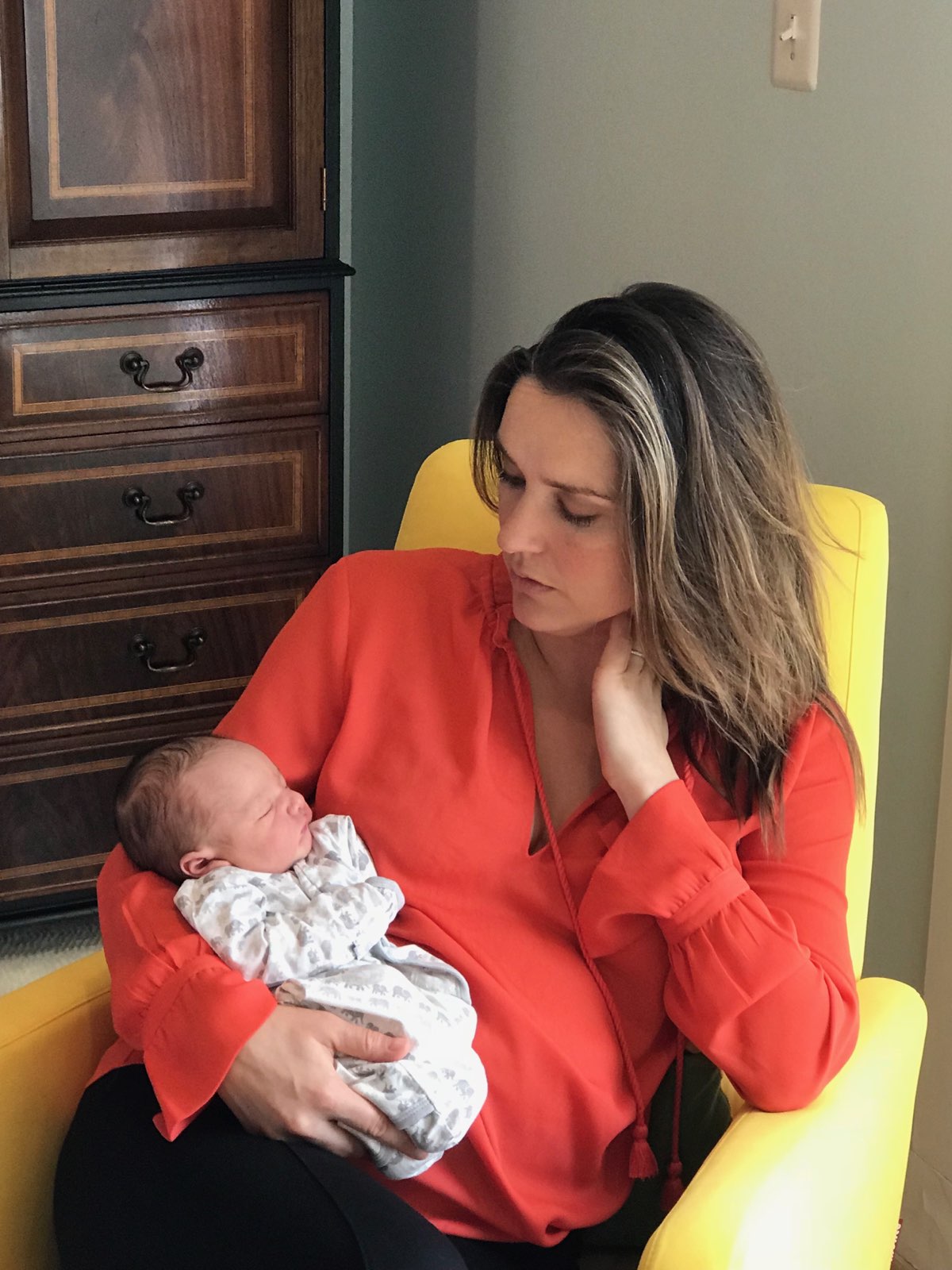 No, Margaret Brennan is Not Pregnant. Eamon, their two-year-old son, was born to her and her husband Yado Yakub. Malek was born on April 28 at Sibley Memorial Hospital in Washington, D.C. According to a statement from the CBS journalist, Brennan and Yakub chose the name Malek to celebrate their second son's Irish and Syrian background. Malek is an Arabic word meaning "King," while Murphy is a Brennan family name.
Also Read: Is Paige Spara Pregnant: How Wealthy Is This Celebrity? Luxury Lifestyle!
Margaret Brennan's Career
Brennan began her career in business journalism in 2002 as a producer for renowned financial journalist Louis Rukeyser at CNBC. She was responsible for writing, conducting research, and booking guests for the weekly Louis Rukeyser's Wall Street programme and prime-time specials.
Brennan subsequently worked as a producer for Street Signs with Ron Insana, where she organised guest bookings and conducted interviews with former President George W. Bush and former Secretary of State Colin Powell.
She covered the financial crisis with an emphasis on consumer issues as a CNBC correspondent.
She did conversations with the former CEO of Walmart and the prime minister of Ireland. In 2009, she broke the story of Circuit City's insolvency for the network and routinely covered shifting consumer trends.
Bloomberg Television
Margaret Brennan left CNBC on June 24, 2009, to join Bloomberg Television.
At Bloomberg, she anchored InBusiness with Margaret Brennan, a weekday programme covering the most important political, economic, and global financial news affecting the market and broadcast live from the New York Stock Exchange.
She transmitted live from Riyadh, Dubai, Cairo, London, Dublin, Abu Dhabi, and Davos during her term. Brennan covered the European debt crisis, the greatest insider trading case in U.S. history, and the BP oil spill as leading breaking news items. She reported live from Tahrir Square as Hosni Mubarak resigned from power after 30 years.
Brennan has also interviewed Christine Lagarde of the International Monetary Fund, financier George Soros, and former British Prime Minister Tony Blair, as well as the prime minister of Ireland and the ruler of Dubai during their respective debt problems.
She also contributed to Bloomberg's 2012 Republican presidential candidate debate coverage.
Brennan left Bloomberg in 2012; she aired her final episode of InBusiness on April 27, 2012. The only explanation stated for her leaving was the opportunity to pursue new opportunities.
Also Read: Is Derrico Pregnant Again: Did the Derricos Have a Baby in 2022? 
CBS News
Brennan joined CBS News in July 2012 and has since been located in Washington. She covered the White House for CBS programmes during the Obama and Trump administrations and is a substitute anchor for CBS This Morning and CBS Evening News.
Brennan was also a member of the 2012-2013 Alfred I. Dupont-Columbia Award-winning CBS News team for its coverage of the Newtown tragedy.
Brennan has travelled for her reporting to Tehran, Baghdad, Kabul, Beijing, and Havana. She has covered diplomatic negotiations, such as the nuclear agreement with Iran, the chemical weapons agreement in Syria, and the resumption of relations with Cuba.
She did the first interview in the United States with South Korean President Park Geun-Hye, focusing on the president's resolute stance against North Korea.
The interview made headlines in Pyongyang and Seoul, where morning shows discussed Brennan's behaviour.
She was also among the first reporters to interview Hillary Clinton about the deadly Benghazi, Libya, attack on the US outpost.
At a press conference on September 9, 2013, she asked Secretary of State John Kerry whether the Syrian regime could prevent an American attack.
Kerry's response that Assad could "turn over all of his chemical weapons to the international community within a week" (later retracted as a "rhetorical argument about the impossibility and unlikelihood of Assad turning over chemical weapons he has denied using") prompted Sergey V.
Lavrov, the Russian foreign minister, to propose this as a solution to the crisis.
She became the second woman to moderate Face the Nation, the CBS Sunday morning political interview programme, when she was selected as its tenth moderator on February 22, 2018.