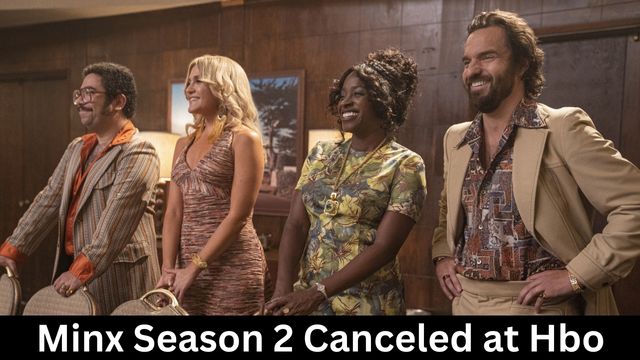 Minx is an American comedy streaming television series created and written by Ellen Rapoport and starring Ophelia Lovibond and Jake Johnson.
It premiered on HBO Max on March 17, 2022.
The show was renewed for a second season in May 2022. However, the series was canceled by HBO Max in December 2022, while the second season was in production.
READ MORE:-Trollstopia Season 8: Everything You Need to Know About This Season!
'Minx' Canceled at Hbo Max Despite Season 2 Renewal
"Minx" has been canceled at HBO Max, despite the fact that it was renewed for Season 2 in May.
The show was about to wrap production on its second season when Warner Bros. Discovery decided to cancel it in order to save money.
The first season will also be removed from HBO Max, with producer Lionsgate Television hoping to sell it to other outlets.
"We have had a good partnership with HBO Max and are working hard to find a new opportunity for 'Minx,' so that current and new viewers can continue on this journey with us," Lionsgate said in a statement.
"Minx" takes place in 1970s Los Angeles. Joyce (Ophelia Lovibond) is the series' protagonist, who is described as "an earnest young feminist who joins forces with a low-rent publisher (Jake Johnson) to create the first erotic magazine for women."
Idara Victor, Jessica Lowe, Lennon Parham, Michael Angarano, and Oscar Montoya also star. Season 1 of the series was well-received, with a 97% critical approval rating on Rotten Tomatoes.
READ MORE:-'Mtv Cribs' Season 19 Premiere: How to Watch and Where to Stream?
Canceled, Renewed, and Limited Streaming Series 2022: See the Full List
With so much content available on television these days, it's difficult to keep track of which shows were canceled, renewed, or only aired for a limited time.
And sorting through all of the news and updates can be nearly impossible, especially with all of the streaming platforms that don't follow the typical linear network flow of ABC, CBS, Fox, and NBC.
Speaking of those networks, ET has been keeping tabs on the status of all primetime programming.
We've also compiled a list of the major original scripted series available on the major streaming platforms, including Apple TV+, Disney+, HBO Max, Hulu, Netflix, Paramount+, Prime Video, and a few others.
Among the most recent cancellations and renewals, Minx was canceled despite a season 2 renewal, while Sex Lives of College Girls and Sort Of were both renewed for a third season at HBO Max. Additionally, Young Royals on Netflix and The Santa Clauses on Disney+ both got renewed for another season.
READ MORE:-The White Lotus Season 2 Ending Explained: Who Was the Killer in This Season?
So, if you're like ET and want to stay on top of which series are here to stay and which are done and gone, bookmark this page and return frequently, as these services announce renewals and cancellations as frequently as new programming drops any day of the week.
Minx Season 2 Trailer