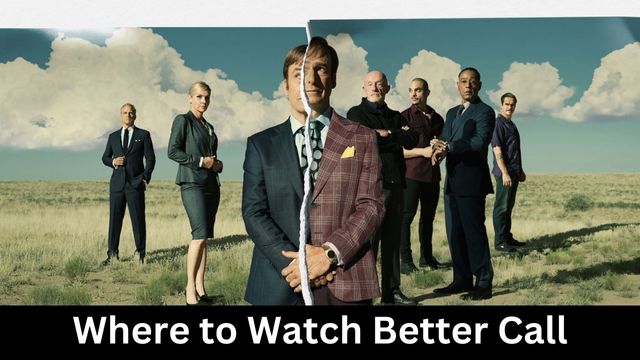 Better Call Saul is an American television crime and legal drama series created by Vince Gilligan and Peter Goulding. It is a prequel and sequel to Gilligan's previous series, Breaking Bad, and is part of the Breaking Bad franchise.
The series is primarily set in Albuquerque, New Mexico, in the early to mid-2000s, and follows the transformation of Jimmy McGill (Bob Odenkirk), an earnest lawyer and former con artist, into Saul Goodman, an egocentric criminal defense attorney, after he becomes embroiled in a feud between two rival Cartels.
READ MORE:-Where to Watch Kindred: Can You Watch This Series Premiere for Free?
How to Watch Better Call Saul Online
Better Call Saul's new episodes used to air on AMC and were available for streaming on AMC+.
Although the series ended in August, the finale will be available on AMC.com until Tuesday (Sept. 13), but you'll need a cable or streaming provider log-in to access episodes. With an AMC+ subscription ($8.99 per month after a 7-day free trial), you can watch the entire series online.
Amazon Prime members can subscribe to AMC+ through Prime Video and get the first week free. Better Call Saul episodes and seasons are also available for purchase on Amazon Prime Video, Vudu, Google Play, and Apple TV.
The first five seasons of Better Call Saul are currently available on Netflix, and select episodes may be available on platforms such as Fubo TV, SlingTV, and the Roku Channel.
In an interview with Variety last month, Odenkirk discussed screening the final episode with some of his coworkers. "There were just so many emotions in that room," he recalled.
"Six years of the show, the biggest show in our lives for all of us. You were aware of the risks [series creators] Vince [Gilligan] and Peter [Goud] took in providing us with these fantastic roles."
Is 'Better Call Saul' on Netflix?
Though season six of "Better Call Saul" isn't yet available on Netflix, subscribers can catch up on the first five seasons.
READ MORE:-Queer Eye Germany Cancelled: Check Out Where Can You Watch This Series?
Netflix starts at $7 per month for 720p streaming with ads or $10 per month without ads. For ad-free 1080p streaming, you'll need to upgrade to the Standard plan, which costs $15.49 per month. 4K streaming is available with the Premium plan for $20 per month.
Netflix also has a lot of other great content, such as every season of "Breaking Bad" and the sequel film "El Camino: A Breaking Bad Movie."
Is 'Better Call Saul' Worth Watching?
"Better Call Saul" has received critical acclaim and currently has a "98% Fresh" rating on Rotten Tomatoes based on all six seasons.
Over the course of its run, the show has received 46 Emmy nominations, including seven for its sixth and final season.
Where Can I Stream the Final Season of 'Better Call Saul'?
The season finale of "Better Call Saul" will premiere on AMC on Monday, July 11, at 9 p.m. ET/PT. It is available on FuboTV and Philo.
This is the second half of Season 6 and will continue from where the first half left off. Jimmy McGill, the protagonist of "Better Call Saul," began as an earnest lawyer and one-time con artist before transforming into Saul Goodman, an egocentric criminal defense attorney.
READ MORE:-Lookism Season 2: Everything You Need to Know About This Series!
Watch: "Better Call Saul" Final Season Trailer
The first full-length trailer for the sixth and final season of "Better Call Saul" has been released by AMC.
The clip shows Jimmy McGill embracing his Saul Goodman persona with a confidence not seen in previous seasons — and getting himself into a lot of trouble in the process.
The show will return on April 18th with seven episodes before taking a break.
The final six episodes will premiere on July 11th.