Aftersun is a 2022 drama film written and directed by Charlotte Wells, starring Paul Mescal, Frankie Corio, and Celia Rowlson-Hall.
A24 released it in the United States on October 21, 2022, and Mubi released it in the United Kingdom on November 18, 2022.
READ MORE:–Where to Watch Pale Blue Eye: Here Are All Details About the Movie To Know!
'Aftersun' Ending Explained: What Does the Last Dance Mean?
On the last night of the trip, Calum attends a neighborhood pool party and begins to casually dance. He calls to Sophie, "Come on. However, Sophie is too shy to dance and is reluctant to join him. She tightly hugs him.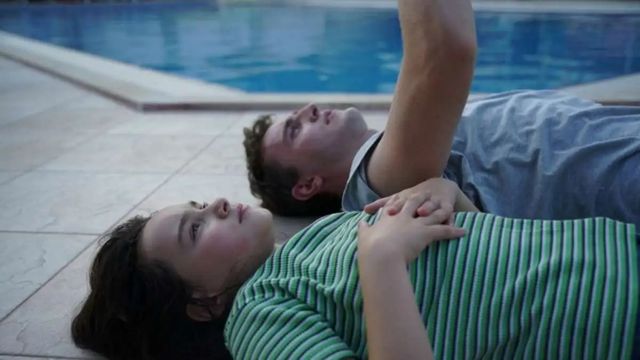 This scene abruptly cuts to adult Sophie (Celia Rowlson-Hall) watching Calum dance wildly in front of her at some sort of dark disco party. Although Sophie doesn't express her anger toward her father verbally, it is clear that she harbors it.
The way he always knew when to hold back and when to speak, as well as his emotional distance, could be the cause. We catch glimpses of an exhausted Calum trying to hold onto an adult Sophie, but she pushes him away under the flashlights.
The scene shifts to the current vacation. In the end, we see Calum wave goodbye to Sophie at the port via video camera footage. The film then departs from the adult Sophie's room, slowly revolving around her and arriving at the exact spot where she had waved goodbye to Calum.
Congrats to the cast and crew of #AftersunMovie on receiving 3 #CriticsChoiceAwards nominations ☀️ pic.twitter.com/NTESYSlTPv

— Aftersun (@aftersunmovie) December 14, 2022
Calum closes the video camera and exits through the exit door, bringing the scene to a close. Beyond the exit door is the same dance floor with flashlights. It suggests the same location where adult Sophie confronts him.
Aftersun Review: an Astounding First Feature That Captures Paul Mescal at His Most Heart-wrenching
It's difficult not to associate the moments leading up to heartbreak with omens. Too often, the mind transforms memories into prophecies. Colors are intensified. Emotions solidify. It's difficult to imagine, let alone talk about.
READ MORE:-Four to Dinner' Ending Explained: Here Are All Details About the Movie To Know!
That is why Aftersun, the feature debut of Scottish filmmaker Charlotte Wells, is so impressive. She's captured the uncapturable, finding the words and images to describe a feeling that always seems to sit just beyond our comprehension.
Perhaps the only way to understand memory in any meaningful way is on a personal level. And here, Wells has sucked some autobiography into a story of her own meticulous crafting. Sophie (Frankie Corio), 11, is on vacation with her father, Calum (Paul Mescal), in the 1990s, when the Macarena was at its cultural peak.
Calum is clearly no longer with Sophie's mother. He relocated to England, while they remained in Scotland. This trip to Turkey, which Calum can barely afford, is a once-in-a-lifetime opportunity for father and daughter to be together.
Except we're watching these events as they're remembered – by an older Sophie (Celia Rowlson-Hall) under the strobe lights of a nightclub, a rave, or, really, the chaotic confines of her own mind.
READ MORE:-Here Are the Best Sites to Watch Movies Online Like 0123Movies!
We also see her play and replay an old VHS tape from the trip, attempting to uncover some hidden truth that Aftersun, in a masterstroke move, never reveals.
Aftersun Trailer