Dash & Lily is an American romantic comedy television series created by Joe Tracz that is based on Rachel Cohn and David Levithan's young adult novel series Dash & Lily's Book of Dares.
 The eight-episode Netflix series will premiere on November 10, 2020.  The show was canceled after one season in October 2021. 
Dash & Lily
S
eason 1 Ending Explained: What Happens Next?
Dash & Lily season 1 concludes with a touching reunion between Dash and Lily, as well as a timely commentary on the value of compromise. The eight-part Netflix series follows the typical tropes of a romantic comedy plot, even concluding with a grand gesture from the main male protagonist. 
READ MORE:-Grand Army Ending Explained: Everything You Need to Know About This Series!
What matters most, however, is the chemistry between the lead actors and how the filmmakers handle the most important points of conflict. Dash & Lily Season 1 has a lot of depth and heart for a coming-of-age story about teenage book lovers.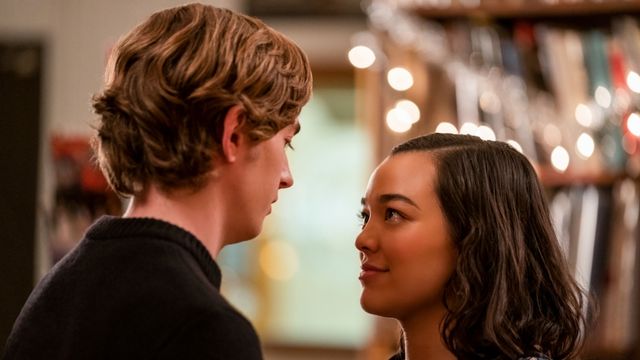 Season 1 of Dash & Lily stars Austin Abrams and Midori Francis as Dash and Lily, respectively. The plot revolves around a daring book left by Lily at the Strand Book Store in Manhattan for a stranger. When Dash finds the notebook, he's intrigued by the author's writing style and pop culture references, most notably a public reading dare involving Joni Mitchell's 1971 Christmas song "River". 
Lily is intrigued by what could be, as she enjoys the holiday season and fantasizes about the epic romances she's read about in books. Dash, on the other hand, is more cynical and constantly worries about everything that could go wrong.
Boomer (Dante Brown), Dash's friend who knows the identity of his book pal, and Sofia, Dash's well-educated ex-girlfriend who shows up in New York City and inadvertently threatens Lily's romantic plans, are the two wildcards in Dash & Lily.
By the penultimate episode of Dash & Lily season 1, the characters have learned about each other's identities through awkward circumstances. Mrs. Basil E. (Jodi Long), Lily's great-aunt, reveals the truth through a "Dash" pun, and Dash connects the dots by tracking his notebook crush to an Irish bar.
A drunken Lily doesn't act like herself, especially after learning that Dash has been smooching his ex, Sofia. Lily returns home after an unimpressive conversation in the back seat of a taxi and learns that her family is relocating to Fiji. Furthermore, Dash reveals in the notebook that he wants to end their dare game, presumably because he and Lily set themselves up for disappointment.
READ MORE:-Outer Banks Ending Ending Explained: Was this Series Based on a True Story?
Review: Mind the Gap, Dash & Lily
I was shocked and then excited to see that there was another Dash & Lily book coming out this year, so of course I had to read it despite the fact that I hadn't read the previous two books in a few years.
Dash is now at Oxford University, and Lily is taking a gap year to expand her dog-walking business, and they miss each other terribly by Christmas. Dash, on the other hand, is staying in London with his grandmother, whom he is now getting to know, so Lily decides to visit him for Christmas in order to surprise him. The fluffy reunion she had planned does not go as planned, leading to some complications during her stay.
Both begin to question what they want, not from each other, but from themselves. Dash's first semester at Oxford did not go as planned, and he is now unsure if he wants to stay. Meanwhile, Lily is feeling pressured by her mother to attend Barnard College back home, but she knows that's not what she wants.
She wants to work with dogs and expand her crafting business. Dash and Lily figure out what they want in life together, with the help of a few Londoners, and while it's not what they expected, they each know it's what's best for them.
The topics covered in this book – school and what to do after high school – are definitely important topics for young adult fiction, so I appreciate that this was a major theme of the book.
Dash and Lily! ❤️ #DashAndLily pic.twitter.com/ofvLQEvKo3

— Krrish (@ItzKrrish_) November 8, 2021
To be honest, that can be the most difficult part of your life because let's face it, not many eighteen-year-olds know what they want to study in college or what they want to do in life. Even if they do, we're all prone to changing our minds at some point. It's even worse when your family is pressuring you to do something you're not interested in… So I felt terrible for Lily and practically yelled at her family to get off her back.
READ MORE:-Where To Watch Squid Game: Was this Series Based on a True Story?
While I enjoyed this book, it seemed a little short and the ending was a little abrupt. Maybe the conflict resolution took less time than I anticipated. I'm not sure what it was, but this wasn't my favorite of the books in this series. It's still good, but it's not my favorite.
Dash and Lily's Trailer