Some people are wondering if Ellie is gay in The Last of Us and how her romantic interests might be different from the video game after episode seven of the hit HBO video game adaptation aired on Sunday, February 26, 2023.
The Last of Us takes place 20 years after a terrible pandemic killed most people. Cordyceps is a parasitic fungus that quickly takes over the body and mind of its host.
They become what are called "the infected" when they change in horrible ways and start to attack. A hardened survivor named Joel (Pedro Pascal) is hired to sneak a 14-year-old girl named Ellie (Bella Ramsey) out of a harsh quarantine zone.
In this article, we will discuss "Is Ellie Gay in the Last of Us Game?" Let's find out in this article. Scroll down and read the whole article.
Is Ellie Gay in the Last of Us Game?
Yes, Ellie is Gay in the Last of Us Game. Ellie has always been open to everyone. Ellie's sexuality is never said outright, but she has two same-sex loves in The Last of Us: Left Behind, a DLC for the original game released in 2014, and The Last of Us Part II, a sequel that came out in 2020.
In episode seven of HBO's hit show and in the DLC on which that episode is based, Ellie kisses Riley, a fellow student at a FEDRA-run military school. This is likely her first kiss.
In The Last of Us Part II, Ellie has moved to Jackson, which is Tommy's township. She is dating Dina, who has also moved there.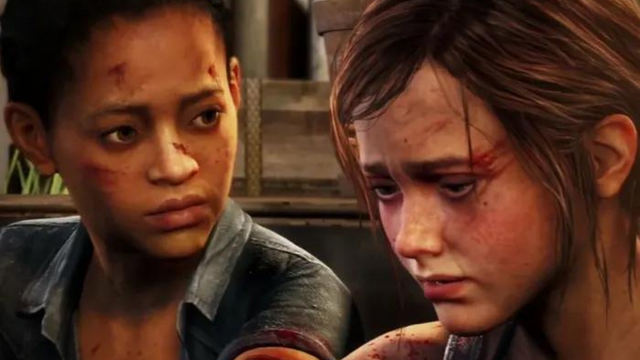 Her character is from New Mexico and has relatives who lived through the Spanish Inquisition and the Holocaust. She is also an orphan, just like Ellie. In the beginning of the game, they share their first kiss, and later, they are put on patrol together.
In 2023, we have covered much news regarding rumors of many celebrities being gay or lesbian such as Jordan Leavitt, Manu Rios, and many more. Hope we are able to find you an answer to your query " Is Ellie Gay in the Last of Us Game?"
What Happens to Ellie and Riley in The Last of Us Game?
People can be forgiven if they don't know about the story of Ellie and Riley's relationship, since it isn't in the main game but is in other materials about the game.
In the 2013 version of the game, Riley is only mentioned when Ellie tells Joel that she lost someone close to her, but the story doesn't go into that any further.
The plot of episode seven comes from The Last of Us: American Dreams, a four-issue comic series written by Druckmann and Faith Erin Hicks, and The Last of Us: Left Behind, a DLC add-on to the game that is based on the comic series.
In the show, Joel gets hurt badly enough that he could die, which makes Ellie remember the past as she fights to save him. In the game, Ellie and Riley run away from military school and go to a shopping mall. As they look around, players can go into different flashbacks.
And, just like in "Left Behind," the two have a great day together at the mall, where they can forget about the terrible things going on in the outside world.
Even though it's not what you'd expect from a survival game, Druckmann said that it came out of a conversation he had with Hicks.
"When we first talked about Ellie and Riley, we both made the same mistake: we said that Ellie liked Riley," Druckmann told Wired.
Who Plays Ellie in The Last of Us Show?
Bella Ramsey Plays Ellie in The Last of Us Show. English actress Isabella May Ramsey is from the UK. She is known for her breakthrough role as young noblewoman Lyanna Mormont in the HBO fantasy series Game of Thrones.
Since then, she has played Mildred Hubble in the 2017 CBBC series The Worst Witch, the voice of the title character in the Netflix animated series Hilda, and Jane Grey in the 2022 Starz drama Becoming Elizabeth.
To read more LGBTQ+ related articles, Please visit our website Crossover99.com
Must Read: Is Demi Lovato Lesbian? Read The Hidden Clues About Lovato's Sexuality!