Mythic Quest is a comedy show on Apple TV+ that was made by Charlie Day, Megan Ganz, and Rob McElhenney. The first episode of the show came out on February 7, 2020. It's about a made-up video game company that makes a famous MMORPG called Mythic Quest.
The show was picked up for a second season by Apple TV+ on January 18, 2020, before the first season even started. A special episode called "Quarantine" came out on May 22, 2020, and another called "Everlight" came out on April 16, 2021, both before the start of season two.
On May 7, 2021, the second season began. The show was picked up for a third and fourth season in October 2021. On November 11, 2022, the third season began. But What is the Mythic Quest Season 4 Release Date?
In this article, we will discuss when will Mythic Quest Season 4 available for streaming. Scroll down and read the full article.
Mythic Quest Season 4 Quick Info!
| | |
| --- | --- |
| Name of Series | Mythic Quest |
| Season | 4 |
| Director | Charlie Day, Megan Ganz |
| Release Date | NA |
| Where to Watch | Apple Tv+ |
When Will Mythic Quest Season 4 Come Out?
Fans of Mythic Quest will be happy to hear that Apple has already picked up the show for a fourth season. The show was actually picked up for a third and fourth season at the same time in October of 2021. Fans of Mythic Quest have had to wait between 12 and 18 months for each season until now.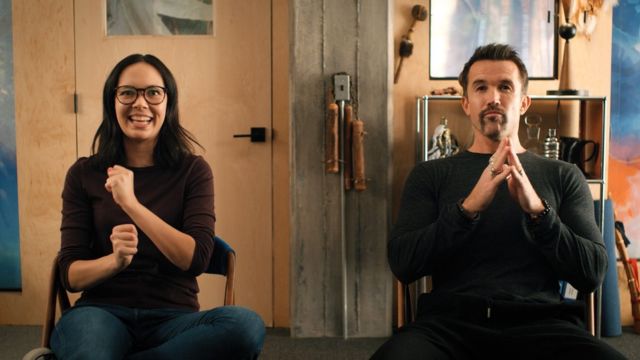 Early delays caused by the pandemic also didn't help, but because this season four renewal came so early, we might get to see new shows as soon as October or November this year, just a year after the end of season three. If not, it's safe to say that season four will be on Apple TV+ at the latest by spring 2024.
Mythic Quest Season 4 Cast: Who Will Return?
All of your favorite weirdos from the third season of Mythic Quest should be back for the fourth season.
• Rob McElhenney plays Ian Grimm
• Charlotte Nicdao plays Poppy Liwanag / Poppy Li
• Ashly Burch plays Rachel
• Jessie Ennis plays Jo
• Imani Hakim plays Dana
• David Hornsby plays David Brittlesbee
• Danny Pudi plays Brad Bakshi
• Naomi Ekperigin plays Carol
F Murray Abraham's character, CW Longbottom, was written out of the show at the beginning of season three, so he won't be back.
What is the Storyline of Mythic Quest Season 4?
The plot of Mythic Quest season 4 will pick up where Season 3 left off. Dana, Jo, and Brad will start a rival company to David's, which will steal some of Mythic Quest's best ideas. This made a situation that was already hard even worse.
Even though the game is losing players, Ian and Poppy have come back and have some ideas for quick fixes while David works on the expansion. You can expect all of this to play out in a funny battle between the two businesses.
Is There Any Trailer for Mythic Quest Season 4?
We regret that the Season 4 trailer is not yet available to you. We will update this page as soon as it is officially released to let you know. Season 3 of Mythic Quest is currently available on Apple Tv+
What Are the Ratings of Mythic Quest?
In the television comedy series Mythic Quest, the main characters are the proprietor and employees of a prosperous video game development firm.
IMDb gives it a rating of 7.7 out of 10, which is rather high. It has received a rating of 86% from people, according to Rotten Tomatoes, while it has received a rating of 94% from critics.
Must Read: Zatima Season 3 Release Date: Find Out When the New Season Begins!