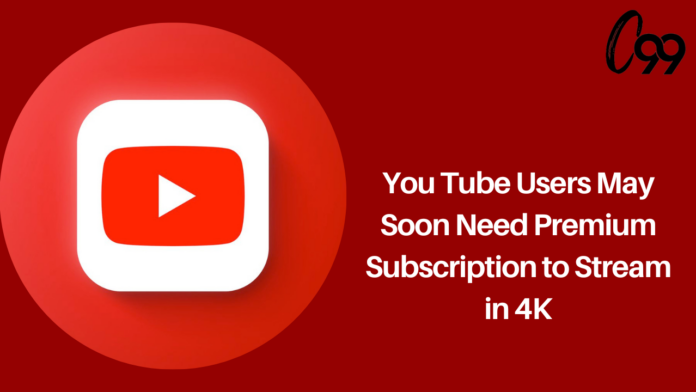 YouTube, which is owned by Google, may soon restrict 4k video uploads to only its paid subscribers. Multiple users on YouTube are reporting the update via posts they made on Reddit and Twitter. They claim that in order to see videos on YouTube in 4K, a user is required to have a paid subscription to YouTube Premium.
This information comes from YouTube. However, not all users are reporting that they are unable to access the 4K quality option because of YouTube's barrier. In addition, it is currently unknown whether YouTube plans to truly implement this feature or if it is merely testing it at this moment.
iOS users who use YouTube are the ones who have seen the change as of right now. However, it is possible that it will become available for users who view YouTube via other platforms.
A monthly subscription to YouTube Premium would set you back 129 rupees in India. It provides videos without advertisements, playback in the background, and the capability to download videos for offline watching.
The latest modifications come just a few days after YouTube conducted a test in which non-Premium users were subjected to 12 advertisements that could not be skipped. The corporation was forced to put a halt to the trial after receiving feedback from individuals on Reddit and Twitter expressing their dissatisfaction.
9to5Google spoke with a YouTube spokesman who affirmed the information. The spokesman for YouTube stated that the company has 'concluded' it's testing with bumper adverts at this point.
"Here at YouTube, our main objective is to facilitate the connection of businesses with viewers from all over the world, and we're constantly experimenting with new approaches to surfacing advertisements that improve the viewing experience.
Read More: Microsoft Brings Back Task Manager Shortcut to Windows 11 Taskbar
We carried out a limited test on a global scale in which many advertisements were presented within a single ad pod to viewers as they watched longer videos on linked televisions.
By cutting down on the number of commercial breaks, we hope to provide viewers with an overall better experience. "With that, we have reached the end of this preliminary test," the representative stated.
YouTube said earlier this year that it will split the advertising money generated by its Shorts platform with the content creators. For those who are unaware, YouTube's short-form video sharing option is known as YouTube Shorts.
Also Read: Twitter Finally Starts Rolling out The Edit Button, But Us Users Will Have to Wait
YouTube has announced that it will insert advertisements into its stream of bite-sized videos, collect the revenue from those advertisements, and then utilize it to compensate content creators.