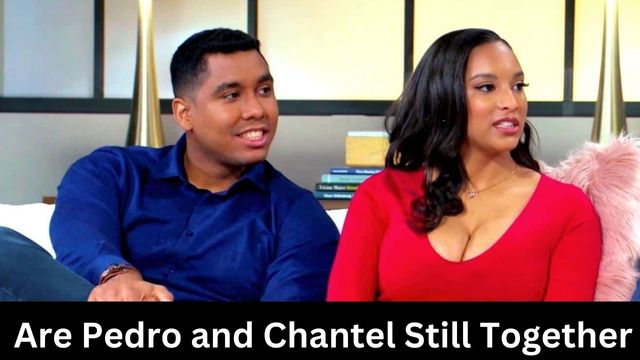 Who is Pedro Jimeno Dating? 'the Family Chantel' Star is Rumored to Be With This Person
TLC's The Family Chantel Season 4 is currently in full swing, and the divorce of Pedro Jimeno and Chantel Everett is a hot topic on social media.
It's no secret that the couple has struggled as a couple, but most fans expected them to make it. However, it appears that another marriage has died as a result of the former 90-Day Fiancée couple.
READ MORE:-Is Brittany Daniel Dating Someone: What is the Current Relationship Status?
People naturally speculate about a marriage's demise when it ends. And, while Season 4 shows Chantel's suspicions that Pedro is unfaithful, nothing has been confirmed.
However, now that their marriage has ended, fans are wondering if Pedro has returned to the dating scene. After all, rumors about a possible romance are circulating. Here's what we currently know.
Why Did Pedro and Chantel's Marriage End?
On May 27, Pedro filed for divorce from Chantel Everett after six years of marriage, according to In Touch.
In season 4 of the spinoff, Pedro would frequently refer to his wife as "lazy" and felt she wasn't as supportive as he had been in the past. Meanwhile, Chantel suspected her partner was spending too much time at work, making her feel neglected.
Pedro asked Chantel for a divorce after a trial separation and moved out into his own apartment the next day. Following Pedro's departure, Chantel allegedly took $256,000 from their joint bank account, resulting in a dramatic confrontation on the season finale — which prompted Pedro to file for divorce.
READ MORE:-Who is Camila Mendes Dating: Are You Really Eager to Know About Her Dating History?
When In Touch reached out to Chantel's attorney, he had "no comment" on his claims that she stole the money, which was mentioned in a previous motion.
Did Pedro Jimeno Cheat on Chantel Everett?
Throughout Season 4, Chantel had her doubts about Pedro's close relationship with Antonella Barrenechea, a coworker in his real estate office.
"One night, I took the entire day off work, cleaned the house, and began cooking." "I called you at 8:30, asked where you were, and you were at the mall with Antonella," Chantel explained in a July 2022 episode. "You pick her up and drive her to work, you take her from the car mechanic, you're basically her do-boy, and you cater to her every whim."
Pedro denied cheating on Chantel with Antonella, but the Atlanta, Georgia, native believed Pedro had been unfaithful throughout their marriage. Six weeks after Pedro's initial filing, Chantel filed her own counterclaims, citing "adultery by the petitioner" and "cruel treatment" as the reasons for their divorce.
Does Pedro Jimeno Have a New Girlfriend?
Pedro may not have a new woman in his life, but his sister, Nicole Jimeno, can't wait for him too.
READ MORE:-Zooey Deschanel Dating: Everything That We Are Aware of Regarding Her Previous Relationships
"I'm excited to meet my next sister-in-law." "I'm ready for Pedro to have another girlfriend," she told producers after learning of his divorce. "I'm eager to meet that new family." And I'm hoping that family will be better than Chantel's."