Triangle of Sadness is a 2022 satirical black comedy film written and directed by Ruben Ostlund in his English-language feature film debut.
Harris Dickinson, Charli Dean, Dolly de Leon, Zlatko Buri, Henrik Dorsin, Vicki Berlin, and Woody Harrelson starred in the film. It is Dean's final film before her death in August 2022.
READ MORE:-Ending Explained of Emancipation: Here Are All Details About the Movie To Know!
Triangle of Sadness Release Date
Triangle of Sadness will be released theatrically in the United States on October 7, 2022. Neon, a company that has built its brand on distributing small, independent, unusual, and international films that would otherwise struggle to find a theatrical release in the United States, will distribute the film.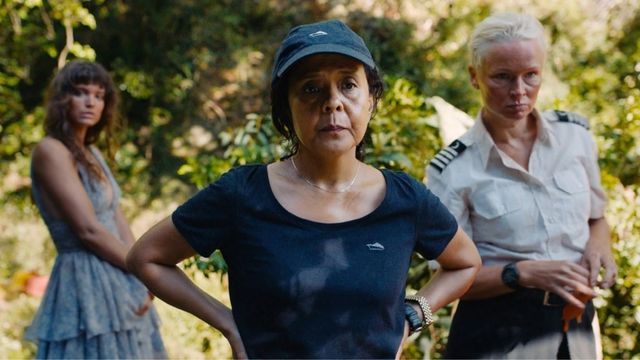 I, Tonya (2017), Parasite (2019), The Worst Person in the World (2021), and this year's David Cronenberg's Crimes of the Future and David Bowie documentary Moonage Daydream are among Neon's most notable recent films.
'Triangle of Sadness' Plot Summary: What is the Film About?
The film begins with a brief visual introduction to one of our protagonists, Carl, as he auditions for a casting with other male models. Carl appears to be still trying to establish himself in the field.
READ MORE:-How Much James Woods Earned In His Entire Movie Career?
Yaya, on the other hand, is a much more established model, and she even opens a new brand's fashion show while her boyfriend Carl watches from the back row. The couple goes out to eat at a fancy restaurant and gets into an argument about who should pay the bill.
Carl believes that everything about gender roles in a relationship should be equal, and he waits for Yaya to pick up the bill, especially since she promised to do so the night before.
Yaya, on the other hand, appears to appreciate the fact that her man is willing to meet her needs, and she believes in the transactional nature of a relationship. Dissatisfied with the dinner and subsequent taxi ride back to the hotel, the couple initially spends some time apart until Yaya finally returns to Carl's room.
The lovers appear to reconcile, and Carl makes a half-serious promise that he will make Yaya fall in true love with him someday soon, beyond the transactional phase that they are currently in.
A few days later, Carl and Yaya go on an all-expenses-paid luxury cruise as part of her modeling/influencer job, and the couple meets the rest of the super-rich guests. As the glaring class divide and the privileges that come with it become more apparent, the "Triangle of Sadness" luxury yacht sails through issues of social hierarchy and empty ideology.
Dangers await on the plot line as well, as rough weather and a pirate attack occur in quick succession, resulting in the yacht crashing in the middle of the sea. Carl and Yaya are among the fortunate few who survive the accident and wash up on a nearby island, and the general world's social class structure finally collapses completely.
Triangle of Sadness Cast
Harris Dickinson as Carl
Charlbi Dean as Yaya
Dolly de Leon as Abigail
Zlatko Burić as Dimitry
Iris Berben as Therese
Vicki Berlin as Paula
Henrik Dorsin as Jarmo
Jean-Christophe Folly as Nelson
Amanda Walker as Clementine
Oliver Ford Davies as Winston
Sunnyi Melles as Vera
Woody Harrelson as the captain
'Triangle of Sadness' Ending Explained
The first chapter of Triangle of Sadness follows male model Carl (Harris Dickinson) and his social influencer girlfriend, Yaya (Charlbi Dean). Despite their disagreements, they agree to go on a yacht cruise for the super-rich. Yaya, on the other hand, was given free tickets due to her celebrity status on social media.
The yacht crew deals with entitled, wealthy clients in the second chapter. They have some ridiculous demands, but their training tells them that they are never allowed to say "no" under any circumstances. The passengers at the Captain's Dinner, led by Woody Harrelson's Captain, get sick from both ends while attempting to enjoy their fine dining experience. The yacht eventually sinks, leaving only a few survivors to fend for themselves.
When they are stranded on an island, the power dynamic completely shifts. Yaya and Carl are among the survivors, but Abigail (Dolly de Leon), a crew member, is the only one with survival skills, such as fishing and fire-starting. As a result, she wields complete power, and the remaining survivors are forced to submit to her will.
In a disturbing scene, some of them kill a donkey with a stone for food. Abigail secretly begins a sexual relationship with Carl, who is simply looking for more access to the easy life. Yaya becomes increasingly agitated as she suspects something.
Yaya goes on a hike to explore the island at the end of Triangle of Sadness, but Abigail insists on following her. Yaya discovers they've been on an island with a resort the entire time.
READ MORE:-The Watcher Ending Explained: Get All You Want to Know About the Movie!
However, Abigail persuades her to pause for a moment before collecting a stone and placing it over Yaya's head. Yaya turns her back on Abigail and tells her she wants to hire her as her assistant when she gets home. As the film cuts to Carl, who quickly runs across the island, Yaya's fate remains unknown.