Scream VI (stylized as SCREAIVI) is an upcoming American slasher film directed by Matt Bettinelli-Olpin and Tyler Gillett, written by James Vanderbilt and Guy Busick, and executive produced by original franchise writer and creator Kevin Williamson.
READ MORE:-The Invitation Netflix Release Date: Get All You Want to Know About the Movie!
It will be the sixth film in the Scream franchise and a direct sequel to Scream (2022).
Scream 6 Release Date: When is It Coming Out?
Scream 6 is now scheduled for March 10, 2023. It was supposed to be released at the end of the month, but Paramount Pictures pushed it up by three weeks.
Scream 6 will be directed by Matt Bettinelli-Olpin and Tyler Gillett, with scripts written by James Vanderbilt and Guy Busick.
The film was shot in Montreal and is scheduled to be completed in August 2022.
"This movie has to be willing to risk it all in order to subvert all of those expectations," the directors told Empire when confirming the release date. And we're so far down the rabbit hole of Scream movies, that it's all up for grabs at this point."
Scream 6 Trailer: is There a Trailer?
Yes, there is a Scream 6 teaser trailer, which you can watch below:
Scream 6 Cast: Who's in It, and Who's Returning?
Scream 6 is expected to reintroduce several characters from the fifth film, as well as a fan favorite: Hayden Panettiere as Kirby, who was first introduced in Scream 4 and was teased to be alive in the sequel.
Here's Everyone Confirmed for the Scream 6 Cast:
Courteney Cox as Gale Weathers
Melissa Barrera as Sam Carpenter
Jenna Ortega as Tara Carpenter
Hayden Panettiere as Kirby Reed
Jasmin Savoy Brown as Mindy Meeks-Martin
Mason Gooding as Chad Meeks-Martin
Dermot Mulroney as an unnamed police officer
Henry Czerny
Samara Weaving
Tony Revolori
Jack Champion
Devyn Nekoda
Liana Liberato
Josh Segarra
Roger L. Jackson as the voice of Ghostface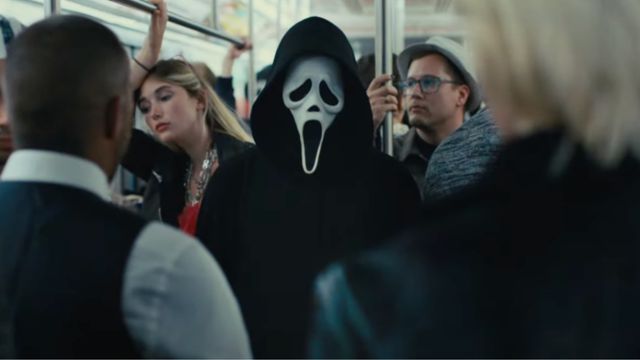 Two legacy characters won't be returning: David Arquette's Dewey, after being killed off in the previous film; and most controversially, Neve Campbell's Sidney Prescott.
READ MORE:-Ending Explained of Emancipation: Here Are All Details About the Movie To Know!
The actress announced in June that she would not be returning for Scream 6. "Sadly I won't be making the next Scream film," she told Deadline in a statement.
Scream 6 Plot: What is It About?
The official plot synopsis for Scream 6 is as follows: "The Scream saga continues with the four survivors of the Ghostface killings as they leave Woodsboro behind and begin a new chapter."
We're no longer in Woodsboro, as Scream 6 will take place in New York City. "It's like 20 times more mortifying," Melissa Barrera teased in an interview with Collider.
"It's terrible. Because you can see how, in a city like New York City, everyone is doing their own thing while someone screams for help and no one comes to their aid.
"No one comes to help them because, you know, everyone's like, 'I'm not getting into that.'" So it's mortifying because you're chased by Ghostface, but you also see humanity and how that reacts in a situation like that. Anyway, I believe I've already said far too much."
Jenna Ortega also told Entertainment Tonight: "Ghostface gets a lot more intimidating. I just finished reading a portion of the script, and it keeps getting gorier and gorier.
READ MORE:-Luckiest Girl Alive Movie Ending Explained: Get More Information About The Movie!
"I think that this is probably the most aggressive and violent version of Ghostface we've ever seen, which I think will really be fun to shoot."