Nanny is a 2022 American horror film written and directed by Nikyatu Jusu in her feature directorial debut.
It stars Anna Diop, Michelle Monaghan, Sinqua Walls, Morgan Spector, Rose Decker, and Leslie Uggams.
READ MORE:-Four to Dinner' Ending Explained: Here Are All Details About the Movie To Know!
Jason Blum serves as an executive producer through his Blumhouse Television label.
Nanny Ending Explained – What Happens to Aisha?
Throughout the film, Aisha has a variety of visions that cause her to see things that aren't actually there.
Aisha almost kills Rose in the bathtub after one of these spells. Fortunately, she is brought back just in time, drops the knife, and takes Rose to bed. Aisha apologizes to Rose, who tells her that her son Lamine caused her to do it out of jealousy. Rose turns over, not saying anything to Aisha.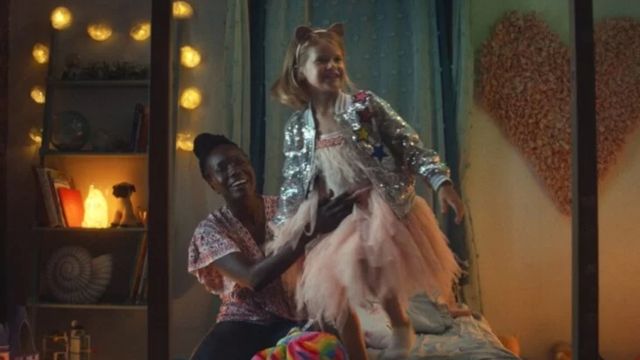 As we see throughout the film, Lamine, who is about to turn seven, is still living in Senegal, and Aisha is trying to save up enough money to bring her son to America. She hasn't seen her son in a long time, but her maternal instincts haven't left her as she treats Rose like a mother, something Lamine is missing out on.
She is intimate with Rose, feeding her African dishes and telling her African folk stories, and her relationship with Lamine has devolved into phone calls and messages.
When she finally receives the money she is owed for working overtime, she has enough to bring her son and aunt to America, but neither of them steps off the plane while waiting for them at the airport.
READ MORE:-How Did the Movie the Town End, and Who is the Villain in the Town?
After a few moments, Aisha calls her Aunt and finds her alone, without Lamine. Her Aunt goes on to tell Aisha how Lamine was at the beach and became trapped under the waves, eventually drowning. Aisha is found on the docks of a river in New York just before she jumps in and begins to drown, only to be rescued just before death.
Water symbolism can be found throughout the film. Aisha is constantly gasping for air, hoping to breathe, whether she is drowning in her work or her personal life.
When she jumps into the water, it appears that she is attempting to drown herself and allow the pain and pressure of everything that has happened to her to completely engulf her, but it could also simply be a way for her to feel what her son has had to endure without her.
Throughout the film, she spends time caring for someone else's child rather than her own, hoping that one day she will be able to reclaim her son. She looks up while in the water and sees a vision of Lamine. A mermaid who appeared in the film in a menacing light is now fully realized.
This mermaid was never meant to harm Aisha, but rather to serve as a warning. In this sequence, the mermaid assists Aisha to the surface, raising the question of whether she is still warning Aisha or is she the menacing creature she appears to be, guiding Aisha to her doom.
Nanny (2022) Review
There is nothing haphazard about "Nanny." Every shot and scene appears to be meticulously crafted with a specific predicament in mind. Nonetheless, the proceedings never seem forced, and they mostly flow like a river.
Nikyatu Jusu's screenplay isn't perfect, as things feel rushed in the final act, particularly the entire arc of Lamine and its culmination. And the use of metaphors and allegorical references can be overwhelming at times.
The film appears to be very lush and polished, which was most likely a collaborative creative decision made by Jusu and cinematographer Rina Yang. The latter employs a lot of purple and neon, as well as warm tones and bright lights, to create a moody yet welcoming environment for Aisha.
Anna Diop, who appears in almost every frame, gives the best performance of her life as Aisha. Diop's silent gazes and facial twitches are enough to draw you in and root for her Superhero despite the odds. In fact, there is a very well-placed Superman reference in the film.
READ MORE:-Here Are the Best Sites to Watch Movies Online Like 0123Movies!
With Jason Blum on board as an executive producer, "Nanny" has the obvious expectation of being a Blumehose chiller. It checks all the boxes thanks to its well-earned scares.
Instead of being limited to that, it goes far beyond being a human drama with plenty of warmth, as well as a fascinating coming-of-age story of perseverance.
Nanny Official Trailer