Spoilers for Ranking of Kings are coming up.
The Ranking of Kings appeared out of nowhere at the end of 2021. Its beautiful Euro-fantasy style and uplifting story about a young deaf prince captivated anime fans.
The first season of the show was one of the best examples of modern anime writing. It told a smart, subversive story about heroism in 23 episodes that kept people guessing the whole time.
Also, you can't deny how beautiful it is. Part of that beauty came from staying true to the original text.
Maiko Okada, who works as an animation producer, told Crunchyroll, "We really wanted to bring out the color of the world from the original work."
"We did want it to look like…almost a children's book, but we didn't want it to be too simple. We wanted it to be bright and clear, and we wanted that picture on the screen to stand out.
Even though we don't know when the second season of Ranking of Kings will start, we do know that there will be a "special episode" in 2023!
Ranking of Kings: Treasure Chest of Courage Release Date and Trailer
While we patiently wait for news about Ranking of Kings season two, the good people at WIT Studio are giving us a special "side story" called Treasure Chest of Courage, which will come out on April 13, 2023.
It's still not clear how many episodes Treasure Chest of Courage will have or if it will just be a one-time special.
A full trailer for the side story was also given to us. It showed the opening theme, GOLD by PEOPLE 1, and the ending theme, Atemonaku by Aimer, which had just been announced.
Most importantly, we get hints that we'll find out more about the Kage clan and see a good version of Prince Ouken. This makes me think that there will be a lot of flashbacks in the special.
Also Read: Mission Yozakura Family Anime Release Date – Get Ready for Action, Laughs, and Family Ties!
Ranking of Kings Season 2 Release Date
If there is a real second season, when will everyone's favorite boy-king come back? The best way to figure it out is to look at how long it took to get the first set of episodes.
The first season of Ranking of Kings was based on the first 12 volumes (156 chapters) of the manga, which is now called "Part 1."
The first book in the series came out in February 2019, but Ssuke Tka started writing it in 2017. In December 2021, the 12th book came out. This means that it took Tka at least three years to write everything in the first 23 episodes of the anime.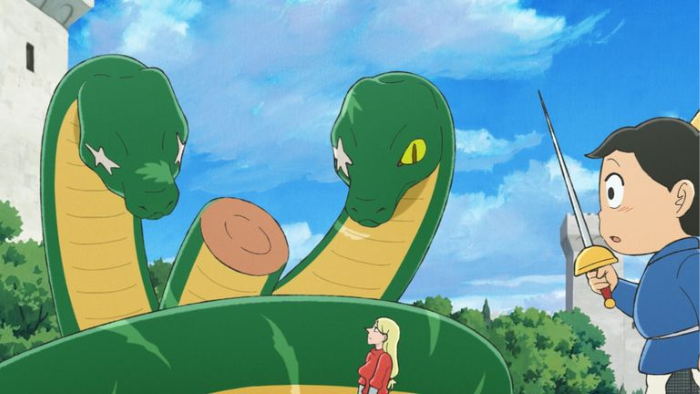 Volumes 13 through 15 came out in 2022, and the 16th is about to come out soon.
So, it looks like fans will have to wait about two and a half years (from the end of season one) before Bojji has had enough adventures to make a second season of the anime worthwhile.
If we're hopeful and a second season gets approved, it might come out in late 2024. This could happen sooner if WIT Studios decides to make a second season with 12 episodes instead. In any case, let's hope that after Treasure Chest of Courage airs in April 2023, we hear that there will be a second season.
Ranking Of kings Season 2 Cast: Who's in It?
If the show comes back for a second season, we can expect to see all the friends Bojji made in the first season. So, here are the Japanese and English voice actors for all of the main characters in Ranking of Kings:
• Prince Bojji – Minami Hinata (Japanese) / Emily Fajardo (English)
• Kage – Ayumu Murase (Japanese) / SungWon Cho (English)
• Queen Hilling – Rina Sato (Japanese) / Luci Christian (English)
• Daida – Yûki Kaji (Japanese) / Justin Briner (English)
• Miranjo – Maaya Sakamoto (Japanese) / Brianna Roberts (English)
• Domas – Takuya Eguchi (Japanese) / A. J. Locascio (English)
• Dorshe – Hinata Tadokoro (in Japanese) / Brent Mukai (English)
• Apeas – Hiroki Yasumoto (Japanese) / Luis Bermudez (English)
• Bebin – Yōji Ueda (Japanese) / Christopher Wehkamp (English)
• Despa – Takahiro Sakurai (Japanese) / Christopher R. Sabat (English)
• King Desha – Yoshimitsu Shimoyama (Japanese) / Gabe Kunda (English)
• King Bosse by Kenta Miyake (Japanese) and Cris George (English)
Ranking of Kings season one was also led by an all-star production team, including chief director Makoto Fuchigami (Soul Eater), director Yousuke Hatta (Death Parade, One Punch Man), and assistant director Arifumi Imai (Attack On Titan). They should all be back for the second season.
Ranking of Kings Season 2 Plot: What Will Happen?
At the end of season one of Ranking of Kings, most of the major plotlines were wrapped up.
King Daida was once again in charge of his body. Ouken and Miranjo were beaten by Bojji and the big four. And King Bosse finally died for real, and he floated away in a way that was surprisingly graceful. Also, just in case you forgot, Daida asked Miranjo to marry her.
If there is a second season, it's hard to say where the story will go now that the stakes have been reset. There might be some clues in the last few seconds of the show's last episode, though.
Two important things happen: Boji gives up the throne and decides to go on adventures with Kage, which is understandable, and Desha is named the new King.
Desha promises that he and his brother will find a way to save their brother Ouken, who was just squashed into a ball and thrown into a lake.
These events definitely plant the seeds for more stories, and we can't wait to hear more, especially about the mysterious organization behind the "rankings."
There isn't much to go on besides speculation. But in an interview with Anime News Network in December, the show's creator, Ssuke Tka, said, "I have a soft heart, so I love stories with happy endings. If I can, I'd like to make everyone happy. But I can't help the bad guys in that way. That's all there is to it."
We don't know if Ranking of Kings has any truly "bad" characters, though, so who knows what this means?
Even though it's still not clear if there will be a "real" second season, animation producer Maiko Okada seems hopeful.
"The fans grew this story and loved it so much that it became an anime, and here we are after the first season. Fans helped us a lot, and we're really happy about that.
"The first season still has more to offer, so if fans keep loving it, hopefully, there will be a second season. So please stick around, "In October 2022, they told Crunchyroll.
Must Read: The Wait Is Over: Here is Night by the Sea Chapter 58 Release Date!
Ranking of Kings Season 2 Trailer: When Can I See It?
The first trailer for Ranking of Kings season one came out about five months before the first episode aired. If our prediction that season two will come out in late 2024 is right, a trailer for season two should come out around April 2024.
No matter what, we'll let you know here as soon as we find out more.
The ranking of Kings is on Crunchyroll and Funimation, so you can watch it there.