Developer CD Projekt RED ensured that every player in Cyberpunk 2077 and Phantom Liberty could access the wealth of iconic weapons scattered throughout the game.
To facilitate this, they cleverly placed a black market vendor in the heart of Dogtown, discreetly nestled within the stadium.
This vendor offers a wide array of iconic weapons, not only from the base game but also from the thrilling new expansion.
However, given the game's vast range of unique weaponry and the variety of player builds to explore, choosing the best weapons from this black market can be a daunting task.
Fear not, though! This guide is here to provide invaluable assistance in navigating this exciting and crucial decision-making process.
What Weapons Should You Buy From the Vendor on the Black Market?
Cyberpunk 2077: Weapon Shop on the Black Market for the Phantom Liberty
The black market seller sells sniper rifles, assault rifles, pistols, and shotguns to fit any play style.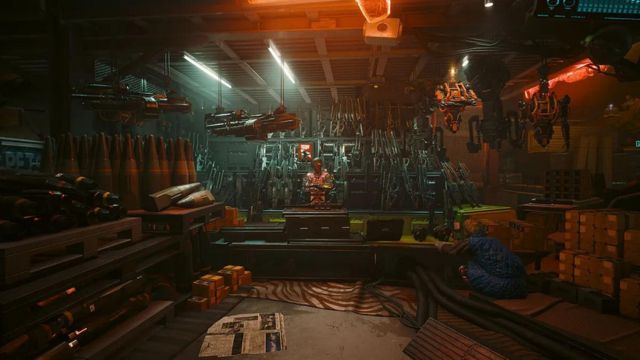 Read More: Where To Find The Doctor In New Atlantis in Starfield?
Some of these are better for the middle and late stages of the game in Cyberpunk 2077, which is about where players will be when Phantom Liberty comes out. Here are a few suggestions:
Kongou: An Iconic Power Pistol that can do a lot of harm and has great mid-range and weapon handle. Kongou also has special effects that give +150% Headshot Damage Multiplier and +10% Crit Chance.
Nekomata: A Tech Sniper Rifle that does more than 115 damage per hit, has an effective range of more than 86, and has special effects like a +300% Headshot Damage Multiplier, +75% Armor Penetration, and a 1-second Charge Time.
M221 Saratoga: This Power Submachine Gun has good numbers and does a decent amount of damage for a small gun. It has special effects, like a +125% Headshot Damage Multiplier and a +25% Armor Penetration, that make it hard to fight close up.
Order is a Tier 4 Iconic Tech Double-Barrel Shotgun. It does more damage than any other weapon sold on the black market, but its attack speed, range, and control are all worse. Aside from that, it has 14 projectiles, a 3-second charge time, a +7% shock chance, and a +50% damage multiplier for headshots.
Carmen: This Tier 4 Iconic Power Assault Rifle does average damage, but it attacks quickly for its class. Some of the special affixes are +100% Damage Multiplier for Headshots and +50% Armor Penetration.
At this point in the game, players will notice that most affixes focus on making critical hits and headshots do more damage. In other words, people, shoot for the head! Stay tuned to Crossover99 for more Gaming-related Tips and Tricks.
Must Read: Where To Find The Dogtown Black Market Vendor in Cyberpunk 2077: Phantom Liberty?