Alaska Daily Star Grace Dove Admits Working Alongside Hilary Swank Challenges Her to Keep Up
When a New York journalist travels to Anchorage, Alaska, to cover a story about missing Indigenous women, she discovers that she can benefit from the assistance of a local reporter in ABC's newest show, "Alaska Daily."
Eileen Fitzgerald (Hilary Swank) is initially concerned when Rosalind 'Roz' Friendly (Grace Dove) is assigned to cover the story alongside her.
Nonetheless, she quickly realizes that a local Indigenous woman can assist her in comprehending the area and the story.
READ MORE:-How Tall is Kanye: Updates About This Rich Celebrity Are Here!
Roz has a personal connection to the story as well, revealing that her cousin went missing when she was 17 years old, inspiring her to become a journalist and find answers for the missing women and their families.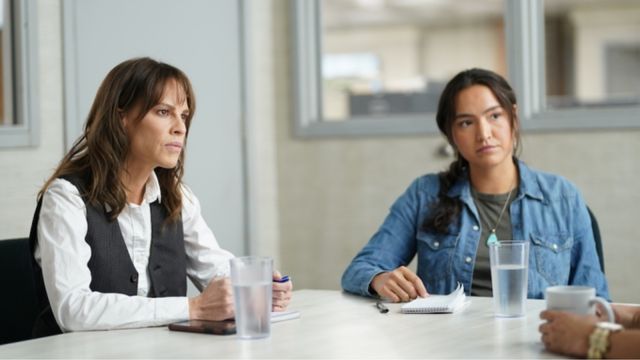 Roz and Eileen don't get along right away on the show, and the two will find themselves at odds with one another on numerous occasions.
"I believe it will take a lot more for her to trust Eileen. Perhaps she is beginning to trust her as a journalist, but I believe they still have a long way to go "Dove disclosed this in an interview with HollywoodLife.
READ MORE:-Where is Carl Lentz Now: Updates About This Rich Celebrity Are Here!
And, just as Roz challenges Eileen onscreen, Swank keeps Dove on her toes behind the scenes. Dove is inspired to keep up with the award-winning actress because she is a two-time Oscar winner for her films "Million Dollar Baby" and "Boys Don't Cry" (per IMDb).
Swank's Acting Prowess Shines as Dove Finds Motivation From Her Experience
Grace Dove, is not a newcomer to Hollywood, having begun her career a decade ago, but "Alaska Daily" is her first major production. Working with the likes of Hilary Swank must have been a learning experience for the young actress.
"Hilary challenges me in the best way every single day and pushes me," Dove said in an interview with HollywoodLife. "I realized early on that I needed to work harder and be better to keep up."
READ MORE:-Where is Elizabeth Lambert Now: How Wealthy Is This Celebrity? Luxury Lifestyle!
The Indigenous actress also discussed how this dichotomy is reflected in the show, with Dove's character having extensive knowledge of the surrounding Alaskan community but lacking the years of experience of veteran reporter Eileen Fitzgerald.
"I have the heart, the knowledge of the land, and the community of Alaska, but she has years of experience on me when it comes to journalism."
Dove's reaction to the interview demonstrates that both she and her character have a lot to learn from Swank and Eileen, both in front of and behind the camera.
You can watch "Alaska Daily" on Thursday nights at 10 p.m. on ABC or on Hulu on demand.